30 Days in Europe with Evan
June 29, 2013 - France
Prev | Next
In Annecy now. Caught the 9:20 AM train from Beziers to Lyon Part Dieu, 12 minute layover, then another train to Annecy. Arrived at about 2:10 PM. Was on the TGV, which went pretty fast, but not scarily so. Rain set in during the trip despite windy, sunny weather in Beziers. This concerns me as there's no reason to be in Chamonix if it's raining. Walked to our hotel, L'Auberge de Lyonaisse and found out that check in time was 3:00 PM. We found the Monoprix grocery store and got the usual lunch supplies, a baguette, a wedge of brie, sausage, fruit and juice. Walked along a canal to the lake. The lake water is a beautiful glacier blue color, and the water is super clear. Saw one person on a windsurfer fully powered up. Annecy is a truly a beautiful place. A friend of ours said she'd like to live here, and that piqued my interest in coming here, besides other accounts I read. The old town section is surprisingly small, despite the large size of the town (pop. 50k). We checked in to the hotel and ate too much fatty lunch food. It's so good though. Amazing how cheap good bread, cheese and sausage is here. Read and napped. We were sleep-deprived after the crappy lodging at Hotel Paul Ricquet in Beziers, and made up for it.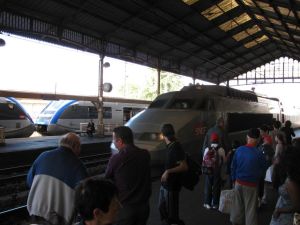 Our train to Annecy.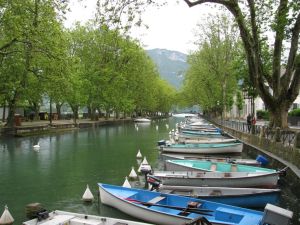 The end of the canal where it reaches the end of Lake Annecy.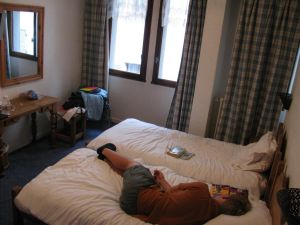 Evan in our hotel room.
Woke and had a nice long walk through the old town section as night settled in and lights turned on in businesses lining the canals. Found La Fete, a Rick Steves-recommend restaurant that specialized in fondues and raclette. Raclette is a local dish with chunks of semi-melted cheese and potatoes, picles, sausage and bread. Only outdoor seating was available, and they said they only served raclette indoors (???). So, we ordered fondue, a salad and some smoked ham apetizers. I ordered 50 cl. of the blanc savoie wine, which came in a spiffy ceramic pitcher. I thought the fondue was great. Hadn't had it since I was Evan's age when my mom made it as an experiment. Evan wasn't so fond of the stinky cheese flavors. I think a few of his taste buds need to die before he likes a number of things. Part way through dinner a parade of accordion players and dancers in "old world" garb came down the street and stopped to play and dance in front of our restaurant. Pretty charming.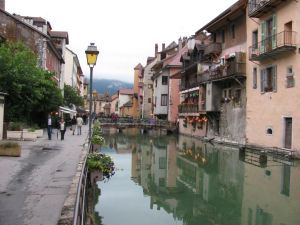 Canal view.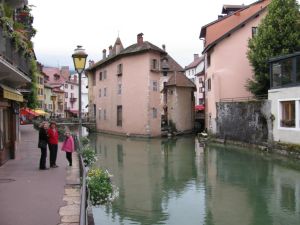 Canal view.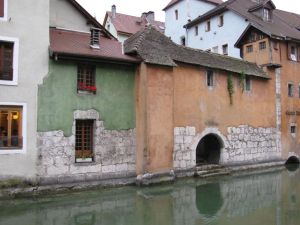 Canal view.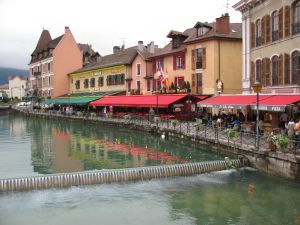 Canal-side restaurants.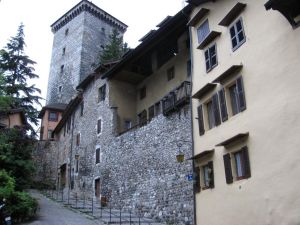 The chateau on the south side of town.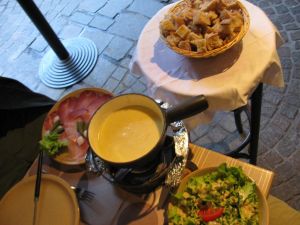 Fondue and salads.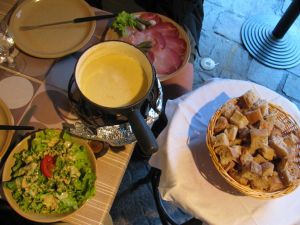 Fondue and salads.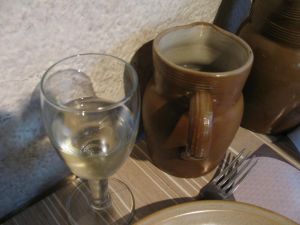 Wine with dinner served in an earthenware pitcher.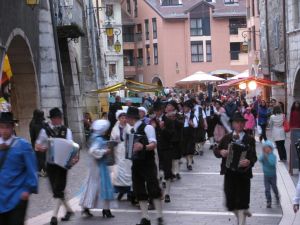 A parade!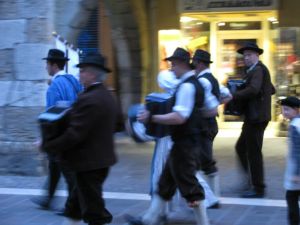 Traditional garb and music.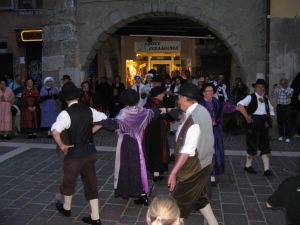 Dancing in the streets.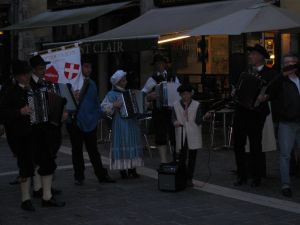 Accordian music in the streets.
We paid the bill and set out for another walk to take some night photos. Lots of others doing the same on this Saturday night. It really is pretty here. A castle-like chateau flanks the south side of the old town, and there's a beautiful cathedral in the town center (of course). Back in our room now listening to the the sounds of weekend tourists on the streets below. The weather forecast for Annecy tomorrow is supposed to be sunny. We'll probably do the combined hike and boat ride route around the lake. Maybe some swimming. The forecast for Chamonix looks maybe OK at this point. Sun in the mornings with clouds and a chance of showers in the afternoon. I have to remember that when Max and I hiked the Swiss Alps it rained every afternoon after starting out sunny and clear. You just have to start out early.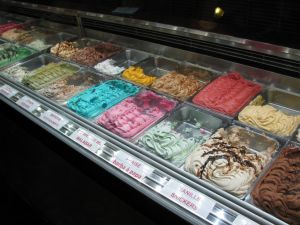 Gelato.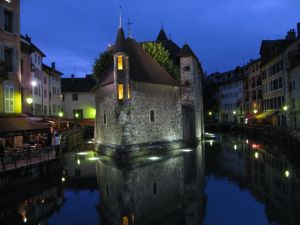 Annecy at night.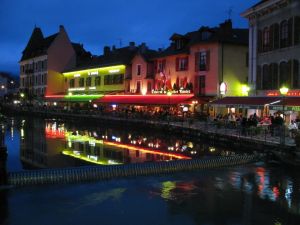 Annecy at night.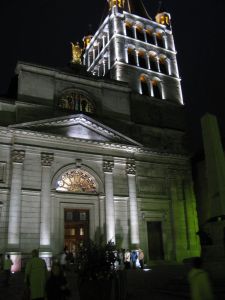 Annecy at night.
Prev | Next