30 Days in Europe with Evan
July 11, 2013 - Netherlands
Prev | Next
Showered this morning in our relatively enormous shower down the hall. In recent German B&Bs, the showers were about a yard square. You'd bump the faucet controls trying to soap yourself, resulting in the water going to scalding or freezing. Had instant coffee in the room, and ate warm croissants that they brought in a bit after 9:00 AM. Equipped with city map and Rick Steves guidebook we walked south towards the Rijksmuseum past the flower stalls where bulbs are sold. Got some pictures of head shops and sex shops. They sure sell some unusual things here. Bongs made out of gas masks, pink fur handcuffs, you name it! Many of the buildings are leaning and settling noticeably. Gaps between buildings are sometimes 2 inches a the bottom and a foot high at the top. Horizontal trim marking a change in floor levels are sometimes "s" shaped. It's unnerving. You think there's something wrong with your eyes, but no, it's really that way. I would not want to be a home inspector here. I'm fascinated by the bicycles here. Took more pictures today, with multiple kids being hauled around in strange assemblages of wheels, frame, chains and pedals.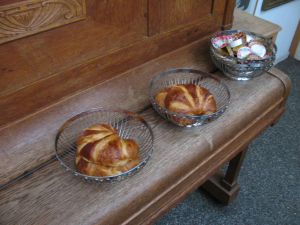 Fresh croissants on the piano for breakfast.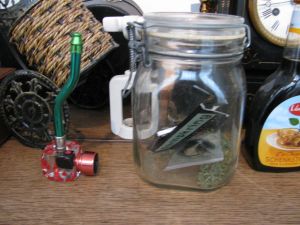 Other things on the piano for your enjoyment.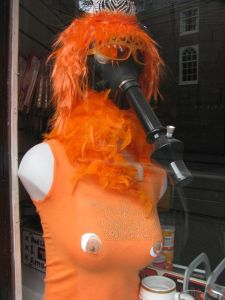 Handy gas mask bong plus feathered boa.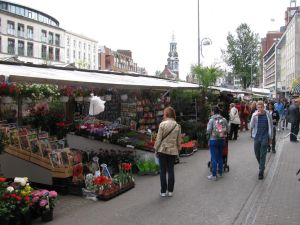 Flower and bulb vendors.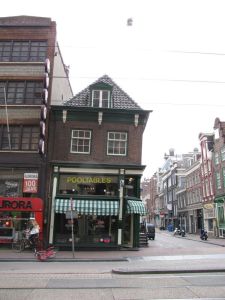 A leaning building.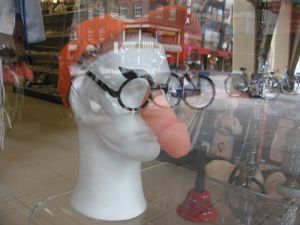 Should have bought this for Halloween.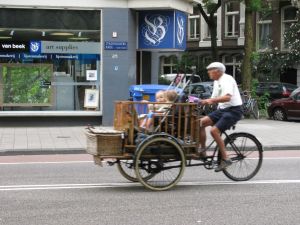 This reminded me a bit of the movie Road Warriors.
The line at the Rijksmuseum was not too bad. Made it through in no more than 15 minutes. There are 4 floors of exhibits arranged by historical period, with the bottom floor devoted to "special collections". Saw some blockbusters like Franz Hals' "The Merry Drinker", Rembrant's "Night Watch" and Vermeer's "The Kitchen Maid". It's REALLY nice to see paintings of normal life rather than religious iconography. I love the elaborate still lifes. The top floor housed pieces from 1950 to 2000. Naturally we had moments questioning whether what we were seeing or hearing was art, and "why?". The special collections was a nice change from paintings, drawings, furniture and glass artifacts. They had crazy-cool ship models. Models of maritime technology, such as "ship camels" that floated ships over shallow shoals. Optical telegraphs too that used semaphores to transmit messages over great distances. Lots of weaponry including pistols, rifles, cannons, daggers, swords and halberds. People sure spend amazing amounts of effort to make highly ornate things to kill people with. The clothing they had was pretty neat to see. Woven hats pulled from graves from the 17th century, dresses from the 19th century and earlier. Evan was patient throughout the paintings, but livened up a bit with the special collections. Outside, we wandered through the Henry Moore sculpture gallery and enjoyed a fountain that paused occasionally, allowing you to step inside and be surrounded by shooting water.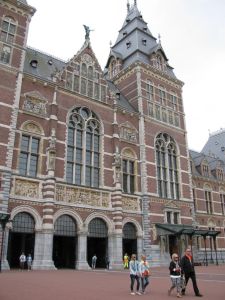 The Rijksmuseum.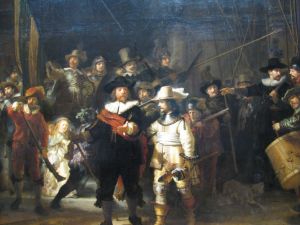 Rembrandt's Nightwatch.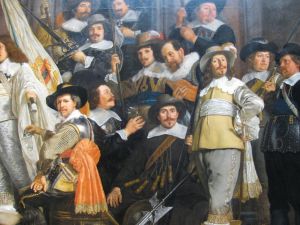 From the Rijksmuseum.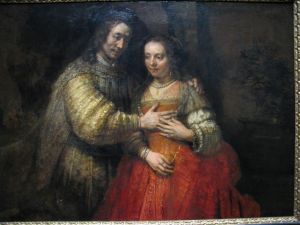 The Jewish Bride by Rembrandt.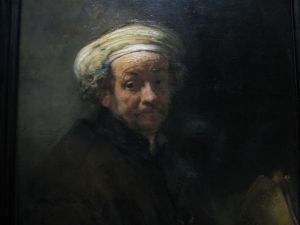 Rembrandt self portrait.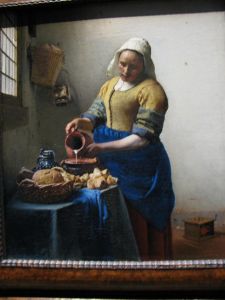 The Kitchen Maid by Vermeer.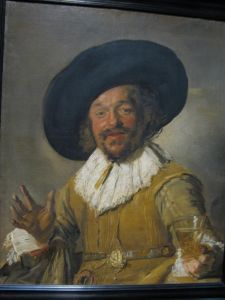 The Jolly Toper by Frans Hals.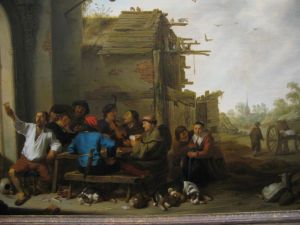 From the Rijksmuseum.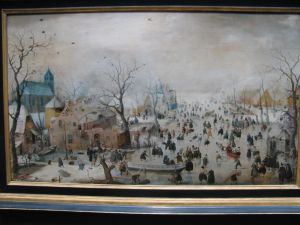 Hendrick Avercamp's Winter scene.

Adriaen Pietersz. van de Venne's Fishing for Lost Souls.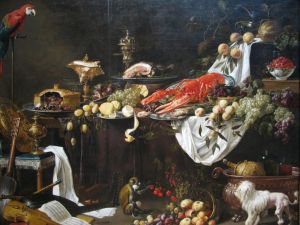 Adrian van Utrecht's Still Life.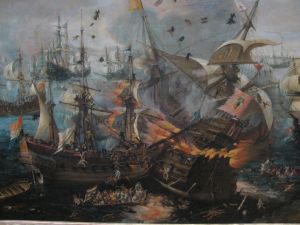 From the Rijksmuseum.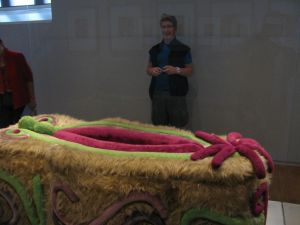 Evan contemplating contemporary art from the Rijksmuseum.

From the Rijksmuseum.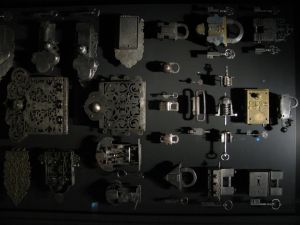 Locks rom the Rijksmuseum.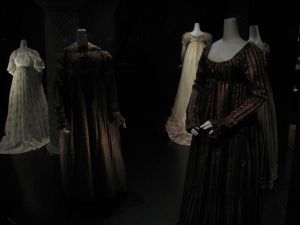 From the Rijksmuseum.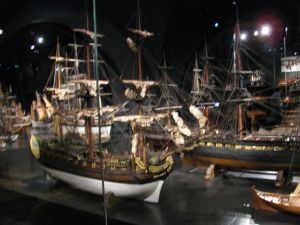 From the Rijksmuseum.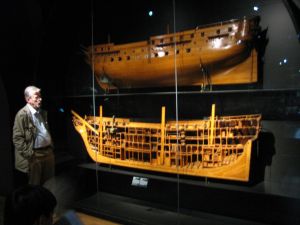 From the Rijksmuseum.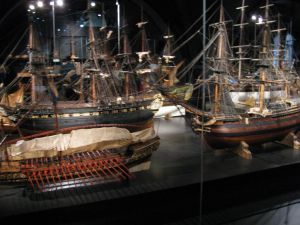 From the Rijksmuseum.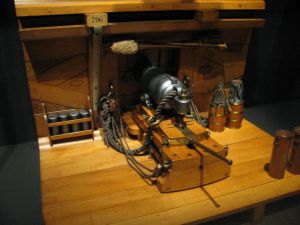 From the Rijksmuseum.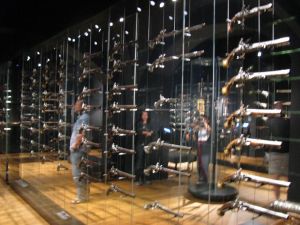 I'm not a gun nut, but these were very cool.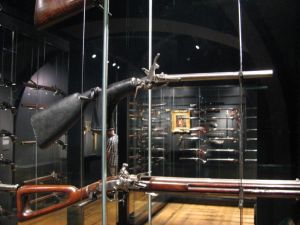 The one with the black stock is a pellet gun.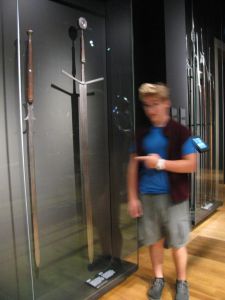 Evan likes the big swords.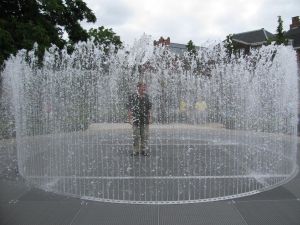 Me in a fountain outside the Rijksmuseum.
Had lunch at a nice cafe on the way back, then stopped by a bike shop on the way back that sold cargo bikes and porteur racks. They had an amazing display of bells on the wall. Bells are important here since the majority of the residents of Amsterdams seem to careen around at high speed through the city. Little kids here must learn early to really, really, really look both ways before crossing. Swung through Leidseplein to see The Bulldog coffee shop, one of my old haunts from when I lived in Germany in 1987. We'd usually stop there on our way up to Makkum for windsurfing on the IJsselmeer. The Bulldog is now a chain of shops/restaurants, found at various locations around Amsterdam, but the one in Leidseplein is the original.
I decided to walk through the Red Light District on the way back. I figured Evan's friends who knew anything about Amsterdam would ask him if he went there. Lots of sex shops predictably, and then there they were, the prostitutes in the windows. It suddenly seemed like an inappropriate thing to be doing, so I suggested we head back out to a main street, which we did. Oh well, what sounds exotic and interesting to see (but not touch, yes I know Deb), in reality is a bit grim. Late in the afternoon by then. We stopped at 3 bike rental places on the way back to understand what other shops charge for rentals. Most don't have multi-speed bikes, and varied from 35 to 37 euros per bike for 4 days of rental. Frederic's bikes cost 45 euros, but they have 7 speeds, and come with panniers and insurance. Read and napped for a bit back at our room after paying our bill. Had dinner at the Kanjtil Tiger again. It was good, and we'll be having Dutch rather than Indonesian food for the next few days on our bike tour.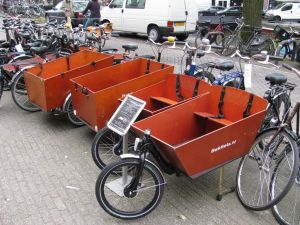 Cargo bikes in Amsterdam.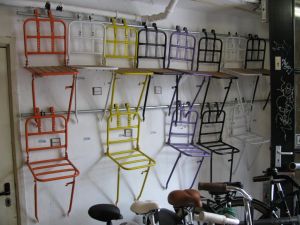 Porteur racks in a bike shop.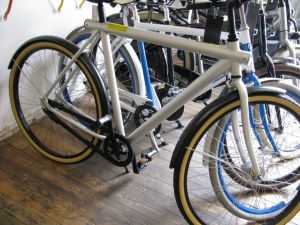 Interesting frame design.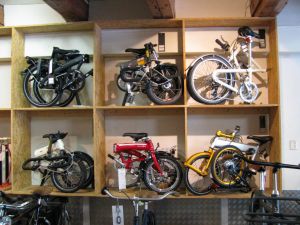 Folding bikes.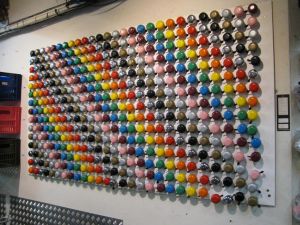 A nice display of bells.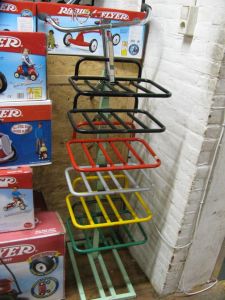 More porteur racks.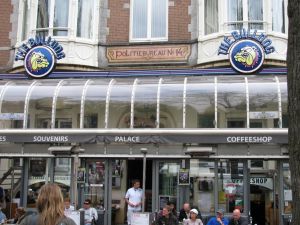 The original Bulldog coffee shop.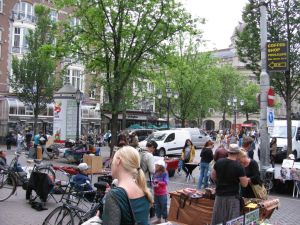 Leidseplein, where the original Bulldog is located.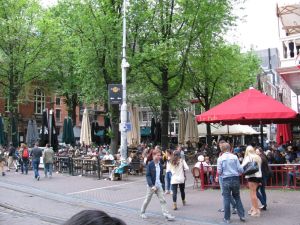 Another view of Leidseplein.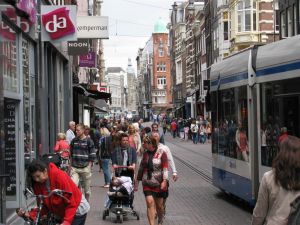 Amsterdam street scene.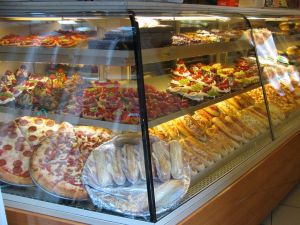 Bakery display.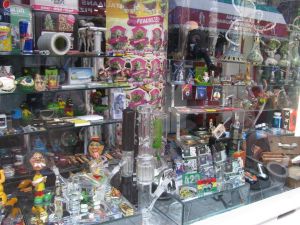 Fun shopping in Amsterdam.

A sex store window.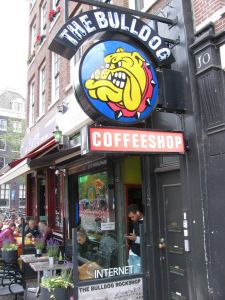 Another Bulldog coffee shop.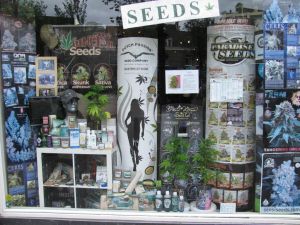 Better stock up before heading home.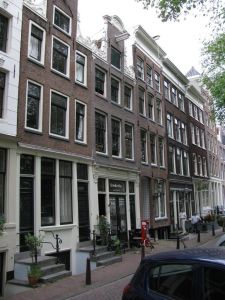 Back at Frederic Rent a Bike.
Prev | Next