30 Days in Europe with Evan
June 24, 2013 - France
Prev | Next
Today was the first day of our Canal du Midi bike tour. We did have a 7:30 breakfast in the meal room at the Hotel Alma. A big bowl of croissants, baguettes and Napolotino pastries, OJ, coffee and warm milk. Plenty for us. Mmmmm. Packed, said goodbye to the nice people there and headed down to Relax Rentals, where we had made bike rental reservations. They opened at 9:00, we were there early, so we toured the main park near the train station in Beziers. What a beautiful place. Ponds, elaborate landscaping and statues. Back to the bike rental place, a brief wait and the owner showed up. He's from the Netherlands and is married to or has a significant other from Alabama. Nice shop, nice, Giant brand bikes with suspension forks and waterproof, quick-release panniers and handlebar bag. We chatted, adjusted seats, did paperwork and were on our way. Coasted on down to the train station. While Evan guarded our stuff, I got our e-tickets printed out and stood in line to pay for transport of our bikes on the first of the 2 train rides we'd take to Castlenaudry, on the way to Toulouse. It turned out to be 47 euros extra instead of 20 for some reason that I couldn't understand, but no matter. Then the departures reader board showed all trains late by an hour or more due to some accident between Beziers and Narbonne. We decided to ride around a bit to kill time and rode down to the river. Saw some homeless dude sleeping under a bridge and realized we should probably stay at the station in case the status of our train changed. Indeed it did, and eventually turned to only 20 minutes late. Got on after the train people beckoned us to the right car that took the bikes. Then an uneventful ride to Carcassonne where we had about a 5 minute layover before our second train to Castelnaudry. A 20 minute ride later, and we were off the train and on our bikes. The guy from Relax Rentals gave us a beautiful, color, many-paged map he said it took him a year to make, specially formatted to fit in the map folder of our handlebar bags. It pretty much eliminates the need for our Cicero guide book to the Canal du Midi. We rode east from the Castelnaudry train station on the canal past locks and boats. Lots of for-rent vacation boats here that look pretty fun. We rode faster than them, so they go at a pretty leisurely pace. The canal is indeed beautiful, tree-lined for the most part. There's a blight affecting the trees and many trees had been scribed, possibly by chainsaw, at their trunk bases, apparently to kill them and stop the blight from spreading. Regardless, it was shady. We had a strong tailwind, the day was cool and mostly cloudy, but dry. We heard the long range forecast was for 0 percent chance of rain. Based on ruts we saw in the dirt tracks, it would not be good at all to ride the canal in wet, muddy weather. Most of our ride today was on good, gravel track. Some pavement, but near Carcassonne it was single track dirt with lots of rocks and roots. Hope there's not much more of that later. We stopped and watched the locks work a couple of times. Pretty interesting to see.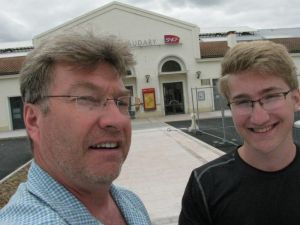 Castelnaudry. Here's where we started riding bikes.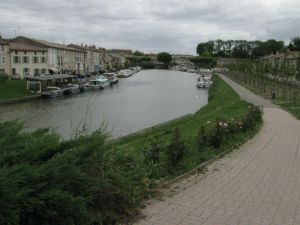 Castelnaudry.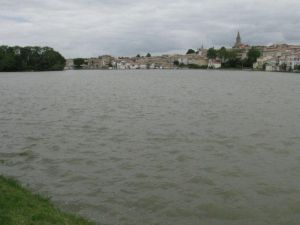 The port of Castelnaudry.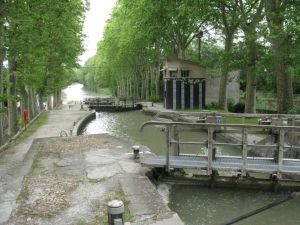 Locks in Castelnaudry.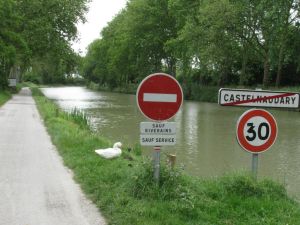 On the canal leaving Castelnaudry.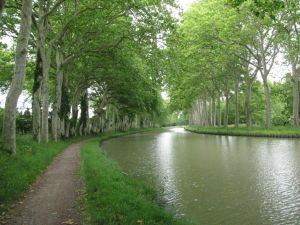 On the canal.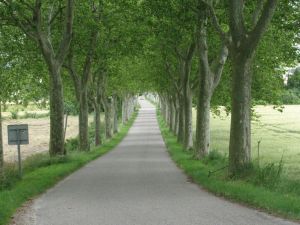 A side road off the canal.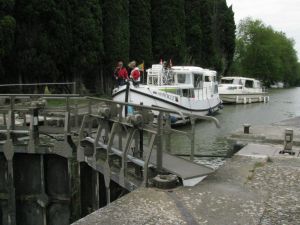 Waiting to enter the lock.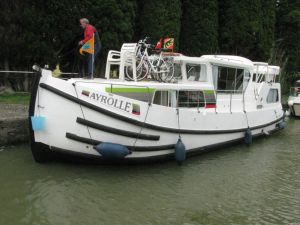 A full lock.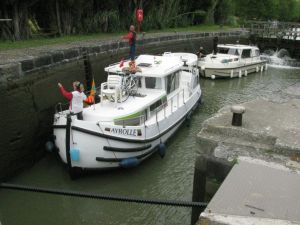 Water being drained from the lock.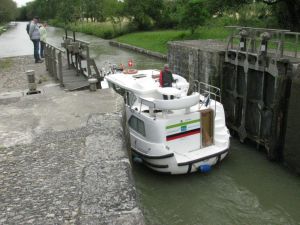 Boat leaving the lower end of the lock.
We made side trips to Bram, where the persecutors of the Cathars long ago cut all the townspeople's lips and noses off and gouged their eyes out. They left one person with one eye intact to lead them someplace else. Wooo. Photos I saw on the internet of Bram made it seem interesting with a circular plan and narrow streets. It turned out to be a bit bleak. Other towns we diverted to were prettier. Had some cheese and apples in Bram from a grocery store since it was after 2:00 and all the restaurants and bakeries were closed. Rode and rode until we came into Carcassonne.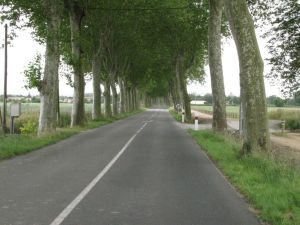 The road to Bram.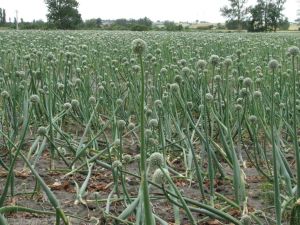 Onion fields outside of Bram.

The town of Bram.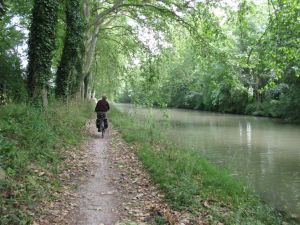 On the canal.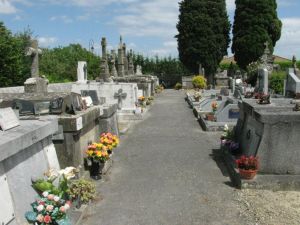 A cemetary in a small town just off the canal.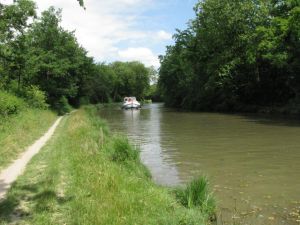 On the canal.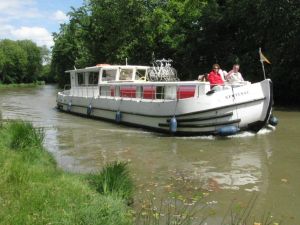 On the canal.
I estimate it being a 20 or 25 mile ride today. Wove our way through rush hour traffic up to La Cite, which is the old walled city where our youth hostel is. Waded through the tourist crowds in the narrow, cobbled streets to the hostel and met Michael, who checked us in. He's an extraordinary guy who speaks many languages. While waiting in line we witnessed him speaking Spanish, Japanese, French and English. I asked what his native tongue was and he said French. He said he also speaks Russian, Portuguese, Chinese and Arabic. Evan was enthralled. We locked our bikes up in the patio, moved into our room, and I showered. Michael told us about a good restaurant in La Cite where we could get cassolet, the regional specialty dish. Played some ping pong on the table out in the courtyard to kill time before the restaurant opened for dinner. When we arrived at the restaurant at 7:40 PM (they opened for dinner at 7:30), they said we needed a reservation, especially about 40 minutes from then when the crowds would arrive. I asked if we could eat then, and they said no problem. So why tell me we need a reservation??? Weird. Anyway, dinner was great. A viande (meat) salad that had slices of ham(?) with some chutneys. Then the cassolet, which apparently varies depending on the restaurant, but for us was white beans with sausage and chicken. Delicous. Had a superb 50cl bottle of local red wine recommended by the waiter to go with the cassolet. Dessert was basically gelato with some kind of sweet cream sauce. Very nice. Back to the room for bed making with the papery sheets they gave us.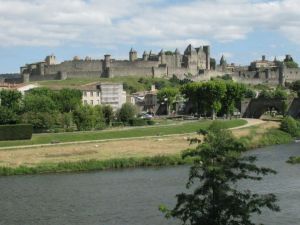 La Cite.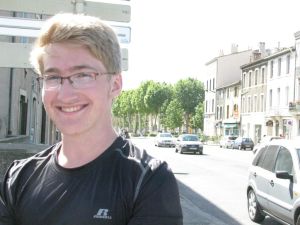 Evan on the streets of Carcassone.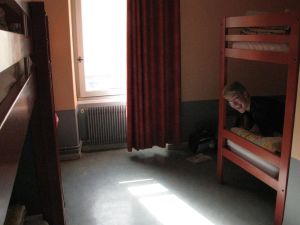 Our hostel dorm room in Carcassone.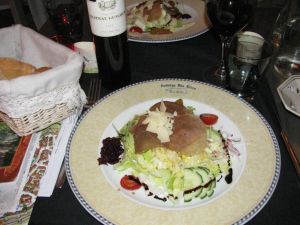 Salads.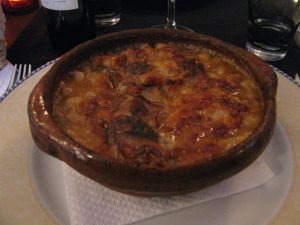 Cassoulet.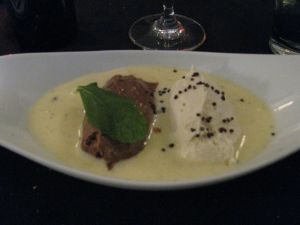 Dessert.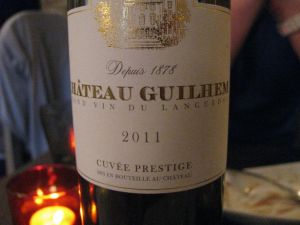 Vin avec le diner.
Prev | Next