30 Days in Europe with Evan
June 21, 2013 - Spain
Prev | Next
Woke to the alarm after another restless night. Our hotel room was really quiet, and it's been a shock to walk out into the crowded streets of Barcelona first thing in the morning. After checking email we made a beeline to the Bar Boqueria where we had breakfast the day before. Perused all the food lining the counter before sitting down. An older guy who's a local approached us and said this is where he eats, which made us feel good about our choice. I pointed to the Catalan beans and chorizo to say that's what I'm getting (again), and he said that's what he had. With his help I ordered it"picante" (spicy). Also ordered a serving of Greek salad, tomatoes, mozzarella and olives. Evan ordered some kind of meat smothered in gravy. I love the cafe con leche they have here. On the way out of the Boqueria market we snagged a paper cone of thinly sliced ham for 3 euros. Mmmmm, delicious. Then back to our room to pack.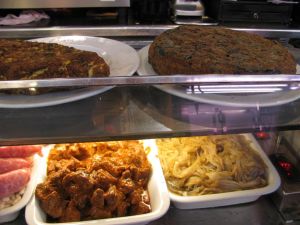 Food from the Bar Boqueria.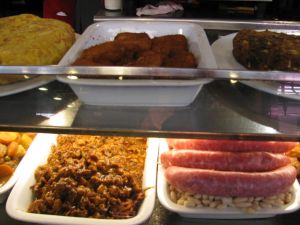 Food from the Bar Boqueria. Catalan beans and chorizo (uncooked) on the right.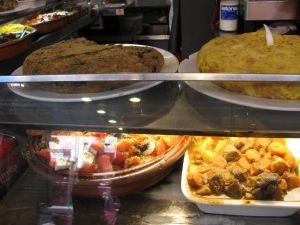 Food from the Bar Boqueria.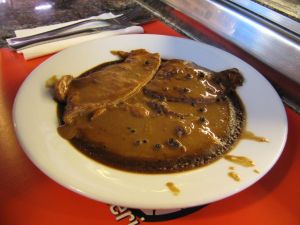 Evan's meat and gravy dish.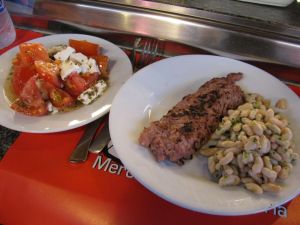 My Catalan beans and and chorizo, and a Greek salad.

Your place for good food at the Boqueria market!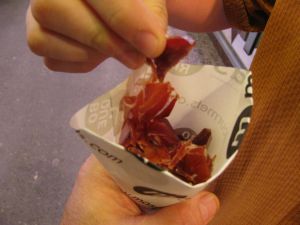 Smoked Catalan ham.
Google maps showed a 26 minute walk to Estacion del Nord where we'd catch our bus to Cadaques on the Costa Brava. It took longer even with walking fast. Only had to ask for directions once. The bus station was impressive. Nice architecture, clean, not what you'd think of for bus stations in the US. We found the right spot where our bus would come and waited for about a half hour.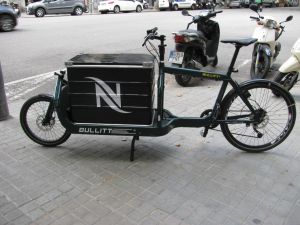 A cargo bike that we saw on the walk to the bus station.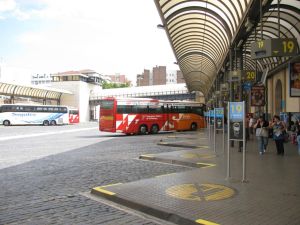 Buses at Estacion del Nord.
Once driving, it took a loooong time to escape greater Barcelona. Didn't realize how huge a city it is. Big apartment buildings far from the city center in the surrounding foothills. Then low woods, wheat fields and stone buildings. Stopped at the seaside town of Roses, then over the mountain pass on a seriously hair raising narrow, twisting road. That explained the number of motorcycles parked in Cadaques central square by the beach.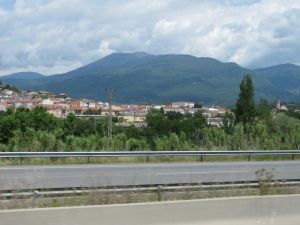 The Pyrenees on the drive to Cadaques.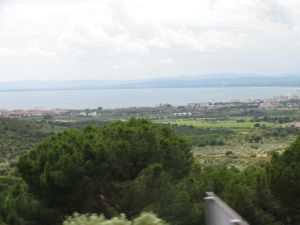 The coastal town of Roses on the drive to Cadaques.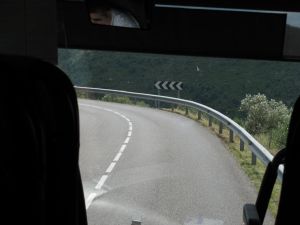 Hairpin (scary) curve on the drive to Cadaques.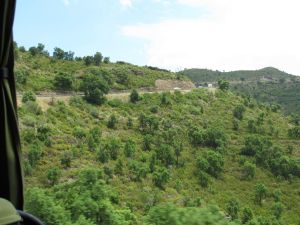 The road winding through the coastal mountains on the drive to Cadaques.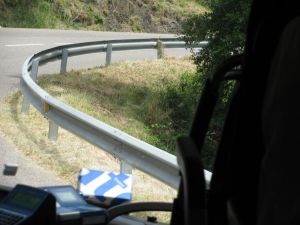 Another curve on the drive to Cadaques.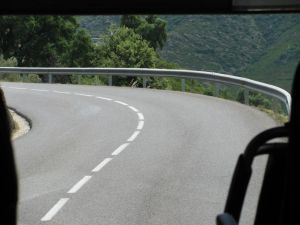 Another curve on the drive to Cadaques.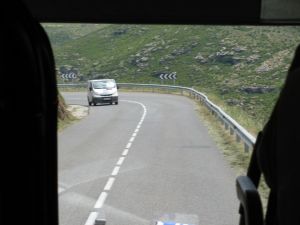 Another curve on the drive to Cadaques.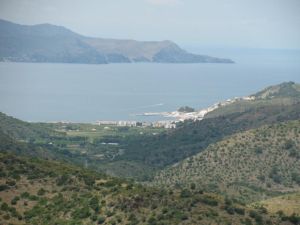 El Port de la Selva, to the north of Cadaques.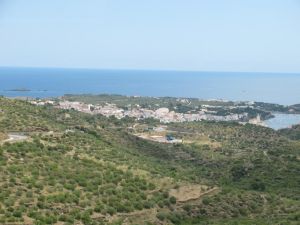 Our first view of Cadaques.
We tried finding our hotel with a printed Google map I had, but had to ask a nice woman who pointed down a narrow road we wouldn't have thought was right. Hotel Ubaldo is on a street corner, whitewashed like every other building here. Super nice lady at the front desk who showed us to our room in the adjacent building. What a nice place. Small room, but it has a balcony and a big bathroom. Spotlessly clean with really comfy beds. Walked down to the water front and strolled around a bit. What a beautiful place. Boats in the harbor. Sat down at a beachside bar where Evan had a sandwich and I had a beer. I was still full from breakfast. Evan said "Woah!" and pointed out 3 men skipping rocks on the beach. No sand here. The beach was covered with flat, perfect skipping rocks. They were good at skipping rocks. After lunch, and after they left, Evan and I skipped some rocks too. It had started to drizzle by then. Evan chose to skip rocks while I walked the waterfront for a while.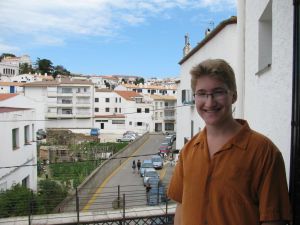 Evan on our hotel room balcony.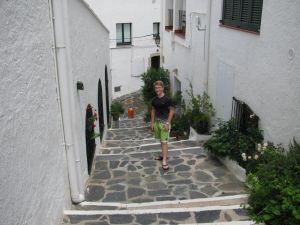 The 'street' by our hotel room door.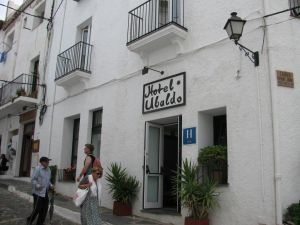 Hotel Ubaldo, our home for 2 nights.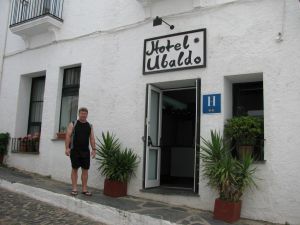 Moi at the office entrance.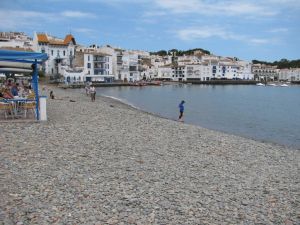 The rock skipping beach at the town center.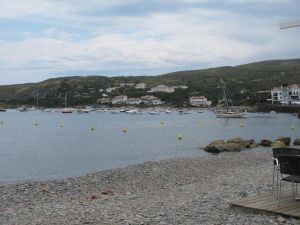 Looking south.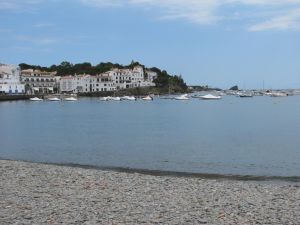 And north.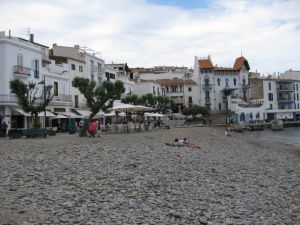 Cadaques waterfront.

Casa Blava.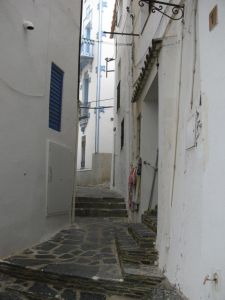 Narrow, pedestrian-only streets of Cadaques.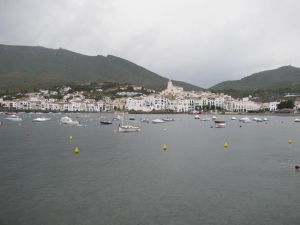 Cadaques waterfront from across the bay.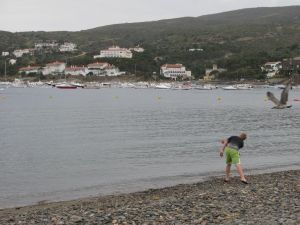 Evan skipping rocks.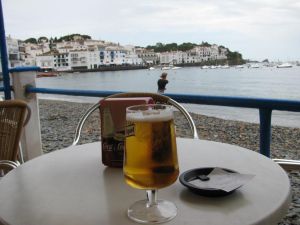 Enjoying my beer while watching Evan skip rocks.
We rendezvoused, returned to our room for umbrellas, then walked around the old section of town. It's pedestrian-only there mostly since the streets are narrow, and either really steep or stepped. Reminded me of Venice, really fun to explore, with great views of the ocean. We found ourselves back at our hotel, so we went in for a nap (still tired from the restless sleep the night before), woke, changed and headed out for dinner.

Street scene.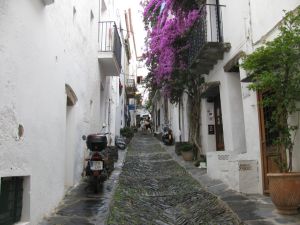 Street scene.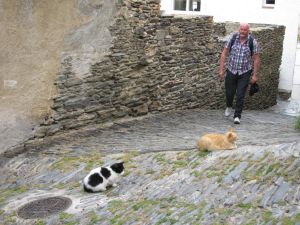 Spanish cats.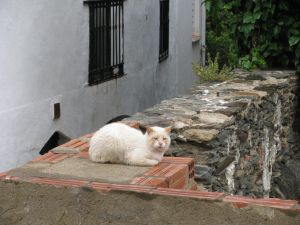 A Spanish cat.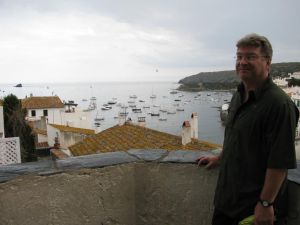 Moi, overlooking the harbor.

That tall, skinny green thing is a cactus!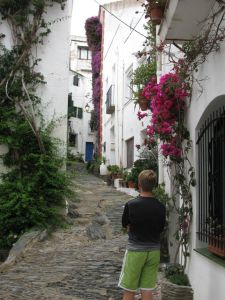 Street scene.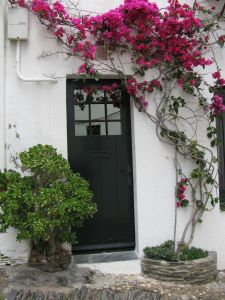 Street scene.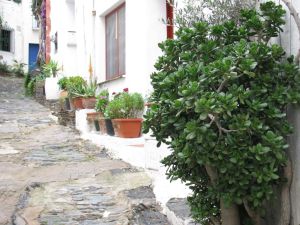 Street scene.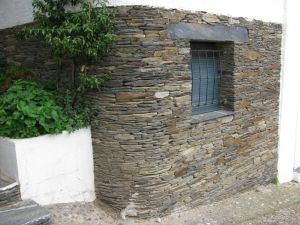 Beautiful stonework.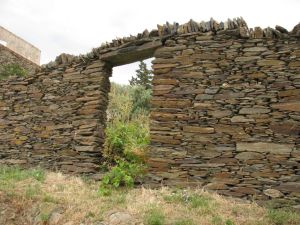 I liked this stone wall and entrance.

Nice viewpoint.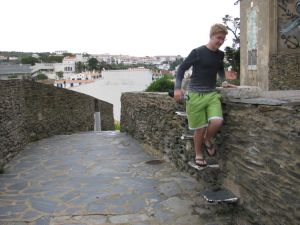 Evan descending some interesting steps built into a wall.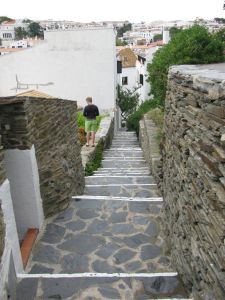 Steps leading down to our hotel room.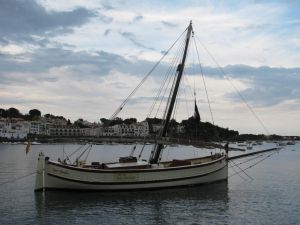 Sailboat in the harbor with forward-tilting mast. Saw this the next day up the coast.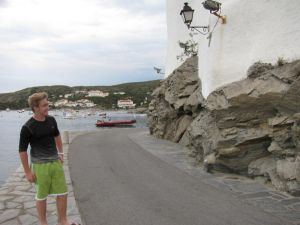 Waterfront building built into the rocks.
On a walk earlier I saw someone eating paella. We picked a restaurant at the edge of the harbor and Evan graciously offered to share an order of Paella since it was a minimum of 2 people for the order. He doesn't like seafood. Ordered a chorizo tapas too. The gave us a deep fried black sausage tapas, which was delicious. Looked like chocolate pudding inside the fried outer layer. The paella was good, but not spectacular, and a bit disappointing for 50 euros. Maybe we'll have donner kabobs for dinner next time to make up for this. Walked to a gelato place after dinner. Back to the room and had a great sleep.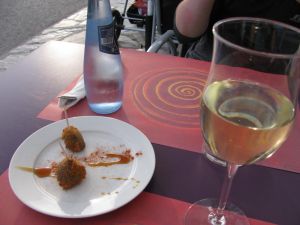 Deep fried black sausage tapas.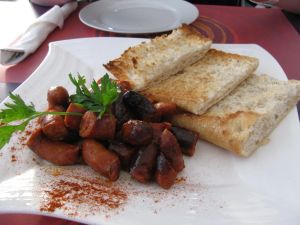 Chorizo tapas.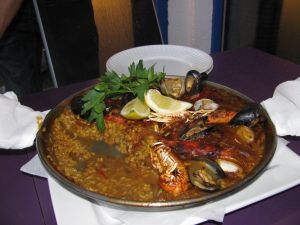 Paella.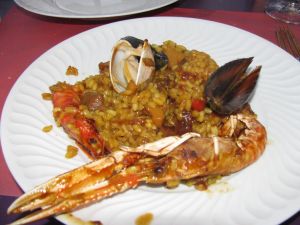 Paella.
Prev | Next