30 Days in Europe with Evan
July 16, 2013 - Belguim
Prev | Next
Mieke said breakfast couldn't be served before 9:00 AM because she was going out the night before. I hope she had a good time. We had reservations to stay 2 nights at 70 euros a night. I decided that we wouldn't "sleep" there again, so we brought our packed bags downstairs with us to breakfast. Mieke asked how we were, and I explained that we wouldn't be staying there for the second night because of the hot room, my lack of sleep. I suggested she buy a fan for the room. 2 other places we've stayed had a simple oscillating fan that makes the difference between sleeping and not. Predictably she said in alarm that we must pay for both nights. "A deal is a deal! I turned away a family of 4, blah blah blah..." I said there was no way I'm going to spend another night there, and she then said the price would be 80 euros instead of 70. I paid. We ate. We left. On the way out she said that most B&Bs don't have air conditioning, which I know. She then said "But he slept", meaning Evan, which I can only interpret to mean "it couldn't have been that hot, you must be wrong, or exaggerating, or trying to weasel out of your reservation". I replied, "All I'm suggesting is that you buy a 20 euro fan for the room.". Her reply - "For the one hot day of the year?". Where upon I said "Jesus fucking Christ, turned around and started walking away. She then yelled "Where's the key", and I yelled back "In the door". For god's sake, why on earth would you argue over whether it was hot or not, or the wisdom of having a fan in room routinely rented by guests in July and August on an upper floor with only one windows? I'm sure she thinks I'm an asshole, and you know what I think.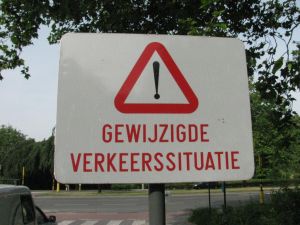 On the way to the train station. I don't know what this sign says but I like it.
ANYWAY, hiked the mile plus distance back to the train station, noticing the garbage strewn around the canal path. Farewell Brugge. I won't be back. At the train station we were told (of course) that our pre-purchased train tickets could not be exchanged for ones good for today. Ours were good for tomorrow through August. Rail Europe charged us $27.50 per ticket, and it turned out you could buy one way tickets to Brussels for only 7.50 euros. Lesson learned. Only pre-purchase tickets for trains where there's a risk of not being able to buy them immediately before using them, We got a 9:59 AM train to Brussels and were there in about an hour.
I read the Rick Steves guide to Brussels on the way there and had a plan for when we arrived. We first verified that we could buy tickets for the shuttle to the airport for the 18th at the ticket window, and they open early. Then after much map confusion we found our way to the Bruegel youth hostel to see if they had a double room vacant. They did, for about 55 euros a night with breakfast. Wohoo! We took it, checked our bags in to a locker since we couldn't check in until 2:00 and then with a daypack with a bottle of water and our guidebook we set forth to "do" Brussels. First stop, the tourist info center at the Grand Place for a map. We then did Mr.Steve's Grand Palace walking tour. Learned about the various guilds that built the fairly incredible buildings around the Grand Palace, most from the mid 1600s. They were rebuilt then after having been destroyed earlier. One of the stops on this tour was to tour the chocolate shops. We went into one next door to Godiva's. It was at the end of the row and we intended to visit them all. We picked a decent assortment of chocolates in pairs, so we could both evaluate them simultaneously. I thought I'd get diabetes by the time we finished them. No lunch for me that day. Visited a Tin Tin store that had clothing, figurines and coffee cups with various scenes from the beloved Tin Tim comic book series. Note that the artist Georges Remi's nom de plume "Herges" is actually an acronym of his initials reversed. Walked through the Galeries Royals St. Hubert, which is Europe's oldest and still operating shopping mall under a glass and iron roof. We then walked through the Rue des Bouchers where it's one restaurant on a crowded narrow pedestrian only street after another with wait staff trying to suck you in. Then The Bourse, which is the stock exchange. This is the place where people stage protests, and indeed there was a protest having something to do with Afganistan going on there. Made the requisite visit to the Manneken-pis, Brussels' mascot. It's a 2 foot high statue of a boy holding his weenie and pissing. What the hell is up with that??!! Brussels is famous for lace and tapestries. We went into a tapestry store, and I was pretty enchanted with the tapestry wall hangings we saw. I especially liked the tall narrow ones of women done in the art nouveau style. So in a nutshell, besides being Europe's seat of government, Brussels is famous for the Manneken-Pis, french fries, waffles, mussels, beer, chocolate, tapestries and lace. There you have it.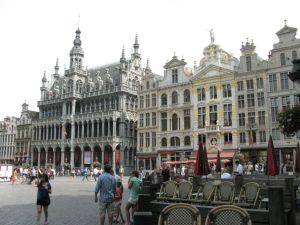 The Grand Place in Brussels.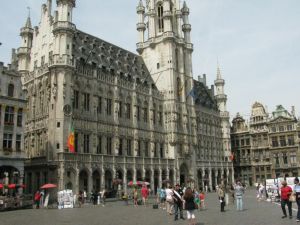 The Grand Place.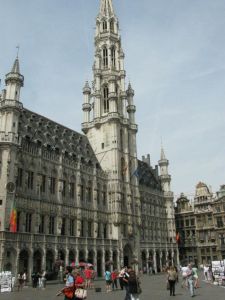 The Grand Place.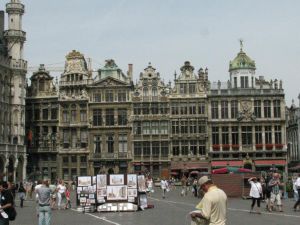 The Grand Place.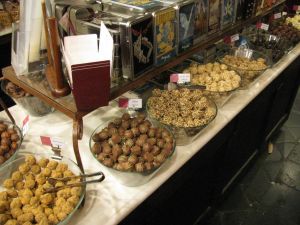 Chocolates.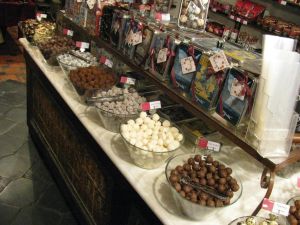 And more chocolates.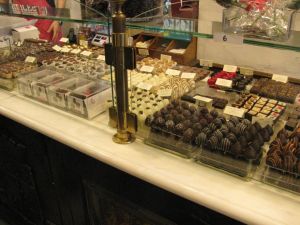 And more.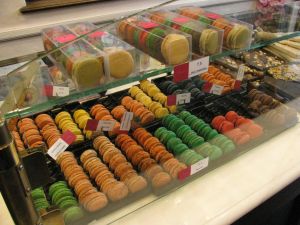 Macarons.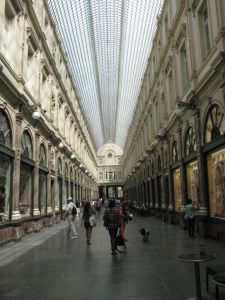 Galeries Royals St. Hubert.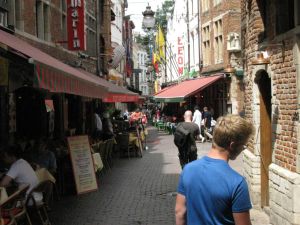 Rue des Bouchers.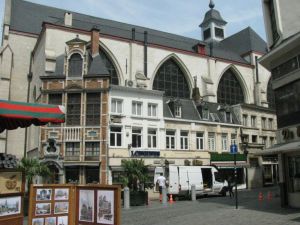 Diamond shops attached to the cathedral.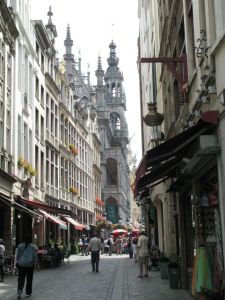 Street view towards the Grand Place.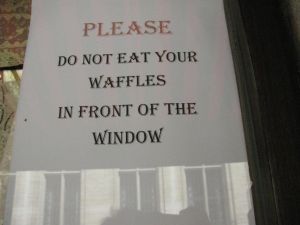 This means you!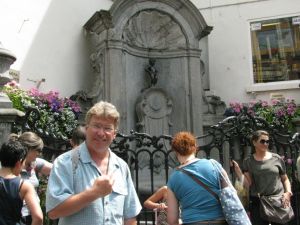 Tourists around the Manneken-Pis.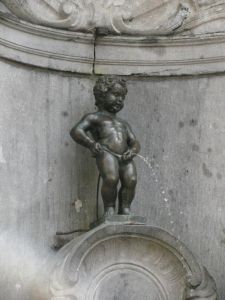 The Manneken-Pis.
I wanted to see the Musical Instrument Museum, known as MIM. It didn't take long to walk there, and was only 10 euros for the 2 of us. They give you a headset audio guide that has no spoken works. When you walk around and get right next to an exhibit, music from the instrument(s) you're viewing plays. They also have historic photos of people playing them . What a totally crazy collection of instruments. With the audio guide, this was a totally fabulous experience. We loved it. LOTS of instruments. The first I saw when we walked in was a Hurdy Gurdy, complete with ancient drawing of a man playing one. Remember the artist Donovan from the 60s and 70s? "They called it yellow mellow...". He had a song on that album called Hurdy Gurdy man, and I never new what that meant until now. 4 floors of instruments. We spent a lot of time there. Besides the really ancient instruments the ground floor contained mechanical and electronic stuff including super early synthesizers, a theremin, and a metal disc player that played circular, repeating music. One really disturbing thing was a "Barrel organ with mechanical automatons". The automatons where puppet like figures of a man stepping on a woman, one using a garrote on a woman and one closing the lid to a barrel with a woman inside. Freaky. Afterwards Evan got his first Belgain waffle and we headed back to our room to check in, shower and do a bit of laundry.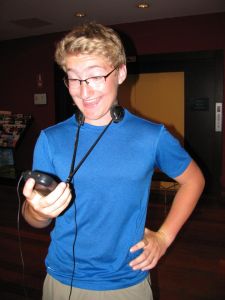 Evan with his audio guide at the Musical Instrument Museum (MIM).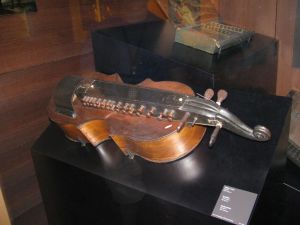 A Hurdy Gurdy.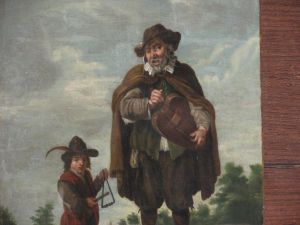 The hurdy gurdy man, like the song by Donovan.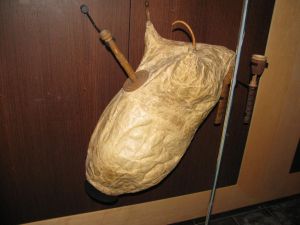 I loved this.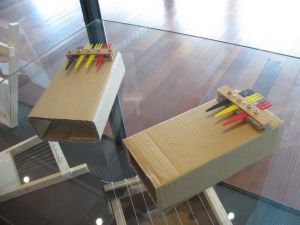 Modern, crudely formed instruments.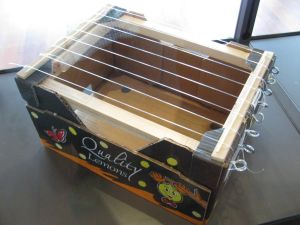 Modern, crudely formed instruments.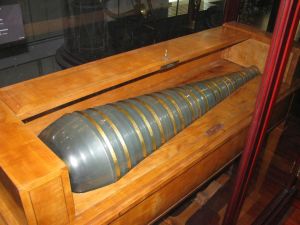 Another harmonica, like the one we saw in Colmar.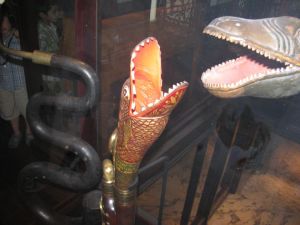 Nice bells on these horns.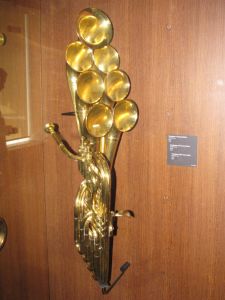 This looks like something from the hood of a 70s muscle car.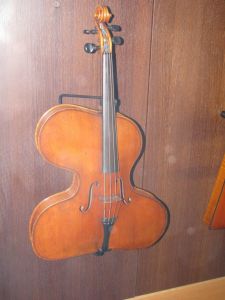 A distorted violin.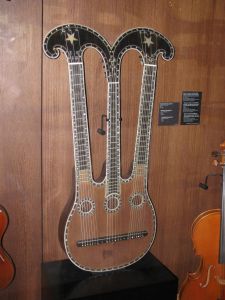 Must take a while to tune this.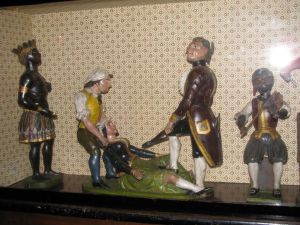 Mechanical automatons, with a guy coming at a woman with a large pinching tool.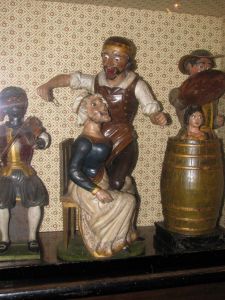 An automaton garroting a woman.

An automaton putting a woman in a barrel.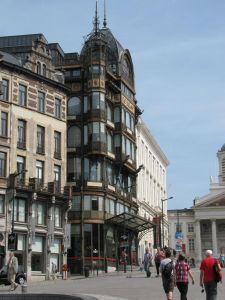 The Musical Instrument Museum.
Updated this log and headed down for dinner. The dinner hour was from 6:30 to 7:15 and we arrived at 7:25. I was mortified, and the head guy in the kitchen offered to feed us anyway. He apparently pulled stuff out of the fridge and heated it up. Great meal for a hostel, even came with a beer for me and a pitcher of ice water for Evan. Our room has bunkbeds for 2 and a huge window that swivels so there's plenty of air flow. Should be cool tonight. There's a big skatepark outside and we can hear skaters scraping lips and flipping their boards doing tricks. Traffic noise too, but it's all kind of soothing.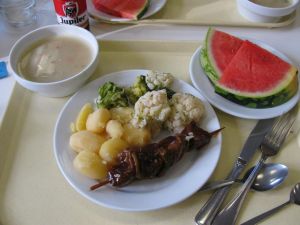 Dinner at our youth hostel.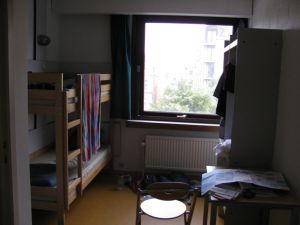 Our room at the hostel.
Prev | Next