30 Days in Europe with Evan
June 30, 2013 - France
Prev | Next
Sunny skies this morning. This is great after yesterday's rainy arrival to Annecy. We opted out of the 8 euro per person breakfast at the hotel thinking that we could do better since Sunday morning (today) is market day, where food vendors line the canal. I went out for coffee before Evan rose, and bought cafe au lait at a sunny corner cafe. Back to the room to fetch Evan for the day's adventures. Upon exploring the canal walkways, indeed there was a truly impressive display of breads, cheeses, sausages, olives and fruit. All the ingredients for a picnic lunch. We sampled some pastries (pain au chocolat, almond and apple tarts). The roasted chicken vendor had birds turning on spits (they were dead, don't worry -Evan) dripping their juices onto a bed of potatoes below. We love fatty foods, and that looked spectacular. Bought the normal array of bread, cheese, sausage and fruit (cherries) for lunch.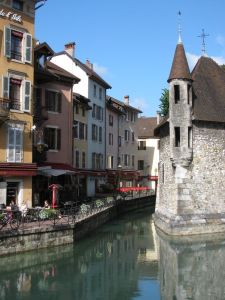 Sunny morning in Annecy.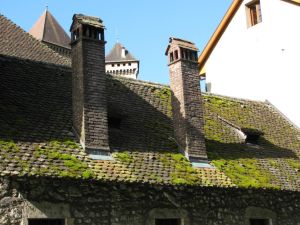 Interesting roof and chimneys.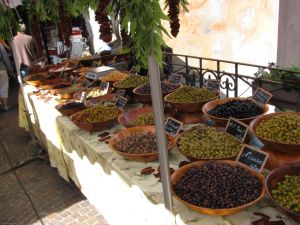 Olives at the market.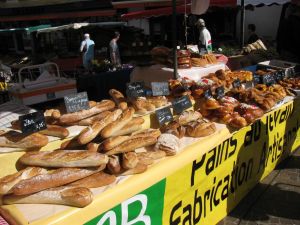 Bread at the market.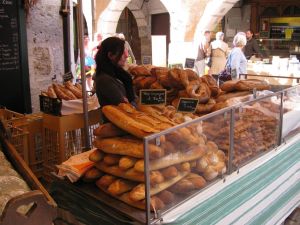 More bread.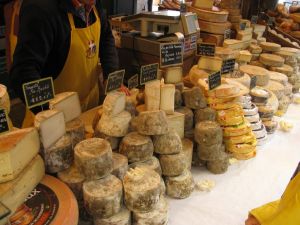 Wonderful cheeses.
Rick Steves recommends a combination walking and boating tour around the lake, or bike riding to the town of Duingt. His recommendations are generally good, but we're a bit more "enthusiastic" than him. We rented bikes from the shop at the lake's edge and rode all the way around the lake. It's about a 30km trip, and totally flat except for a climb around a small mountain on the west side of the lake. A triathalon was taking place this day in Annecy, and there were a zillion people at the lake front getting staged for the race. (Yes, there were "literally a zillion people". its science. -Evan) Not sure if I've ever seen that much carbon fiber (in bikes) in one place. The line at the bike rental was long, but it went reasonably quickly and we chose a couple of Scott brand road bikes with flat handlebars. They were really nice, responsive bikes that were fun to ride. Headed out on the bike trail that was amazingly crowded. I've never seen this many bikes. I liked it! Passing was challenging, necessary yet fun. The lake water was a beautiful glacial blue color. The architecture has changed and looks more alpine now with timbered, gabled facades. Skies were partly cloudy, and cloudbase was a bit low. Typical weather the first day after a rain in an alpine region. We noticed paragliders up the mountain on the west side of the lake. Rode through an interesting bicyle/pedestrian only tunnel after seeing some rock climbers gearing up for an ascent up a rock face. Noticed paragliders landing at a field up ahead after the tunnel, and detoured their for our picnic lunch. Paragliding and tandem tourist flights looks to be a big industry for Annecy. We watched many tandem and single paraglider flights land during lunch.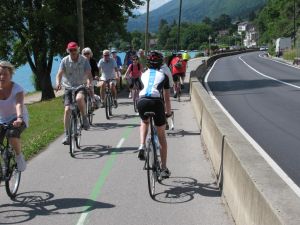 On the bike trail. It was crowded near downtown Annecy.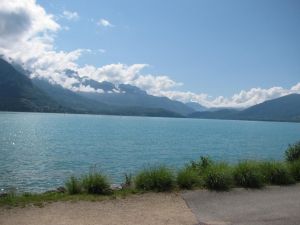 Lake Annecy.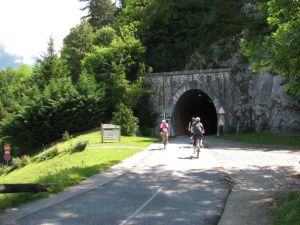 Approaching a bike/pedestrian tunnel.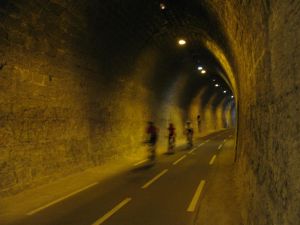 Fast riders in the tunnel.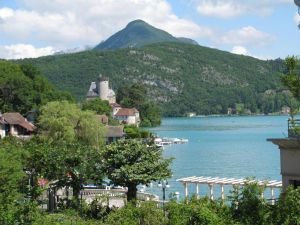 A lake scene.

A lake scene.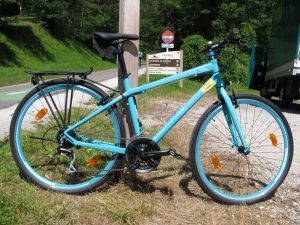 One of our rental bikes. I liked them.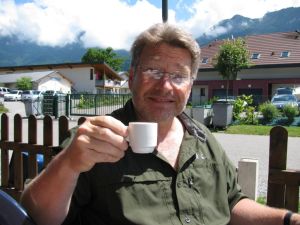 Taking a short break. Coffee for me.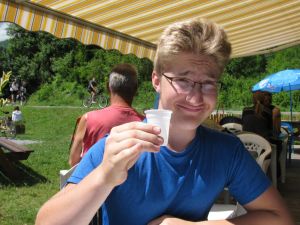 Water for Evan.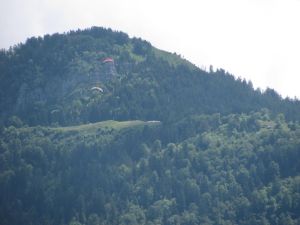 Paragliders across the lake.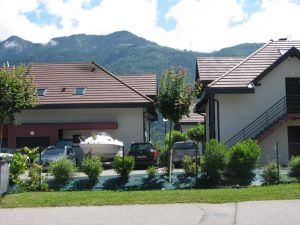 The bare light green clearing near the top of the mountain was their launch.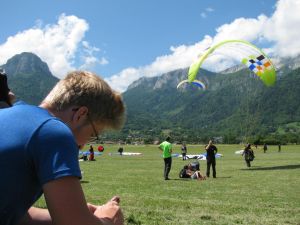 Evan eating lunch at the landing field.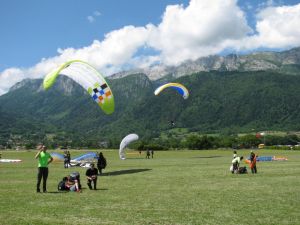 Landing field action.
The landing field was at the south end of the lake, and the bike trail ended here. We veered left/west at a roundabout at the end of the lake to begin the journey back. Heavy traffic on this road, but drivers are used to the many bicycles here. We went through a number of typically quaint villages alongside this beautiful lake. Evan said he liked it a lot. It seems he's doing better now in terms of enjoying himself. Climbed the hill on the west side, which was not insignificant, (It was pretty insignificant, and I resent those remarks about me not having a good time. -Evan)and made it back to Annecy. There seems to be a lot of money here. Lakeside houses look very expensive. The waterfront was jammed with people, both tourists and people from the triathalon. The running stage was going on in cordoned off areas as we cycled around the town waterfront. Returned the bikes (28 euros for the half day for both bikes) and walked back through the thick tourist crowds to our room. Shower for me. Laundered some clothes in the sink as is our custom. Evan read while I went out and got cash and had a couple of beers canal-side and reviewed my pictures. It's been quite a trip. The weather forecast for Chamonix looks good for the next 2 days, but with 70% chance of rain for our 3rd day. We'll have to make tomorrow count for a hiking day despite our late arrival at 9:50 AM.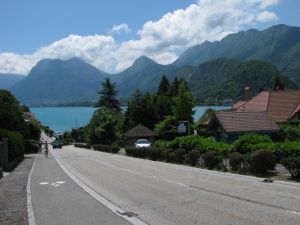 Looking back after starting up the only hill on the round-the-lake route.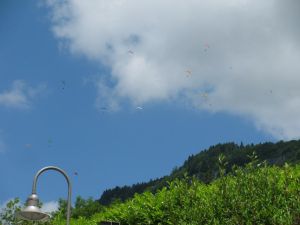 More paragliders.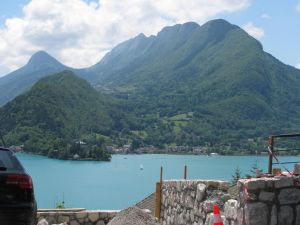 Across the lake.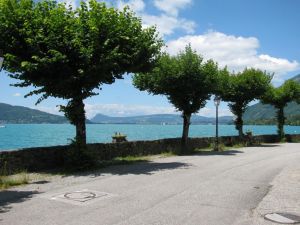 Lakeside.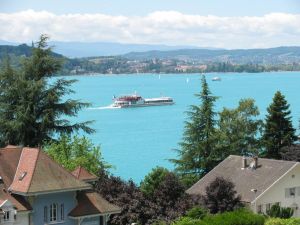 The town of Annecy in the distance across the lake.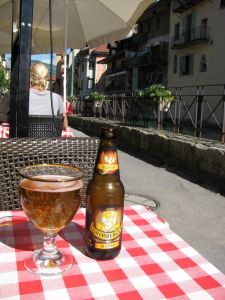 An afternoon beer along side the canal.

My peeling sunburn from that fateful hike to Cap de Creus.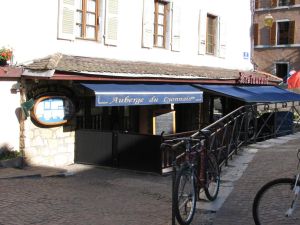 Our lovely hotel, L'auberge du Lyonnaise.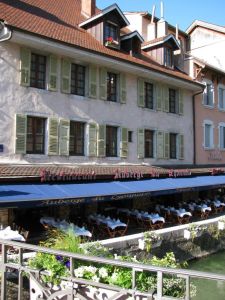 Our hotel again, along side the canal.
We had dinner at La Fete again, arriving earlier this time so we could get a table upstairs where there were electric outlets necessary for serving raclette. We read that raclette is a regional dish with potatoes, cheese and sausage. They brought out a wrought iron device with electric heating elements that instantly brought me back to the torture museum in Carcassonne. Raclette is served by placing a half wheel of cheese that's about 2 inches thick and a foot in diameter (a hell of a lot of cheese) in the heating device. A hooded heating element part slides back and forth, closer to or farther from the cheese, to heat it to a melting temperature. Whole boiled white potatoes are served in a bowl, and a meat of your choice (bacon and smoked ham for us) is served thinly sliced on a side plate. Small pickles and pickled onions are also served. Once the cheese is melting on the surface, you scrape off the gooey, melting cheese with a special knife and put it on your potatoes. It could easily be a 10,000 calorie meal. We only made it through about an inch of cheese. A fascinating if not fattening meal. Back to our room after gelato where the internet connection was good enough to watch Sasha Baron's movie Dictator. Very funny. Set the alarm for 6:15.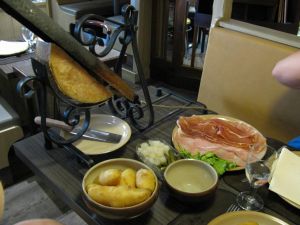 Our raclette dinner. Cheese with the melting device, a bowl of potatoes, sliced meats, pickles and pickled onions.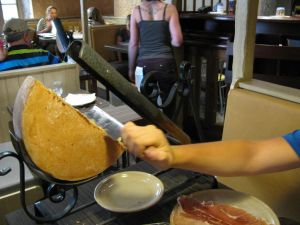 Evan scraping the melted cheese.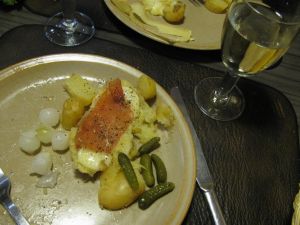 Raclette on the plate.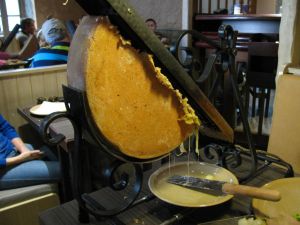 A close-up of the cheese and heater.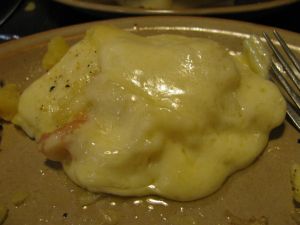 Cheesey.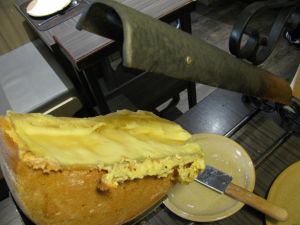 The cheese. There was a *lot* of it.
Prev | Next