30 Days in Europe with Evan
June 25, 2013 - France
Prev | Next
Woke to the alarm at 8:15 so as to not miss breakfast. Am finally adjusting to the time zone, though sleep could have been better due to my ridiculous sunburn from the Cap de Creus hike. The youth hostel served a typical French breakfast, coffee in bowls, bread, OJ, cereal and yoghurt. Set out after breakfast to tour the walled Cite de Carcassonne. We had Rick Steve's walking tour with us, and followed that around the Cite. Started early before the crowds appeared in droves. Walked along the outer wall, pausing to look out through the archer's slots to the dry moat below. Then back through the gates and inner wall. The cathedral here is beautiful. Giant rose windows with lots of blue glass, and a huge pipe organ. Through the narrow cobbled streets and then to the torture museum.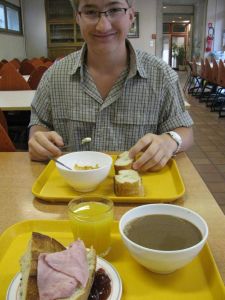 Evan eating breakfast at the hostel in Carcassone.

Me with my bowl of cafe au lait.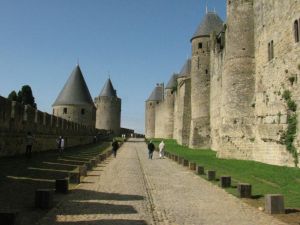 The walled city of Carcassonne.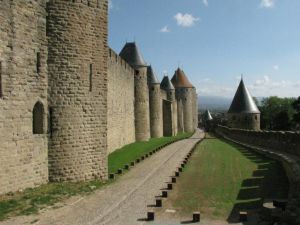 Between the inner and outer walls.

Evan on the ramparts.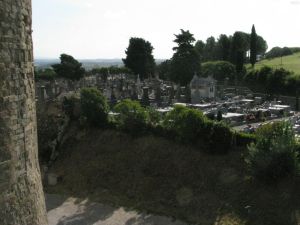 A cemetary across the way.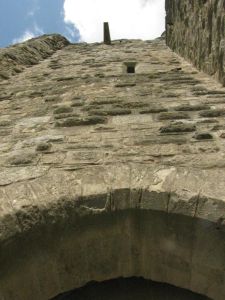 Where they poured boiling oil on you as you tried to storm the gate.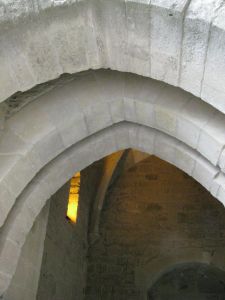 The heavy wooden gates slid down from these slots.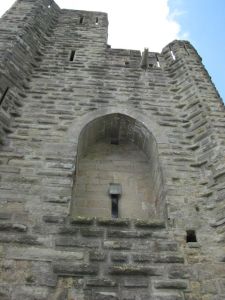 Archer's slots in the stone walls.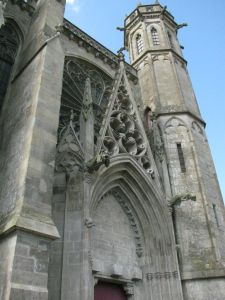 The cathedral inside the walled city.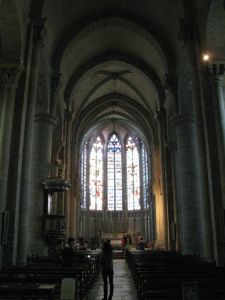 Cathedral interior.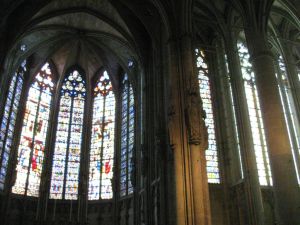 Cathedral interior.

Cathedral interior.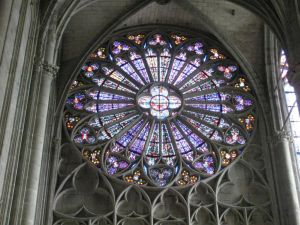 Cathedral interior.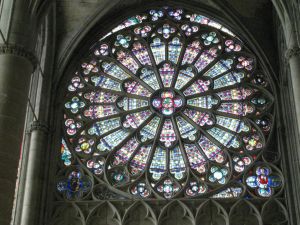 Cathedral interior.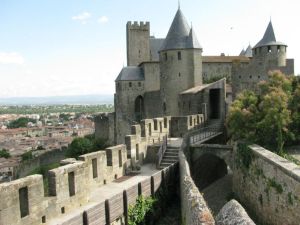 The walled city.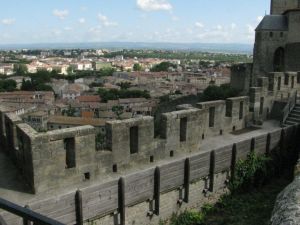 Looking down onto the rest of Carcassone.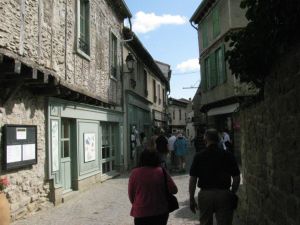 Street scene from inside the walled city.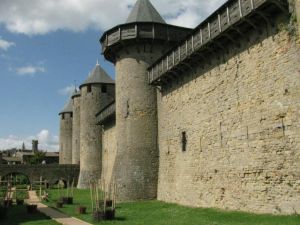 Outside the walls.
I've been to the torture museum in Rothenburg ob der Tau in Germany, which was great, and this one was more sobering. Detailed descriptions of torture by the Roman Catholic inquisitors to the Cathars. Really unspeakable things went on. Not sure if it was a good thing for Evan to see. Oh well, too late now.

Evan at the torture museum.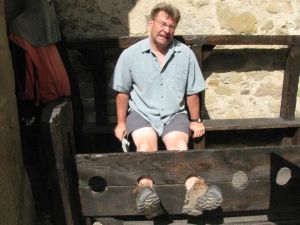 Like my butt wasn't already sore enough from riding.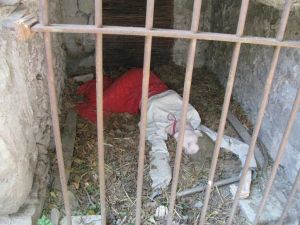 Guantanimo. Whoops, I mean what they used to do to people.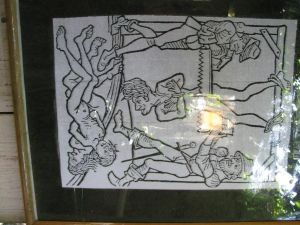 That's gotta hurt.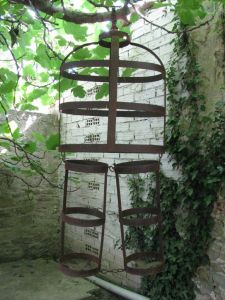 People were hung up inside these cages outside of many towns apparently, and left to die and rot.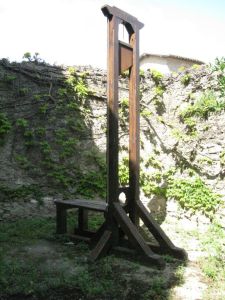 You know what that is.
It was past noon by now. The inner Cite had plenty of restaurants, but I wanted to see what places there were to eat in the new part of town (from the 1400s), so we headed off down the hill across the Pont Vieux (old bridge). Found a brasserie where we had a decent lunch. Sausage and fries for evan, pork and potatoes for me. We decided eat cheaply for lunch after this. Europe seems quite a bit more expensive than it did 3 years ago. Our tourist info center-supplied map of Carcassonne had a walking tour marked on it, so after lunch we decided to follow it. The suggested route went by various squares, through narrow, cobbled streets, and by cathedrals. Your basic medieval European city. We spotted a nice park below the Pont Vieux on the way there, and decided to play some impromptu disc golf there. Back to our room for discs, then back to the park. Nice place, sandwiched between 2 rivers, but big enough so we could avoid water hazards. At one point my disc landed near a huge dog, who pawed at it and then picked it up in his mouth. I said "Excusez mois monsieur, votres chien!" to the dogs owner, holding up my disc and pointing to his dog. I gestured to ask if it's ok to approach the large, scary dog, and he called back "Il est gentile!", and he was. Now I have one tooth mark in that disc. Played for quite a while, then back the hill, this time entering through the south side gate. We think we know both the old and new parts of Carcassonne now. Back to our room for some down time, nap and reading.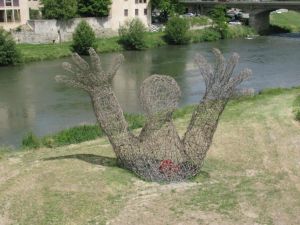 A woven sculpture down by the river. Later we went inside it.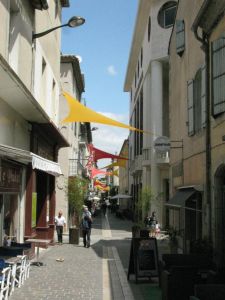 Streets of Carcassone, outside the walled city.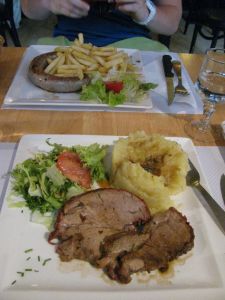 Lunch in Carcassone.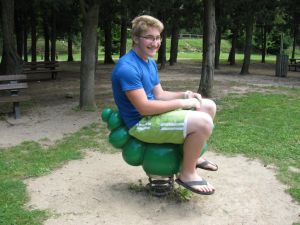 Evan in the park where we threw discs.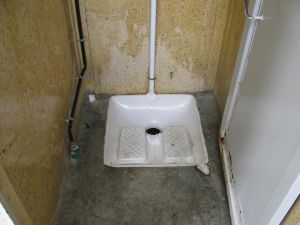 The toilet in the park.
Post-nap we headed out to a cheaper restaurant than the Auberge de Lices where we ate the night before. That was actually Rick Steves' top pick for quality/value inside La Cite. This time we found a cheaper brasserie with a 12.90 euro menu that included cassolet. Had (French) onion soup, which was like American French onion soup, except the float a single slice of baguette with cheese on the soup instead of smothering the whole thing in croutons and cheese. I'd say this cassolet was as good as last nights. I think we've done the cassolet thing now. All those beans do have an effect later on.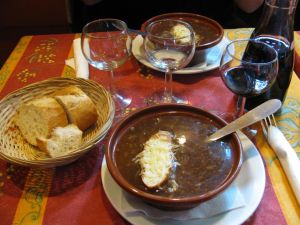 Onion soup for dinner.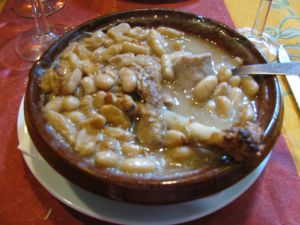 Then cassoulet.
Back to the hostel where we played some particularly lively games of ping pong. A huge group of elementary school age kids in the dining area watched us excitedly while we played. At one point Evan's paddle handle separated from the head of the paddle and the paddle head flew off and hit the window in front of the kids. That was exciting. A nice kid who looked to be a couple of years younger than Evan fetched us a new paddle. After a bit more playing we went back to our room to read until it got dark enough to do our walk of the outer wall to see the castle lit up by the flood lights that illuminate it at night. This is highly recommended by Mr. Steves. Evan was downstairs internetting at the wi-fi area while I read, and when I heard the sound of a ping pong ball being bounced against a half-folded table. It was the kid who got Evan a paddle. I went downstairs and pleaded with Evan to go ask him to play (Jouez avec moi?). He refused, even with me begging. I thought it would be a good thing for him. He said, "why don't you?". After going upstairs to read a bit more, I thought, why not? I went down and poked my head out onto the patio and asked, "Voulez vous jouez avec moi?". He replied, "Si vous voulez.". I got a paddle, came back and we volleyed. He was good. I could see Evan through a window, still using the iPad. I yelled "Hey Evan", and that brought him outside with us where he sat and watched. Eventually I asked him if he wanted to play, so he took over. I asked the kid if he lived in Carcassonne (stupid question since he was in the hostel), he said no, he lived about an hour from there. I asked him if when they play a game if they play to 11 or 21. He said 7. Weird. Not long after I bowed out to let them play. Evan had a few exchanges with him, which was nice. Eventually it got too dark to play and we went out for our illuminated night walk. Very pretty.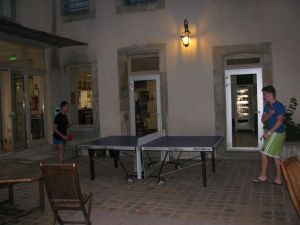 Evan playing ping pong with a French kid. He was good.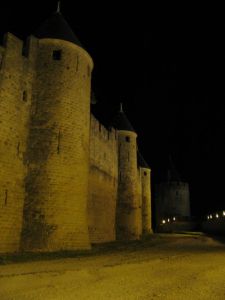 Night scene at the walled city.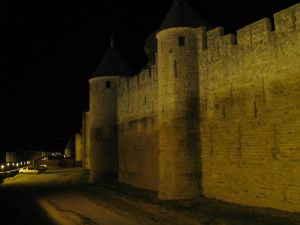 Night scene at the walled city.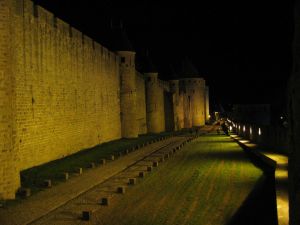 Night scene at the walled city.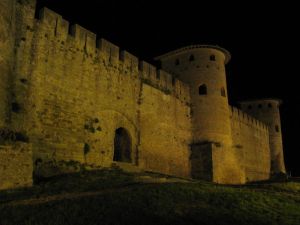 Night scene at the walled city.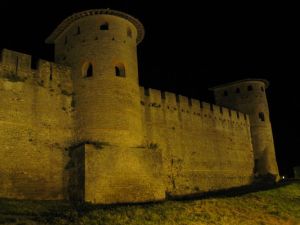 Night scene at the walled city.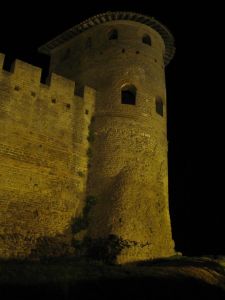 Night scene at the walled city.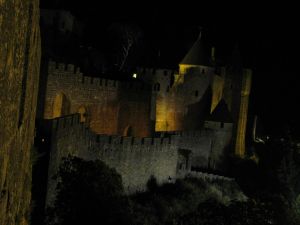 Night scene at the walled city.
Prev | Next