30 Days in Europe with Evan
July 8, 2013 - Germany
Prev | Next
Oh what a night. Maybe 2 hours of sleep. Couldn't even sleep in/late. Frau Orth made a nice breakfast. I like the coffee they make in Germany. It's a little stronger than in France. Meats and cheeses with the bread, and a hard boiled egg, though I worried about what would happen to what I ate based on last night's escapades. We paid our bill before packing to leave. Only 40 euros, with breakfast! I had saved many detailed images of map of our hike that I found on the web. Today we were to walk from Bacharach to Oberwesel. Had the iPad charged to 100% for this. Turns out we didn't need it. The trail was clearly marked the whole way with little signs. Many evan gave km distances to various destinations including Oberwesel. We estimate that this day's hike was about 8 miles. It was pretty hot. Full sun, but with a good breeze most of the time. There was a tough hill climb out of the valley initially, up through the reisling vineyards. One part of this had a thick steel cable as a handrail and I was literally pulling myself up the hill hand over hand with the cable.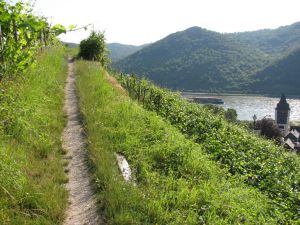 Steep trail leading up through the vinyards out of Bacharach.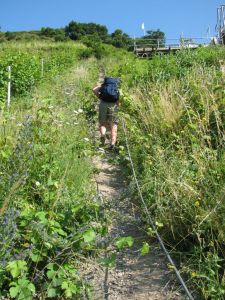 We had to use the cables to haul ourselves up the hill.

Looking back down at Bacharach.
Today I used sunblock to prevent a sunburn like on the hike in Cadaques Spain. Eventually put on a shirt with sleeves too. I liked the hike. It was a mixture of skirting vineyards and overlooks to the Rhine river below, trails through and along fields of wheat and other weird looking crops, and trails through the forest. Saw many hunting blinds and some deer cavorting through some tall wheat. Watched a helicopter spraying vineyards too. Encountered some other hikers, they seemed to all be Germans. We made it into Oberwesel by about 1:00 PM. It's a pretty sleepy town without all the tourist stuff found in Bacharach and St. Goar. Had lunch at a bakery (sandwiches and a coke for me). My stomach was feeling much better by now. I had feared that this would some kind of long term parasite, but thankfully it wasn't. The cathedral in town opened at 2:00 PM for visitors, and we headed inside there after lunch. An amazingly large cathedral for such a podunk town.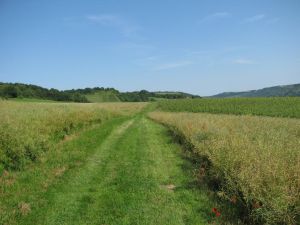 Quite a bit of the 'trail' looked like this. Mowed grass through fields of crops.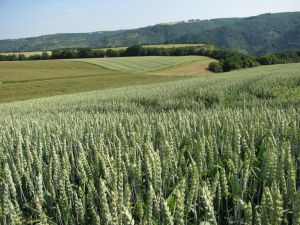 Wheat fields.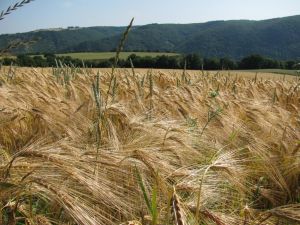 Wheat close to being ready for harvest.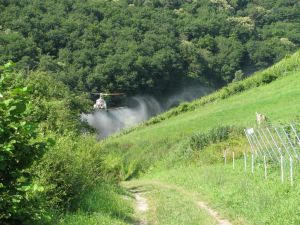 Helicopter spraying vinyards.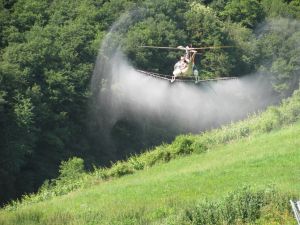 Helicopter spraying vinyards.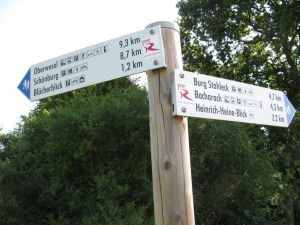 Excellent signage for these trails.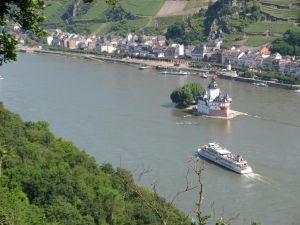 Looking down at the Pfalz-im-rhein castle.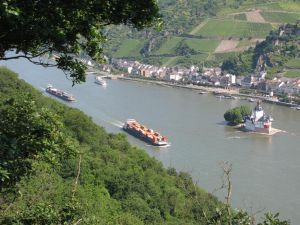 Barge traffic on the Rhine.

Another view of the Pfalz-im-rhein.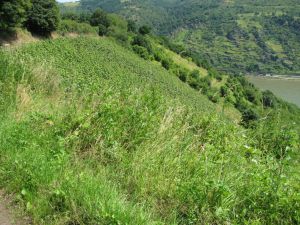 The trail goes along the top of this vinyard.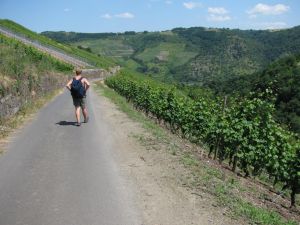 A paved farm road.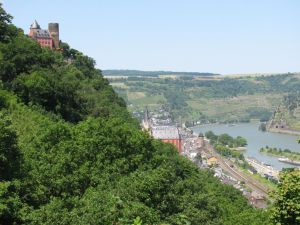 Looking ahead towards Oberwesel.
Our original plan was to spend the night in Oberwesel, but we decided to hop on the Koln-Dusseldorf tour boat and spend 2 nights in St. Goar. We had to wait over an hour for the boat, but spent time lying on park benches by the water in the shade of trees reading and napping until the boat came. Only a 20 ride downstream to St. Goar on a boat that was packed with tourists, mainly Japanese it seemed. Once in town we walked up to Frau Kurz's house to see if she had a room available. Max and I spent 2 nights there 3 years ago. She did, so here we are. She seemed happy and perky, and looked me up in her guest log from 3 years ago. We were both tired, me especially from the little sleep the night before, so we read, napped and took showers before heading out to walk around the town and then eat. Found the Lorely Perle restaurant where we both had schnitzels and I had speatzle, the funny pasta where they dribble liquid dough into boiling water. I tried a glass of the local sweet white wine, which was good served cold. Huge ice creams for dessert with some coffee, then a walk around town. Tomorrow we'll tour the Rheinfell castle and probably do the hike up to the Lorely center on top of the plateau on the other side of the river. /p>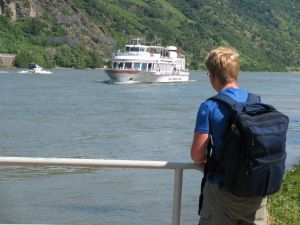 Waiting for our Koln-Dusseldorf tour boat.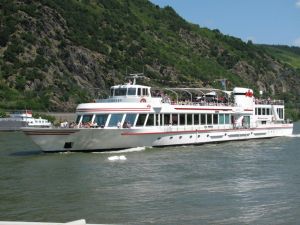 Our ride to St. Goar.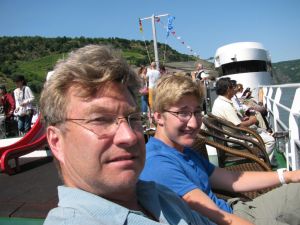 On the boat.

Tourists on the boat.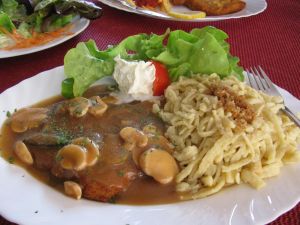 Dinner in St. Goar. S. Schnitzels and speatzle for me.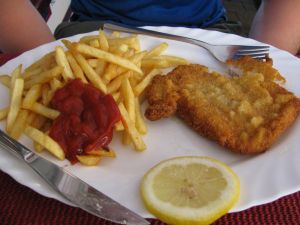 Schnitzel and fries for Evan.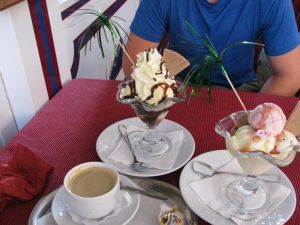 Dessert.
Prev | Next