30 Days in Europe with Evan
July 14, 2013 - Netherlands
Prev | Next
We did a lot of riding today. My printed google map says 63 km, but with miles for when we got lost in Uitgeest, it probably amounts to about about 42 miles. That's a long way on these upright Dutch bikes. My left knee hurt a lot mid way into the day. Both our butts are really sore.
No one was there at the hotel this morning but us. I made coffee and we had a big breakfast in the breakfast room before leaving. Found our way to the path along the canal south to Alkmaar. It was cloudy, and chilly enough to put on our fleece vests, but soon warmed up and got partly sunny. Rode past many fields with cows, and the usual assortment of canals with swans and ducks. We've seen quite a few families of swans with a handful of babies. They're pretty cute. Crossed a sliding drawbridge into Alkmaar and watched a boat remotely activate the bridge. It's like a tiny version of the Hood Canal bridge. Made it to the Alkmaar's town center where they have the big cheese market. However all was quiet for us since it was fairly early on a Sunday morning. No crowds of tourists. Rode through the narrow, cobbled streets back out to a canal for the next stretch down to Akersloot and Uitgeest.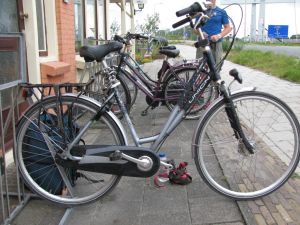 My rental bike with drum brakes and internal hub gears.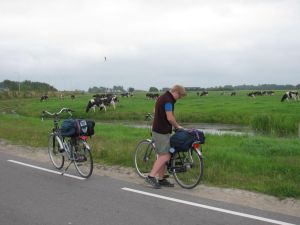 Getting out our fleece vests for a chilly morning.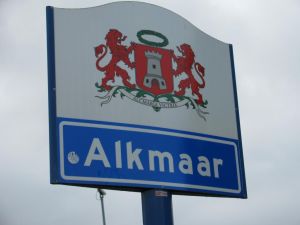 Entering Alkmaar.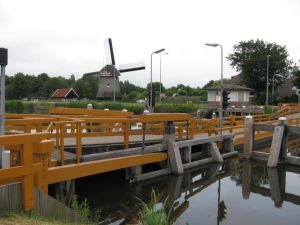 A sliding drawbridge in Alkmaar.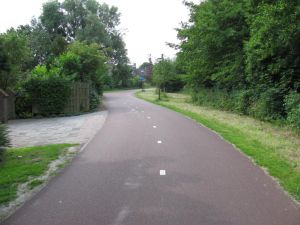 Bike trail in the city of Alkmaar.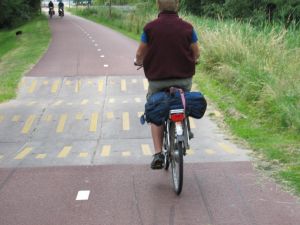 Speed control device for bicycles.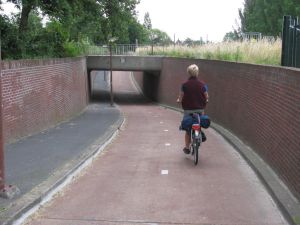 A tunnel on the bike trail.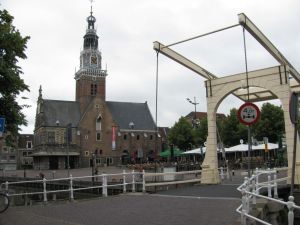 The cheese market building in Alkmaar.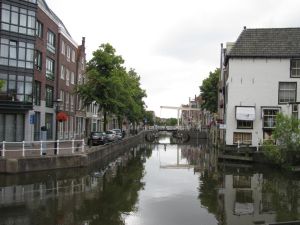 A canal scene in Alkmaar.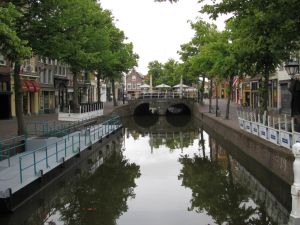 Alkmaar.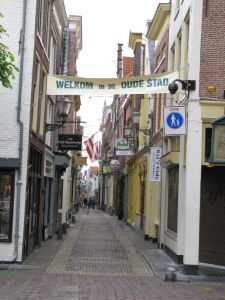 Narrow street in Alkmaar.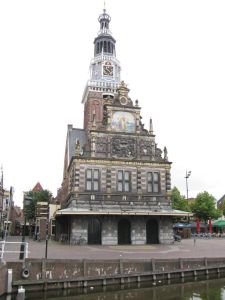 The cheese market building again.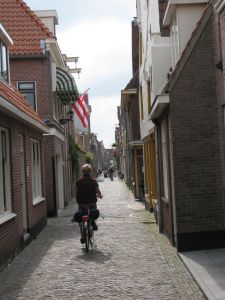 Making our way through Alkmaar center.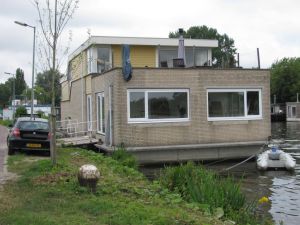 A houseboat made of bricks and concrete.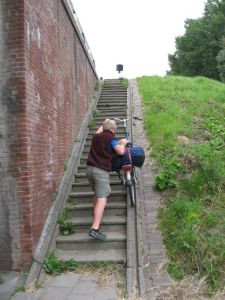 Getting up to the road from the bike path.
We overshot our turn to the east out of Uitgeest and had to ask directions a few times to get there. Then rode through a park on some narrow but paved nature trails by a lake called the Zwaansmeer. Water everywhere around us, and clouds of bugs to ride through. Crossed a narrow spit where there were sets of rollers on each side for people to drag larger boats over from one side to the other. While we were there a couple of sea kayakers portaged over the spit. Looked like a fun place to paddle. We had 3 ferry crossings today. The first was a small, motorized ferry that could hold a couple of cars and some bikes. The second was non-motorized and only held bikes and pedestrians. A chain spanned the canal there, and you cranked a handle to move boat along the chain. Funny, we had gotten about a foot away from the dock with a Dutch cyclist cranking the handle when a middle age couple rode up and must have asked if they could get on too. Apparently (we couldn't understand the Dutch) the guy said "no" and cranked on, with them only a couple of feet away! It was comical. The last ferry was much bigger, designed for maybe 20 cars, and crossed a busy shipping canal near Haarlem. Somewhere between Alkmaar and Harlem we stopped using my maps and just followed the signs on the bike lanes to Haarlem.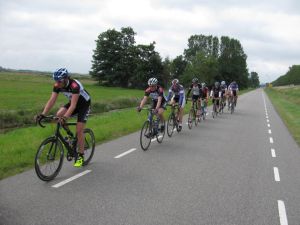 Lots of enthusiast cyclists here.

Waiting for a small ferry.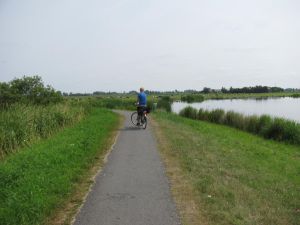 The bike trial by the Zwaansmeer.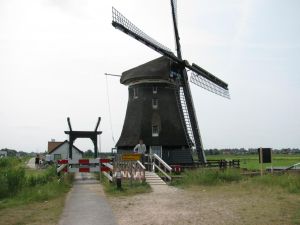 A nice windmill.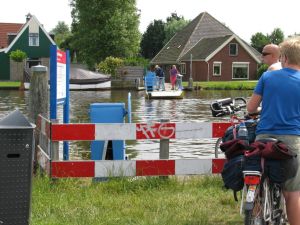 A hand-cranked ferry that was connected to a chain across the canal.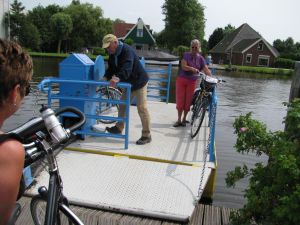 Only bikes and pedestrians here.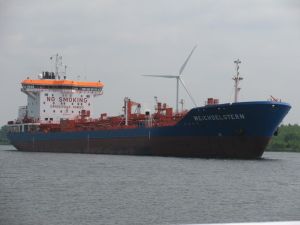 Ship in a canal near Haarlem.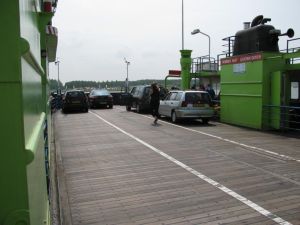 A 'real' ferry near Haarlem.
We made it to Haarlem by about 4:00. I was ready to get the hell off my bike at that point. We're at the Harlem Bot B&B. Our host met us at the door when we rang the bell. Sometimes I worry about that at B&Bs, what do you do if they're not home when you arrive? It hasn't happened to us yet. Nice big room with one king size bed, overlooking a canal. Neat to see boats pass by while lying in bed. Lots of pleasure boaters on this Sunday afternoon. We showered, I took a short nap, then we walked through the old town shopping district to the town center. It's big and open, pedestrian-only, and lined with historical buildings. We read Rick Steve's description while sitting on steps by a statue, then sat outdoors while I had a beer. An accordian player and opera singer started up nearby. They were pretty good, and fun to hear. Walked back to a pizza place for dinner, then back to our room for reading and bed. I slept like a rock.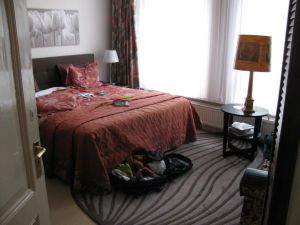 Our room at the Harlem Bot B&B.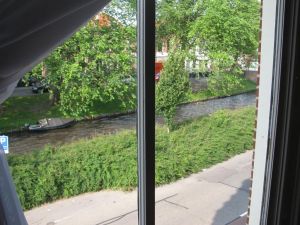 Looking out at the canal from our room.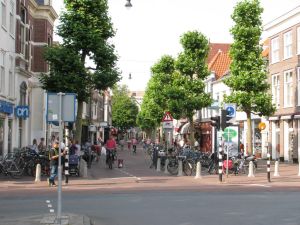 Pedestrian only zone in Haarlem.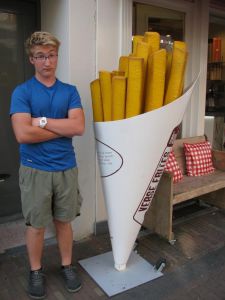 Evan at the end of a long day of riding.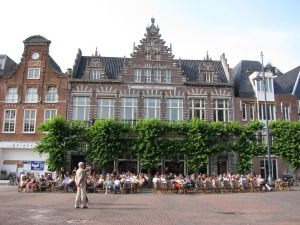 The town center in Haarlem.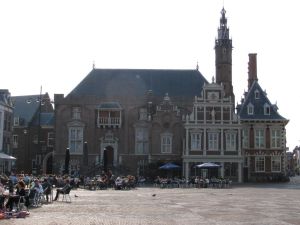 The town center in Haarlem.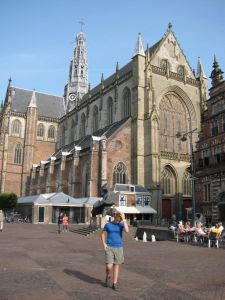 Cathedral at the town center in Haarlem.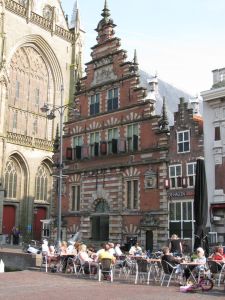 The town center in Haarlem.

Cathedral at the town center in Haarlem..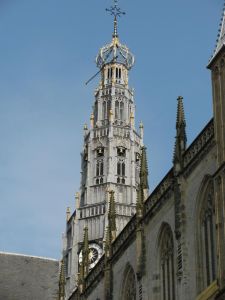 Cathedral steeple.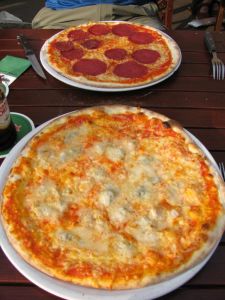 Pizzas for dinner.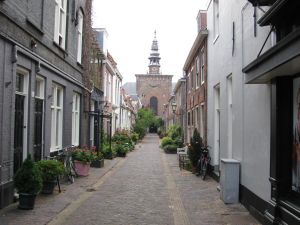 On the way back to our room.
Prev | Next