30 Days in Europe with Evan
July 9, 2013 - Germany
Prev | Next
Our last full day in Germany today. More beautiful weather, pretty hot in the morning and then seemed to get cooler with the wind. Had another nice breakfast with Frau Kurz. She told us yesterday that Rick Steves slept in the room next door to ours. Love her coffee. We started the day with a climb up the "nature trail" behind Frau Kurz's house to Rheinsfell castle. I thought Evan would like this one better than others we've seen since there are more tunnels, spiral stair cases and passage ways to explore. He did. Today was a repeat of of a day I had with Max 3 years ago pretty much. Fine by me. I like this little corner of Europe. We spent about 2 hours getting to the castle and exploring it. Evan passed for 14 getting in for the reduced fare. Rheinsfell is the biggest castle on the Rhein. 4,000 people would hole up here during sieges back in the day. It had a bakery, pharmacy, butcher, prison and brewery. Surviving town records say that 2 people survived on bread and water for twice a day in the prison for 2 and a half years, but died 3 weeks after they were released. Rick Steves hypothesizes that it was due to the shock of eating real food. I made a stop in the bathroom on the way out and they did a nice job of making it look medieval, with wrought iron handles and levers to flush the toilet and turn on the sink water. We walked into town after that to spend a little time in the cuckoo clock shop and the beer stein shop. They're pretty good here. I love looking at the clocks and steins. The lady at the cuckoo clock shop was very nice about explaining how the clocks work. I asked her which was her favorite (they have about a hundred or more) and she rolled her eyes a bit. But she then explained that she has several based on how elaborate the carvings are. They don't officially allow photos in the shop buy I sneaked one of Evan, and also one of Max 3 years ago. Otherwise I'd have a lot of photos to show them.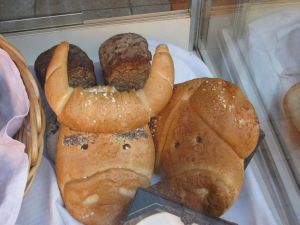 A bakery window.

Evan atop the Rheinsfell castle.
So here's the skinny on cuckoo clocks. There are mechanical ones that you rewind by pulling the weight chains, and there are battery powered ones that require no action on your part to keep them running. Most clocks in the shop were mechanical, because if you're going to buy a cuckoo clock you should get a "real" one. Mechanical ones can have small or big weights, the cast steel things that look like pine cones hung on thin chains. If they're small, you have to pull the chains to rewind the clock every day. You do it weekly for clocks with big weights. If they're only 2 weights, then you're rewinding the clock and the mechanical action for the cuckoo alarm. If they're 3, then your clock has music too that typically plays after the cuckoo action. The one standard mechanical action is the cuckoo coming out of the little hinged door at the top of the clock, often in the form of a gable end vent. Other actions include a man sawing a log, one or more drinkers lifting steins of beer, a water wheel turning and a person pulling a rope to ring a bell on the roof of the house. They're all really charming. The bigger, more expensive clocks with big weights (rewind weekly) have a mechanism to silence the cuckooing action for a 12 hour period of your choice, like from 9:00 PM to 9:00 AM, so you're not kept up at night. The shop lady assured us that you'd get used to the cuckooing and chiming and music playing anyway. She certainly has with her own clock. The clocks are made in the Black Forest (southern Germany). The mains styles include the alpine house, and highly stylized vegetation with elaborately carved leaves. In my opinion, you need to spend at least 700 euros to get a worthwhile clock with 3 big weights, a decent size, and cool cuckoo actions. I swear I almost bought one. In fact we returned to this store later in the day, and the shop lady sensed a possible sale. I asked her to show me cuckoo actions on a lot of clocks and she was happy to. It's highly entertaining. I asked here how long they last, and she said they "normally" last 40 to 50 years, but can go much longer if you treat them well. In the end I did not buy a clock. Besides the expense, it seems like adding another member to your family. All that cuckooing and chain pulling. And if you don't keep pulling the chains, then you end up with an expensive dust magnet that isn't doing what it's supposed to do. Maybe I'll look on Craigslist!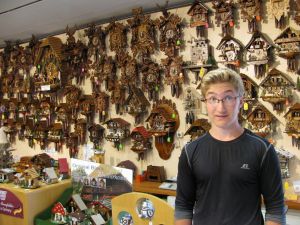 Evan in the cuckoo clock shop in St. Goar.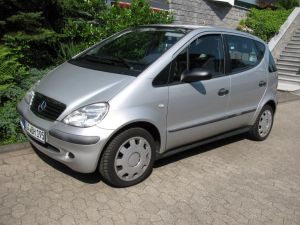 A Mercedes Benz minivan.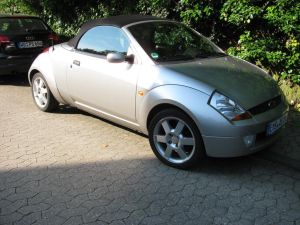 Neat sports car made by Ford.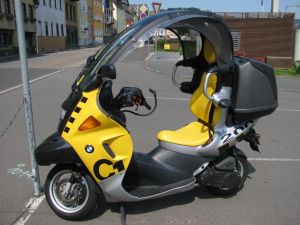 A BMW scooter.
The beer steins are a whole other world. We watched a video playing in the front window that showed how they're made. Initially there's a mold for the rough clay form, then some hand finishing using special potter's wheel, attach the handle with some slip and some tooling, dry, then paint the blue cobalt glaze and another waterproof glaze, then the firing, then detailed painting with special ceramic enamels, more firing and then attach the metal top. Real steins are actually hand made. The shop in St.Goar had zillions of them. Steins for different occupations, occasions, nationalities, cities, historical events, you name it. The more you look at them the more you want one. They're a lot more affordable than cuckoo clocks, but still, I sensed another dust magnet. We did not buy a stein. We pried ourselves away from the tourist shops and hopped on the little Lorely ferry that runs between St. Goar and St. Goarhausen across the river. It's a funny boat that holds maybe 20 cars, and has a big steel hook at each end that the captain engages with a hole in the steel landing dock each time he docks the boat. On the west bound trip the boat does pirouette to face the right direction on landing. We had a pizza in St. Goarhausen before heading up from the valley to the Loreley center above. Climbed the same stairs and path that Max and I did 3 years ago and found our way through the same wheat field to the center. They've built a luge by the wheat field since then that's made of a stainless steel track. You pay 2.50 euros to ride up a 400 meter long hill in a special wheeled sled that has braking levers. Once at the top of the hill you coast down the serpentine, banked luge track. Initially I tried not braking, but you get a lot of speed up in a hurry and I didn't want to end up in some catastrophic luge accident. Plenty of black rubber strips on the corners where others had braked. That was fun, but not fun enough to pay more euros for more rides. We found the trail back down to the river and hiked out to the Loreley statue. Evan skipped rocks and I waded in the warm Rhine river water. We were really thirsty at this point and started the hike back to the ferry. Found a store in town that sold water and we each got a 1.5 liter bottle and drank most of it quickly. Had a pastry at a bakery, did the second visit to the cuckoo clock shop.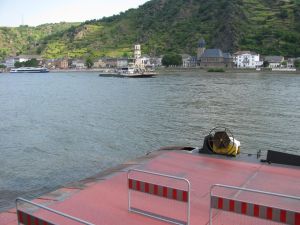 The Loreley ferry that runs between St. Goar and St. Goarhausen.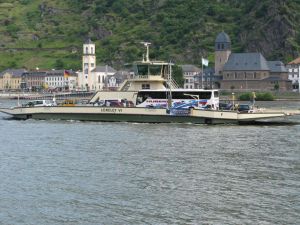 Here comes the boat.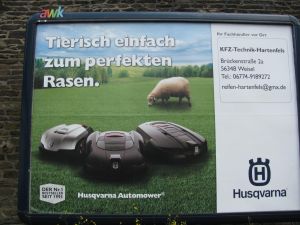 A billboard advertising robotic lawn mowers.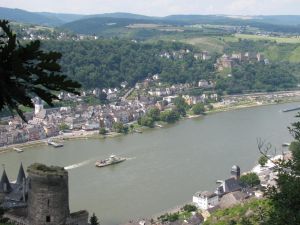 Locking back down on St. Goar from the opposite side of the river.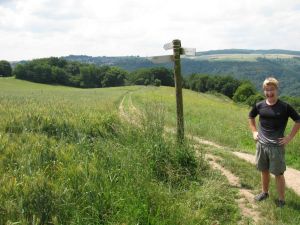 Evan in the same field that Max and I found 3 years ago.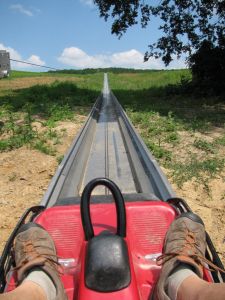 Heading up the 400 meter ascent in the luge.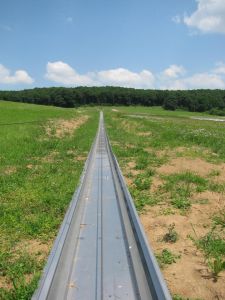 Heading up.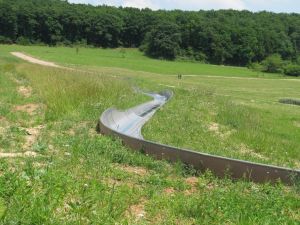 The downhill part of the luge.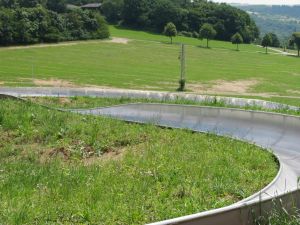 It had some pretty good s-turns.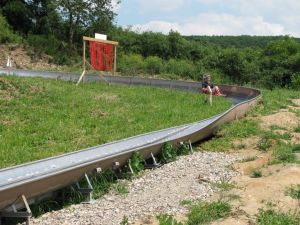 Evan near the end of his descent.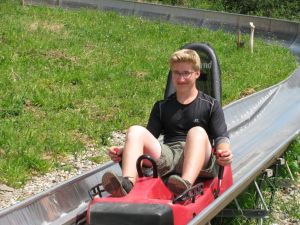 Evan braking.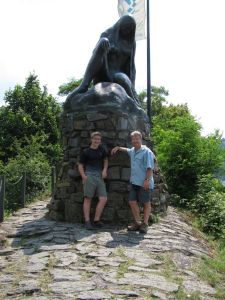 Us standing by the Loreley statue.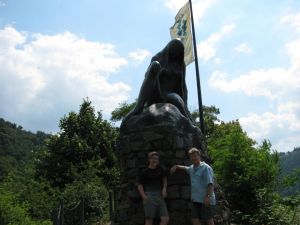 The Loreley statue.
We arrived back at our room at about 4:00 PM, showered, did some laundry, relaxed a bit, now ready for dinner. No internet since we've been in the Rhine river valley. We could buy access at the tourist info office for .50 euros for 10 minutes, but we'll wait until tomorrow when we're in Amsterdam.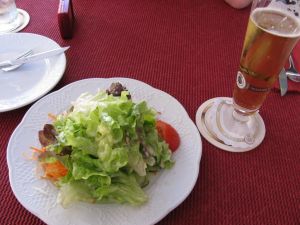 Salad and a nice German beer with dinner at the Lorely Perle.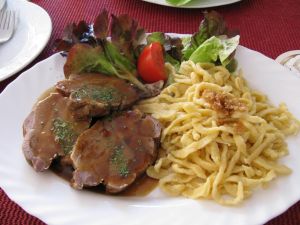 Schnitzel and fries.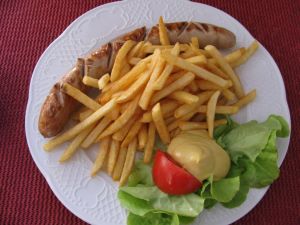 Wurst and fries.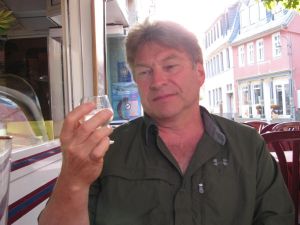 Me sampling peach schnapps.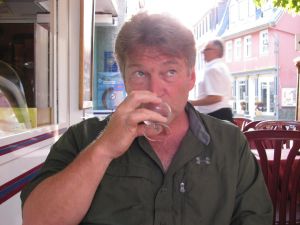 It wasn't bad.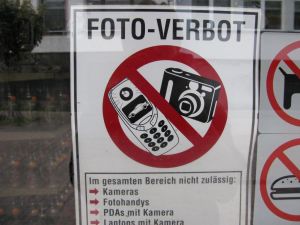 A sign in a store window.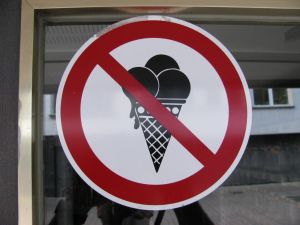 Another sign.
Prev | Next