30 Days in Europe with Evan
June 28, 2013 - France
Prev | Next
Slept in till 8:30, a half an hour after we told our host we'd be down for breakfast. No matter, coffee, bread, jam and juice were waiting for us. Packed our panniers, loaded up the bikes and headed towards Le Canal via directions from our host. Another super windy day on the towpath, with the wind to our backs. More miles of plane trees lining the canal. So beautiful, yet with such a bumpy path. Passed various overflow structures and locks until we reached Capestang where we detoured into the town. Asked where a bakery is (Ou est un boulangerie?) and bought a couple of pains au chocolat, and then visited the Collegiatte St. Etienne cathedral from the 13th century. Beautiful stained glass windows there. Then on to Poilhes where we thought we'd try to find a place for lunch, or a store. No luck, the store was closed from 12:30 until later in the afternoon, and we didn't feel like another $30 lunch. We met a guy who was also on a Relax Rental bike and swapped stories with him. His first words were "Seen a bar?". He'd cycled from Carcassonne and ended up in the bike rental place with us an hour or so later. He told us he did a 6 day hike through the Pyrenees with Mac Adventures, and said it was great. Could never have planned it from afar, and needed locals in the area todo the bookings. He was from Australia, but originally from Zimbabwe and South Africa. Moving on, we reached the Malpas tunnel. Another amazing feat of engineering where there's a road on top of the canal tunnel which is on top of a railway tunnel. Watched a boat go through and admired the strange tunnel ceiling surface. Holes everywhere. Not sure what happened there. It didn't take long to reach the Fonserannes locks just outside of Beziers. It's a ladder of 8 locks that's evidently the most dramatic work on the canal.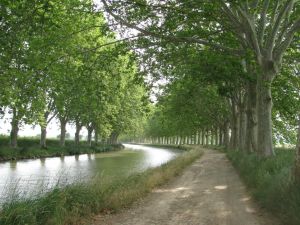 Back on the canal again.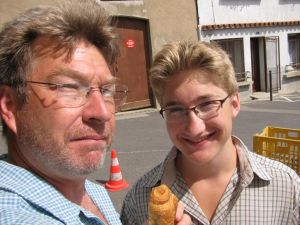 Bakery goodies in Capestang.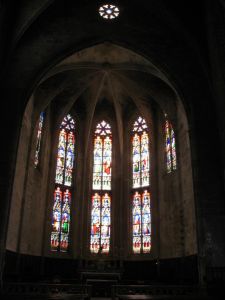 Interior of the Collegiatte St. Etienne cathedral in Capestang.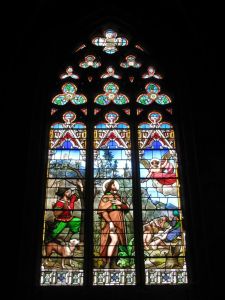 Another interior.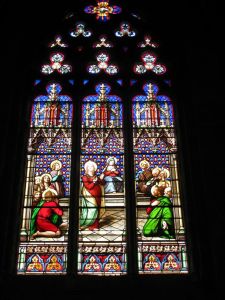 I liked the stained glass there.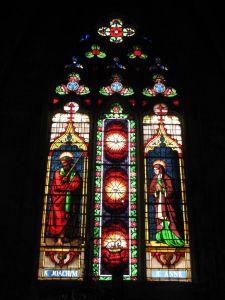 More stained glass.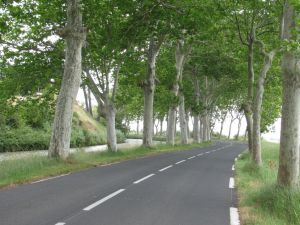 A road near the canal path.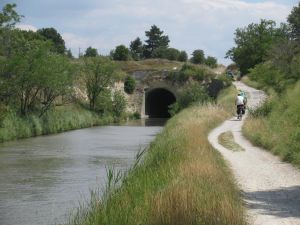 The famed Malpas tunnel.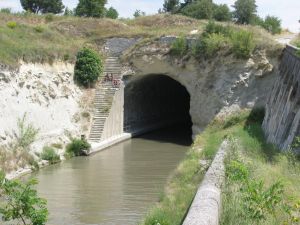 Malpas tunnel.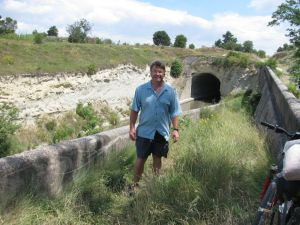 Me at the Malpas tunnel.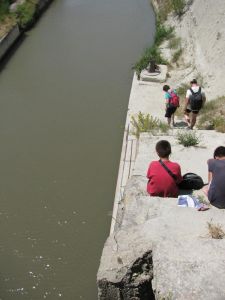 The French have a different take on the need (or lack of) for guardrails.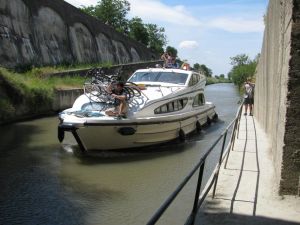 A boat heading into the Malpas tunnel.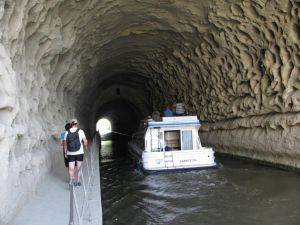 The tunnel, inside.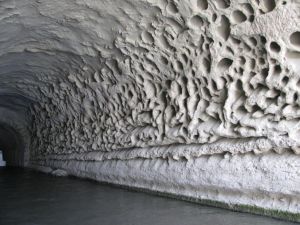 Not sure what made the tunnel walls like this.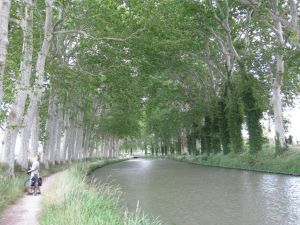 The canal.

Evan in some seriously tall grass.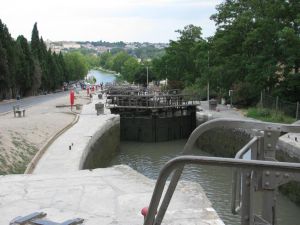 The Fonserannes locks before entering Beziers.

Followed our Relax Rental map into town where we stopped by the train station to print out our tickets for the Beziers-Annecy and Annecy-Chamonix train routes. No problems doing that, then up to Relax Rentals. Timo checked our bikes in and told us it'd be a 10 euro charge for the damaged fender. The bikes were generally OK, but mine had a lot of squeaks and creaks by the time we dropped them off. Probably loosening cranks. A quick stroll up Alle de Paul Riquet to the Hotel de Paul Ricquet where we checked in. 3 flights of stairs up to our room with 1 queen size bed. Reservations were tough for this night, so we had to settle for 1 bed. Went "shopping" after a brief rest to find new flip flops for Evan, as he blew his out in the cave at Minerve. Prices in department stores are shockingly high. Should've bought the cheap (10 euro) flops we saw at the grocery store in Argeliers, but Evan didn't like those. Roamed around town quite a bit, then back to our room to rest before dinner.

We took a walk to see the bull fighting arena, which led us through a sketchy part of town. As the Australian guy we met said, lots of "Arabs" in Beziers, and it's a bit "shady". Returned to the Crystal Brasserie where we had dinner last time in Beziers, and we both had the chicken, fries green beans and baked potatoes. They had live entertainment. A guy about my age singing French popular songs and playing guitar, with pre-recorded electronic accompaniment. Evan liked it when he sang Champs de L'Essays. Realizing there was left for us to do in Beziers, we headed back to our room. Evan found a full HD copy of the cheesy movie Armageddon with Bruce Willis on YouTube, and we watched that. In retrospect, it was a good thing to do. Sometimes it's good to just veg out for a while and be told a story. I'm almost done with The Girl with the Dragon Tatoo, and I'm afraid I won't be able to get the sequel in English until I get back to the US.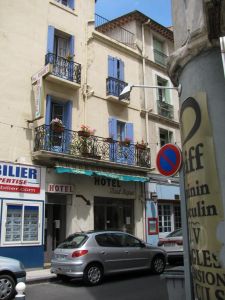 The Hotel de Paul Ricquet in Beziers.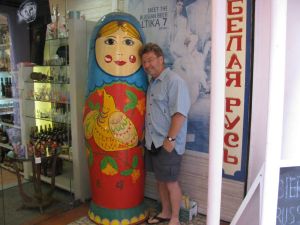 Me by a big Russian doll.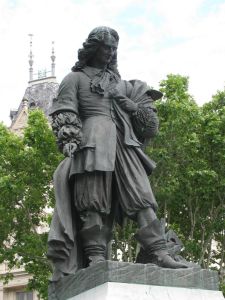 The man himself, Paul Ricquet. Wish I could wear clothes like that.
Prev | Next