30 Days in Europe with Evan
July 4, 2013 - France
Prev | Next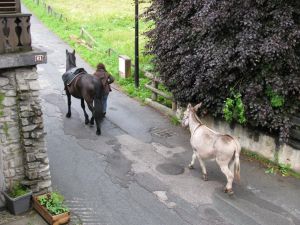 Horse and donkey being led down the road in front of our hostel.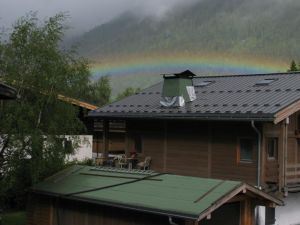 A rainbow! Good things to come.
Happy Independence day America. Nary a firework here. We escaped Chamonix this morning in our rental car. Clouds in the morning, but saw a big beautiful rainbow seemingly just a few blocks from our hostel. Figured it must be a good sign. Packed up after breakfast and hoofed it on down to the EuropCar office. No one in line. After much tapping on the keyboard, the office guy stated that we had no insurance and that would be "dangerous". If we got in a wreck and it was our fault, we'd have to pay for the entire cost of the car, which he estimated at 21,000 euros. So we doubled our rental car cost and bought the 128 euro insurance. I know our State Farm car insurance covers car rentals, but I suspect it would be crazy-difficult to use it here. Oh well. Interestingly there's a 5 euro "ecology" surcharge per day if you get a car with an automatic transmission. We had detailed google maps that I had augmented with highlighting and notations for road names. Many highways go by 2, 3 or even 4 route numbers, so it can be confusing. Google indicated that most roads would be toll roads, but the 2 toll booths we came to were closed, and people were just driving through. (this was pretty entertaining, we pulled up to the toll booth and proceeded to gape unintelligently at the empty window, like the ignorant tourists we are, while the smart, important european drivers had a contest to see who could get closest to our car without damaging it. scoring was also based on how many times the speed of sound they were going when they almost obliterated our nice shiny car. -Evan) We headed northeast out of Chamonix and climbed a 5,000 foot pass over and down toSt. Martigney Switzerland. Part way up the pass we were enveloped in clouds. Giant tour buses would appear at hairpin turns and force us off the road briefly. (or off a cliff, much less briefly -Evan) Fairly hair raising at times. Descended into St. Martigney where steep mountain hillsides were covered with grape vines, and helicopters dove in like birds of prey to spray pesticides. After reaching the valley floor things got normal and we were on highways the rest of the way. Evan was a great navigator, (this is very insulting and understated. navigating on european roads is like trying to walk backwards through a maze blindfolded with your legs and arms cut off. -Evan) but distracted with his finishing reading The Girl With the Dragon Tattoo, a book we both like a lot. Drove through or by Montreaux (jazz festival) (he stole my parentheses!!!!!!-Evan) and Basel before the last stretch to Colmar. I hadn't driven in Europe since 1987 and I was quickly reminded of the high speed tailgating and the need to keep the hell right. Our car was a Renault Clio, which was a little underpowered P.O.S., (it wasnt that bad, dad just had a testosterone filled need to drive a vehicle equal or greater to the size of the highway itself. -Evan) but got excellent gas mileage. It took 2 hours before the gas gauge needle finally moved from full. Drove into Colmar and found the public parking lot that was jammed full with tons of other people cruising for a spot. Amazingly, and after only 15 minutes of prowling around we found a spot and parked. Walked to our lodging at the Martin Jund Maison. It's a hodgepodge of buildings with a courtyard, recommended by RickSteves. They make and sell wine too. They're very nice, as are the rooms. I'd happily stay here again. Evan and I go separate rooms since each room has only one double bed (this was the best night so far. I didnt have to listen to my fathers seriously disturbing and earsplitting [ ~128 decibels] snoring -Evan). Each room has a private shower and a kitchen! We checked in, walked the the town and got sandwiches and pastries. Found the Monoprix grocery store and decided to buy groceries to cook dinner. Dropped our groceries off at our room, and then I talked Evan into going on the Rick Steves guided walk through town. I like Rick's walks. You get to the coolest stuff, and you learn about things as you go. (this is true, but it turns out all of Colmar is exactly the same. -Evan)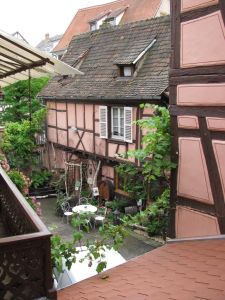 Maison Martin Jund in Colmar.

Street scene in Colmar.
We started at the customs house where long ago all goods entering the city were taxed, then on to the Tanner's quarters, into the beautiful Petite Venise district (canals and vividly colored half-timbered houses) (unlike the beautiful canals and half timbered buildings of the rest of the town. and again with stealing my parentheses-Evan) and various cathedrals. Evan seems to appreciate hearing about things as I dutifully read from our Rick Steves guide book.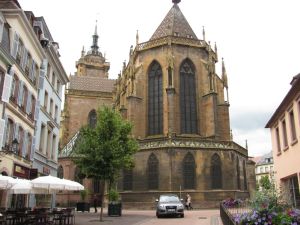 The cathedral with its distinctive yellow stone.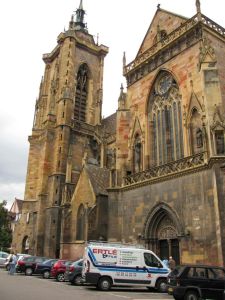 The cathedral.

Wonder what this tastes like.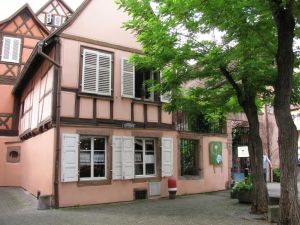 Another view of Maison Martin Jund.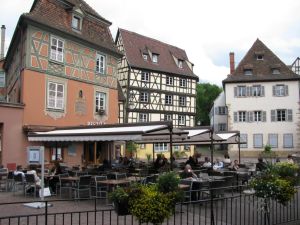 Street scene in Colmar.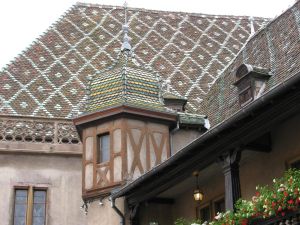 Tiled rooftops in Colmar.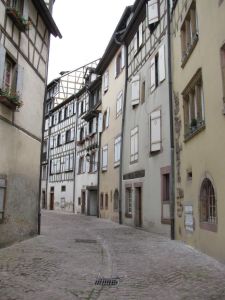 Street scene in Colmar.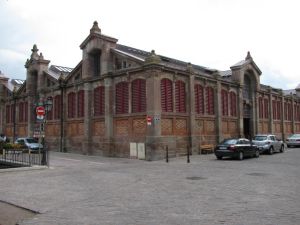 Les Halles in Colmar.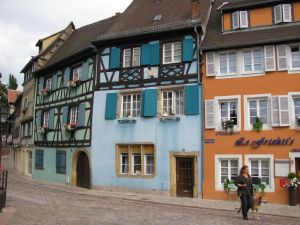 The Petite Venise district.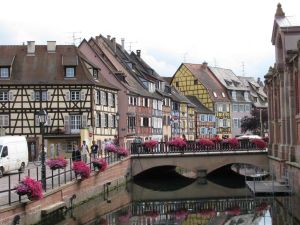 The Petite Venise district.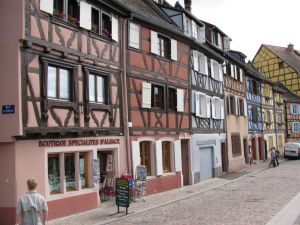 The Petite Venise district.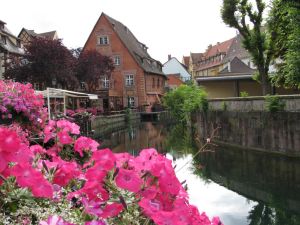 The Petite Venise district.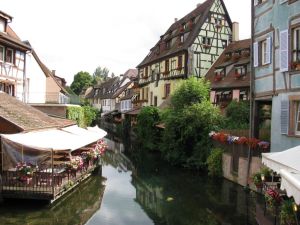 The Petite Venise district.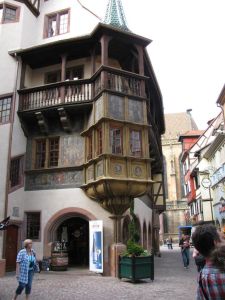 The famed Pfister house.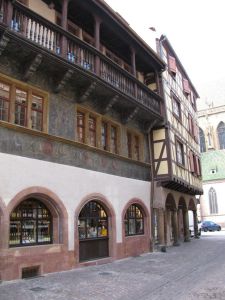 The famed Pfister house.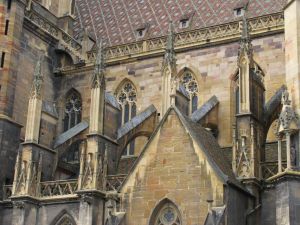 The cathedral again.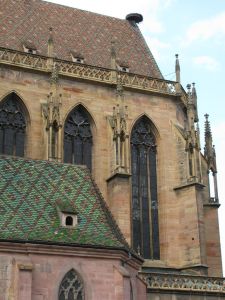 Cathedral rooftops.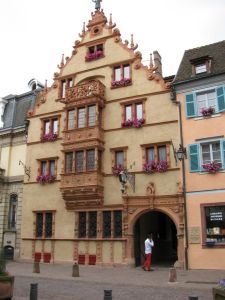 Street scene in Colmar.
Back to the hotel for a shower, and to sample the bottle of Pinot Noir 2012 that we bought from the Martin Jund wine shop. I cooked a dinner of pork pesto past and lettuce-tomato salad for us. Nice to cook after 2 weeks. I think we saved about $50 by cooking dinner, and it was delicious. We watched an English language TV station while eating. News of Sarcovy's resignation, Nelson Mandela's vegetative state, and the military coup in Egypt. Also an expose on cotton farmers in India committing suicide because they're so deeply in debt to Monsanto for GMO seeds that don't perform as advertised. You'd never see that story on news in the US. Evan found a full version of Monty Python's Holy Grail movie on YouTube and we watched that before sleep. Meant to do a night walk in the town to see the spot-lit buildings, but was too sleepy. Tomorrow.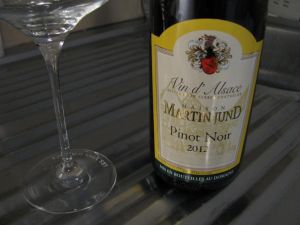 Wine from Maison Martin Jund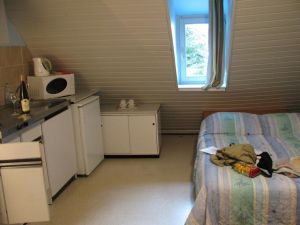 My room at Maison Martin Jund. I liked it a lot.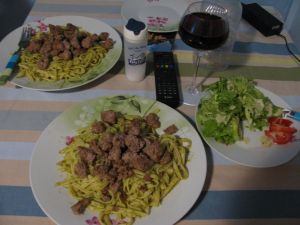 Home-cooked dinner. Pork pesto pasta and salad.
Prev | Next