30 Days in Europe with Evan
30 Days in Europe with Evan and Jim
July 5, 2013 - France
Prev | Next
Breakfast at 8:30 in the Martin Jund dining hall. Slept well on the queen size bed with nice pillows. Good sleeping temps and a nice quite courtyard out the window. Bread, croissants, coffee, hot chocolate, jams, butter and "organic grape juice" no doubt made by the Jund clan. Didn't care for the juice as it tasted like alcohol free wine with sugar added. Big plans for today. We started at the Unterlind museum in town, one of Rick Steve's favorite in Europe. It had an eclectic mix of paintings, wood carvings, sculpture, furniture, glass objects, utensils, musical instruments and weaponry from the medieval ages forward. They supply a free Engilsh audio guide which added a lot to the tour. The neatest thing there in my opinion was a "harmonica", which was a series of glass bowls with holes in their bottoms mounted concentrically but not touching on a central shaft oriented horizontally. It was mounted on a box that would be filled with water, and the shaft was turned via a floor pedal/treadle. You'd hold your finger(s) against the edge of the glass bowls and it would emit a sound like that when you rub your finger around the rim of a wetted wine glass. The audio guide played a piece from the instrument that was haunting. Apparently there are only about 50 of these things in existence. They were eventually banned because they (get this), made dogs howl, premature births, and people dying! Wish I had one. Another thing I found interesting was the lock mechanisms on chests. They seemed unnecessarily complex. I suspect locksmiths made things this way back then for job security.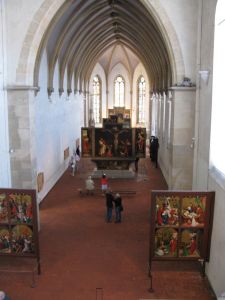 Inside the Unterlind museum in Colmar.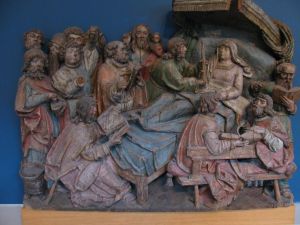 Wood carving.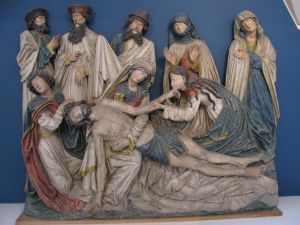 Wood carving.

Tavern scene with carved wooden figures.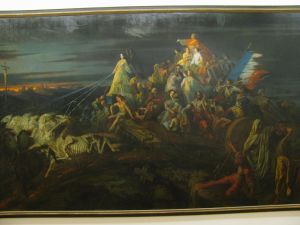 The woman driving the carraige is death.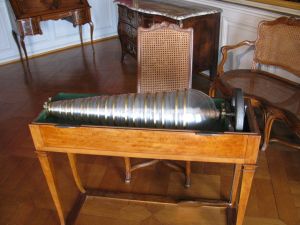 The 'harmonica', one of only 50 in the world.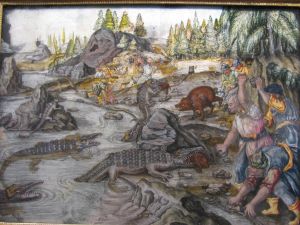 The Crocidile Hunt.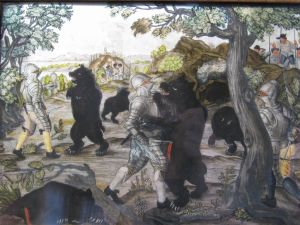 The Bear Hunt.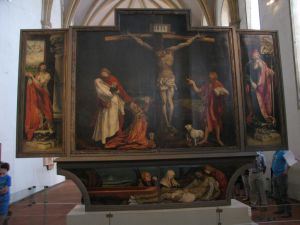 Triptych.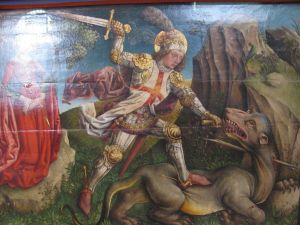 Slaying a 'dragon'.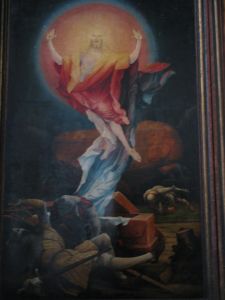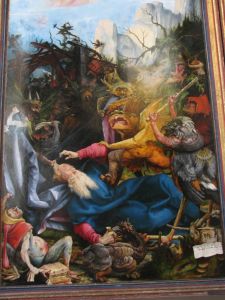 After the museum we got food for lunch at the Monoprix (sausage, fromage de chevre au poiver noir, fruit and a baguette). Found cassolet in a can, complete with a crockware bowl if you want. We got a pile of maps, fetched our car from the public parking lot and headed for the wine road (Route du vin). The Alsace region is famous for its wines and we saw thousands of acres of vineyards this day. There a many towns on this route and Rick Steves wisely warns of overdosing on cute half-timbered buildings, so we chose to visit Eguisheim, Riquewhir and the Haut-Koenigsbourg castle only. Evan has turned out to be an excellent navigator. Most intersections on backroads are roundabouts, and signs typically show the direction to the next town only. Once you get used to this it's pretty reasonable. If you make a wrong turn, you can simply make a u-turn at the next roundabout. I'd been really looking forward to seeing Eguisheim, and it was every bit as charming as it's cracked up to be. There are fully stone buildings, and there are half-timbered buildings, where the stucco exterior has been removed from the timbers to give them the half-timbered look. When they paint the stucco different colors from house to house, it make the whole street look impossibly cute. But then you see year numbers carved into stone arches that say 1516 and realize how old the place is. Bigger buildings like churches are from the 1200s. As a student of art and architecture, and a home inspector, I really like looking at all the details of the buildings; the roof shingles, the downspouts and gutters, the flashings or lack of them, the window openings and the doors and windows.

Casoulet in a can.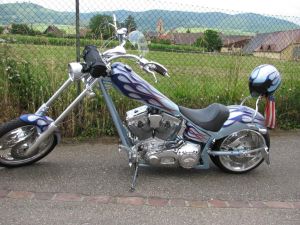 A German guy's hog.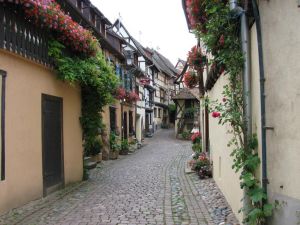 Street scene in Eguisheim.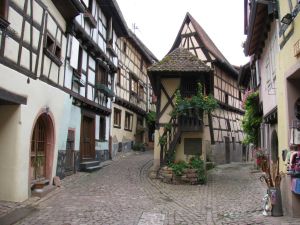 Street scene in Eguisheim.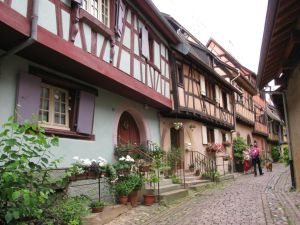 Street scene in Eguisheim.

Moi, in Equisheim.

Street scene in Eguisheim.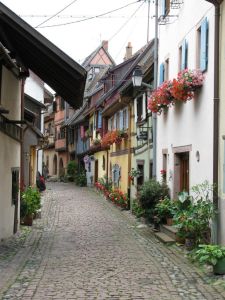 Street scene in Eguisheim.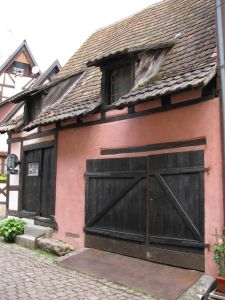 Street scene in Eguisheim.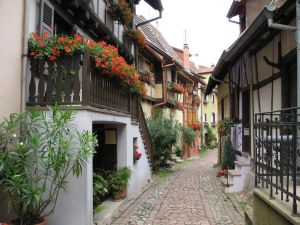 Street scene in Eguisheim.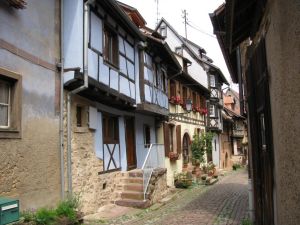 Street scene in Eguisheim.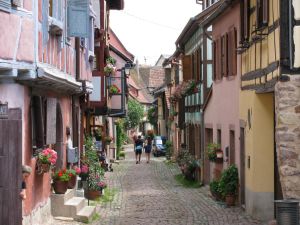 Street scene in Eguisheim.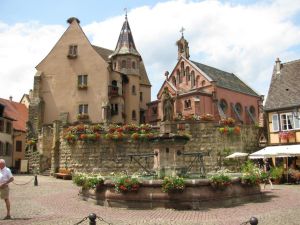 Town square in Eguisheim.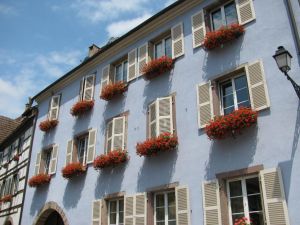 Street scene in Eguisheim.
We saw a trio of ruined castle towers on a hillside overlooking the town and found our way up there by driving on one of the many torturous, twisting backroads. Mental note to self, come back here someday for a sportbike motorcycle ride through the Vosges mountains. We hiked the 5 minute trail up to the castle towers with our lunch fixings and explored the towers. We're finding that the French tend to limit access to historical structures, partly due to their not maintaining things like stairs, platforms and railings. Evan found a way up to an elevated part of the tower by "chimnying" up a narrow slot between 2 stone walls. We ascended and had lunch up high away from the few other tourists that were there. Incredible views of the valley below. Red tile roofed villages were scattered among vast expanses of vineyards and forests. So beautiful.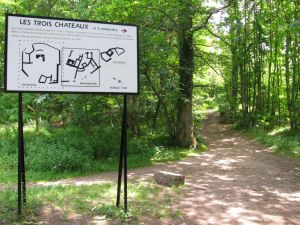 Trailhead leading to Les Trois Chateaux.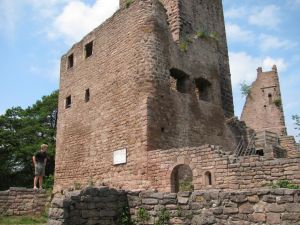 One of Les Trois Chateaux.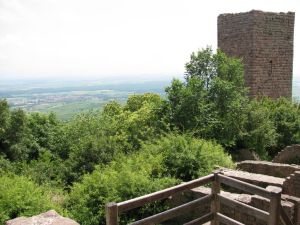 Looking out to the valley from the chateau.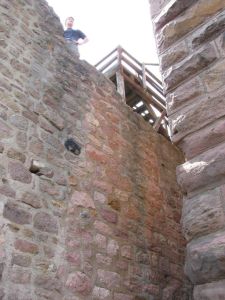 Evan, after chimneying up some castle walls.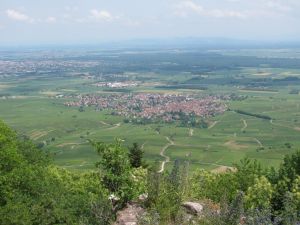 Equisheim from the mountain top.

Moi at the chateau.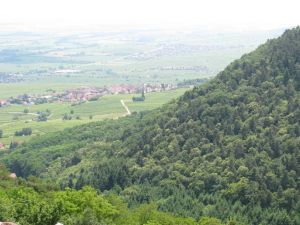 Valley view.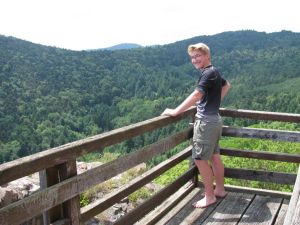 Evan enjoying the view.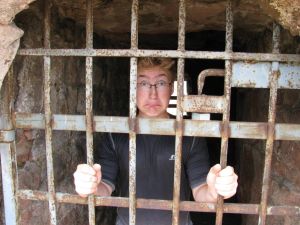 Evan climbed through a hole at the bottom of the gate here and then climbed way up the tower.
After lunch we headed for the village of Riquewhir, where our guidebook warned of crowds and bus tours. Yes there were a lot of people, but it had a super high "cute" factor. More colorful half-timbered buildings. These villages had an outer ring street with a dry moat outside. Roads run concentrically and there's typically a square with a church in the center.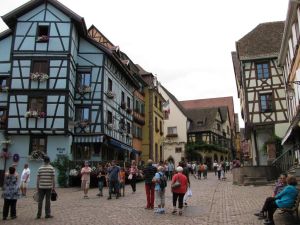 Street scene in Riquewhir.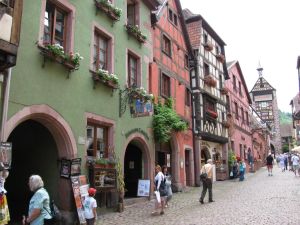 Street scene in Riquewhir.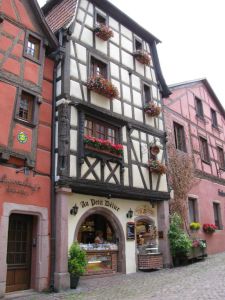 Street scene in Riquewhir.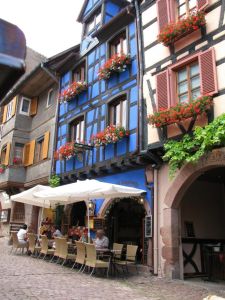 Street scene in Riquewhir.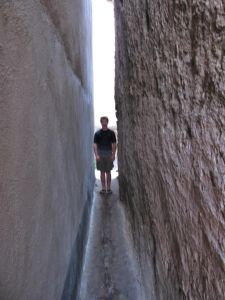 Evan in a passwage way between 2 houses.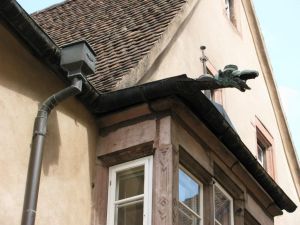 An interesting gutter and downspout.
Had a gelato and realized the day was getting on so we got back to the car and headed to Haut Koenigsbourg castle. About 20 minutes on another twisting, torturous perfect motorcycle road and we were there. Big castle! Evan got in for free, 8 euros for me, but worth it. We stopped for refreshments before going in, cold water for Evan and cold beer for me. Fun to climb all around the spiral stairs, turrets and various levels. There was a well, lit from below that was 62 meters deep. Gross, but you could spit through the safety grating and it would take more than 10 seconds for it to hit the water below. Evan was delighted. Toured various rooms with ancient furniture, ceramic stoves, armor, weaponry and amazing cannons. Finally reached the end and started the drive back to Colmar. Bought gas at a gas station. They have an interesting system where all the cars funnel out though the attendant's booth to pay. Makes a lot of sense.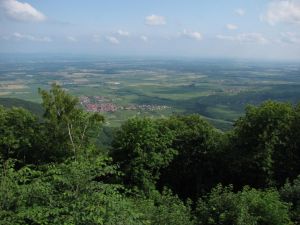 View from Haut Koenigsbourg castle.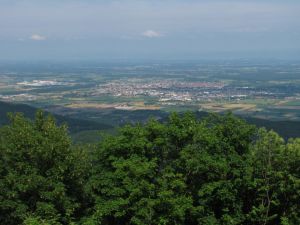 View from Haut Koenigsbourg castle.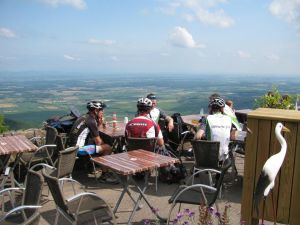 Cyclists taking a break.

Haut Koenigsbourg castle.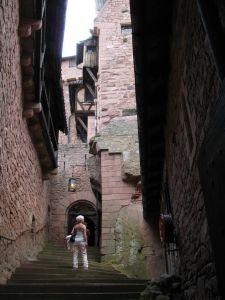 Haut Koenigsbourg castle.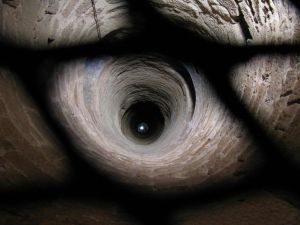 The castle well.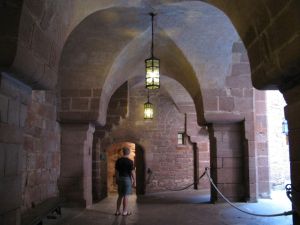 Evan in the castle.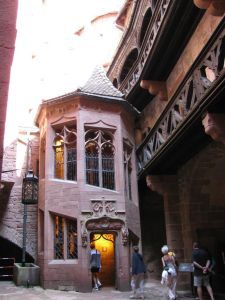 A nice staircase.

A dragon.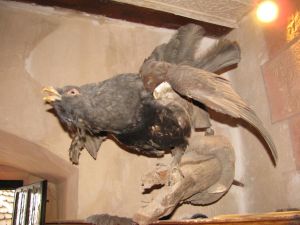 Stuffed bird.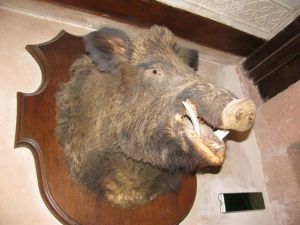 Stuffed boar.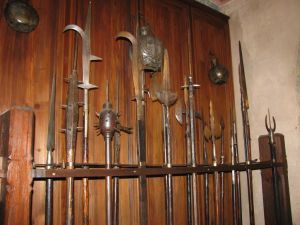 Period weapons.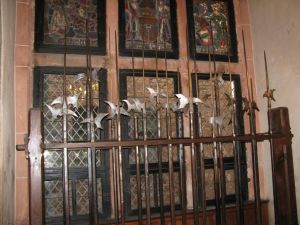 Period weapons.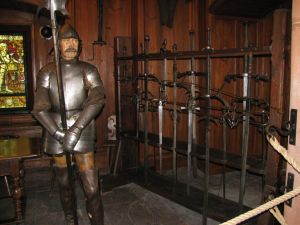 A suit of armor. Evan likes large swords.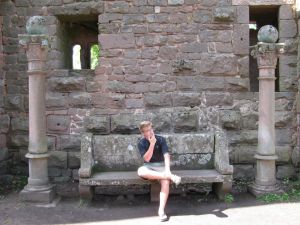 Evan.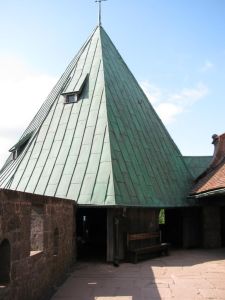 A nice copper roof.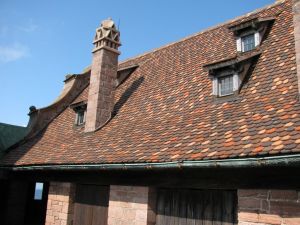 Nice tiled roof.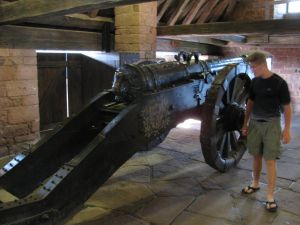 A large cannon.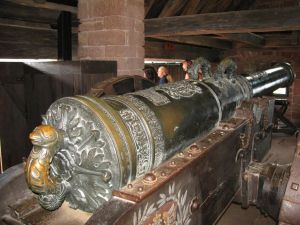 They sure made beautiful cannons.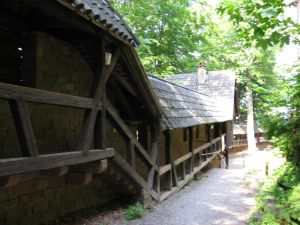 Walkway at the castle wall.
Passed a replica of the Statue of Liberty on the way back into Colmar. We were pretty darn successful at getting directly back to the right part of town with the public parking area. Got groceries for dinner at the Monoprix and made it back to our rooms by about 7:00. Had a nice bottle of Cote du Rhone with dinner. Bought a thin slab of pate with champignon that I ate with slices of leftover lunch baguette. Pesto pasta, a salad of butter crunch lettuce and tomatoes, fried sausage (like kielbasa) for Evan and an omelette with shallots for me. Yum. As darkness falls, now plan to tour Colmar at night to see what it looks like lit with the floodlights embedded in the streets.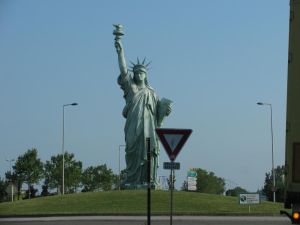 Replica statue.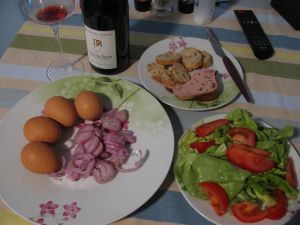 Dinner fixins.
Prev | Next