30 Days in Europe with Evan
July 12, 2013 - Netherlands
Prev | Next
I determined I was bitten by fleas at Le Petit Trianon hotel in Strasbourg France. I thought I saw one on my bed covers, but thought I must be imagining. Well, my shoulder has numerous red dots that have itched since then, and it's enough to keep me awake at night. We'll find a pharmacy this morning to get supplies to stop the itching before heading out this morning.
The nice guy who looked like a Harley biker who was running the Frederic's bike rental shop pulled our 2 bikes out for us. He gave me 2 sets of panniers and I brought them upstairs to pack them. It turns out they were too small for all of my stuff. I decided we should just strap our packs to the bikes' rear racks with the 4 roof rack straps we brought. After paying 35 euros per bike (they only charged us for 3 days for some reason), we headed out down one of the canals to the pharmacy. I now realize why people ride bikes so fast in Amsterdam. Cars can't pass you because the streets are so narrow, so they go about as fast as a car would go. Riding a bike in Amsterdam takes all your attention. Each intersection can have cars, bikes, pedestrians and the silent trolly cars coming at you, and all at once! The bikes seemed to work ok. Upright seating, 7 speed internal hub so you shift when you're coasting, not pedaling. We each had a bell and used them liberally. Found the pharmacy on Liedseplein, where the original Bulldog is, and was told they don't have hydrocortizone cream to fight itching, but they do have calamine lotion, which I bought for 10 euros. Seconds after the druggist handed it to me she said we had to leave because the power was going out out. Weird.
Then it was time to escape Amsterdam. With frequent map consultations and one question asked to a guy at a snack stand we made it out into the countryside. We were headed through "Waterland", and it's aptly named. The trail flanks a dike along the IJsselmeer inland sea, so wide open water on our right as we headed north, and fields with little canals on our left, down lower than the water on the right. Many sailboats out on the water. Lots of farm animals. Sheep, cows, ducks, chickens, pigs, rabbits and swans. Lots of other bike riders too, but no so many as to be irritating.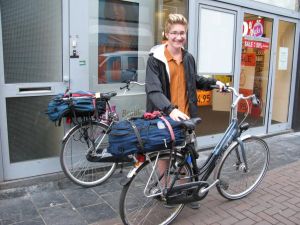 Evan with our bikes as we headed out of Amsterdam.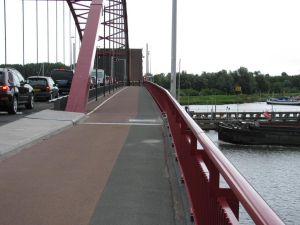 Escaping downtown Amsterdam.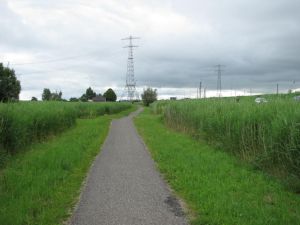 On a bike trail.
The first town we hit was Uitdam, which gave us a taste of how cute and quaint these little waterside towns are. Very beautiful indeed. Tall grasses lined the banks of the IJsselmeer here with docks and boats nestled in them. I'd love to have such a place to keep my trimaran sailboat. Road by some massive wind turbines on our way to Marken, the now-defunct whaling town that's been historically preserved for tourists. We bought groceries for a picnic lunch there and found a park in which to eat. Rode around the town, by the harbor where the ferry can take you to Vollendam, one of our next stops. It's the kind of place where tour buses bring crowds, and they leave late in the day. A few km away and into a strong headwind was Monnikendam, which I liked a lot. It has a big harbor and isn't so touristy. Amazing boats, the kind with the retractable sideboards, rather than a centerboard.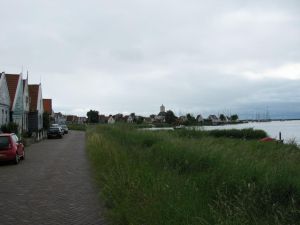 The town of Uitdam on the IJsselmeer.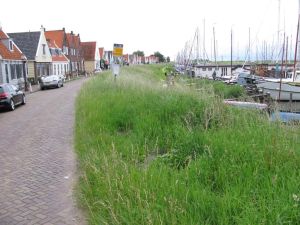 Boats at Uitdam. Some were pulled up into the grass. I'd love to store my trimaran that way.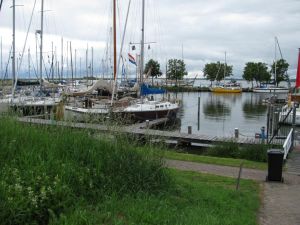 Boats at Uitdam.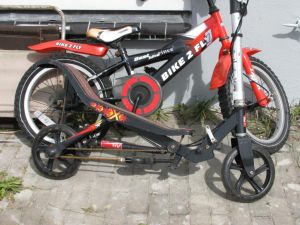 A scooter propelled by rocking the foot platform back and forth.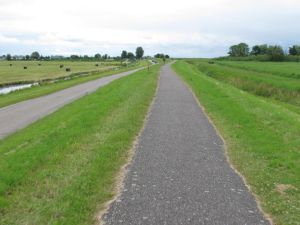 On the trail north.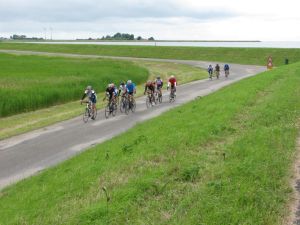 One of many packs of enthusiast riders we saw.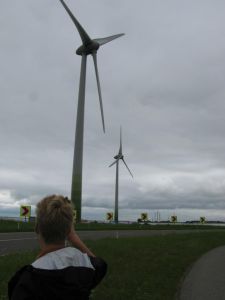 Wind turbines on the road to Marken.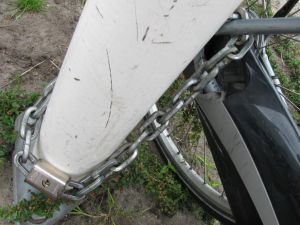 Our 5 pound bike locks.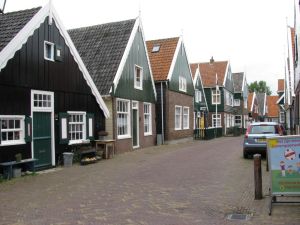 The old whaling town of Marken.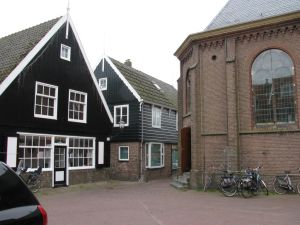 Street scene in Marken.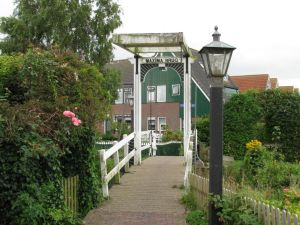 A small draw bridge on a small canal in Marken.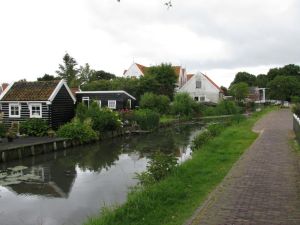 Canal scene in Marken.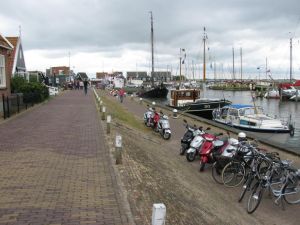 Entering Monnikendam.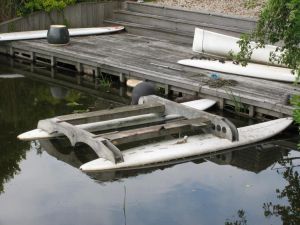 Someone around here thinks like I do.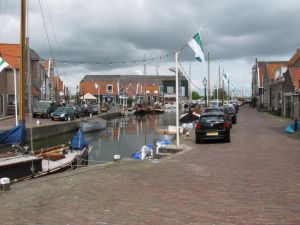 A canal in Monnikendam.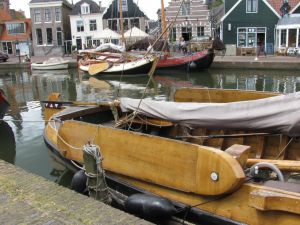 Sideboards on an old sailboat in Monnikendam.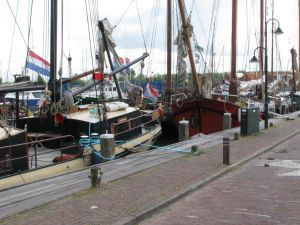 Boats in Monnikendam.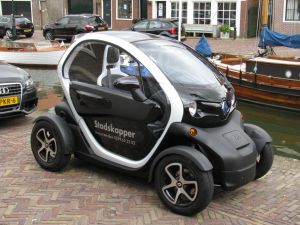 An electric car.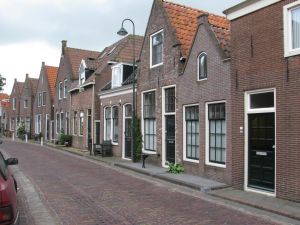 Leaving Monnikendam.
A few km further was Vollendam, which reminded me of Ocean City Maryland. It has a super touristy waterfront with lots of souvenir shops and snack shops. Mobbed with people, but fun (for me) to wade through. Evan doesn't like crowds like that and was happy to leave.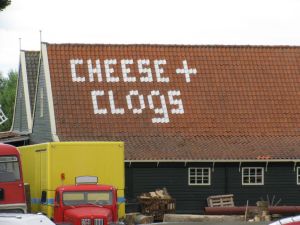 On the way to Vollendam.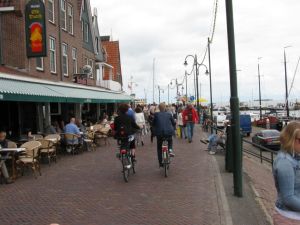 Vollendam.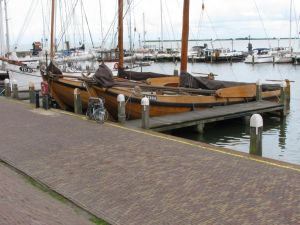 Boats in Vollendam.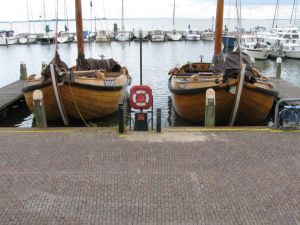 Boats in Vollendam.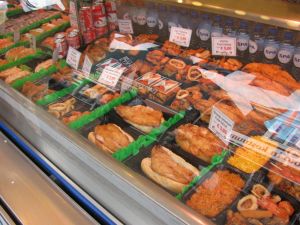 Tourist food in Vollendam.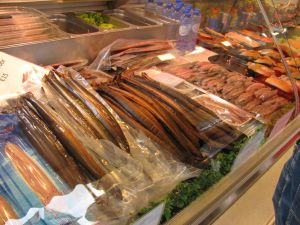 Tourist food in Vollendam.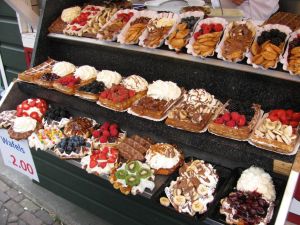 Tourist food in Vollendam.
By about 3:30 we made it to our destination for the day, Edam. Yes, it's the Edam like the cheese. We're staying in the impossibly cute Hotel de Fortuna and have the primo room that looks directly out onto the canal. It's quiet in Edam and not too touristy. We did the walking tour of the town suggested by a map we got, passed cheese shops, leaning buildings and churches, and over little hand-operated draw bridges that let boats navigate the narrow canals. Saw 3 guys stand up paddleboarding down a canal, which looked fun. The big cheese market performance is on Wednesday mornings, so we're missing that unfortunately. By then I was thirsty for a beer and it was about 6:00 PM, so time to find dinner. Our hotel's restaurant is too expensive (33 euros for a decent meal), but we found a nice place a block or 2 away. I had baked mussels, fries and a salad, and Evan had spaghetti and salad. All very nice. We were pretty tired from riding, so back to the room for showers. We watched "The Rock" with Nicholas Cage and Sean Connery on YouTube, read, and then to bed. I applied my calamine lotion, which worked well. I was able to sleep.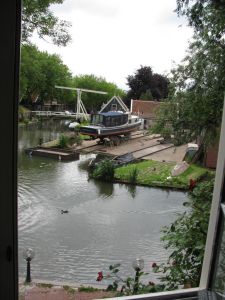 A view from our room in Edam at the Hotel de Fortuna.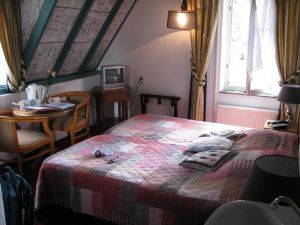 Our room.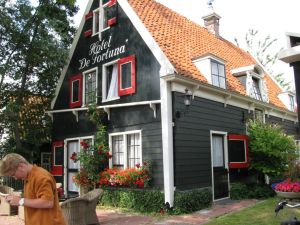 Our building at the Hotel de Fortuna. Our room was the one upstairs.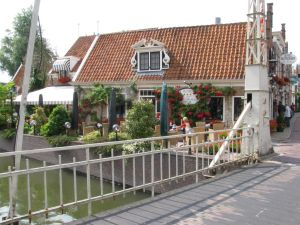 Our hotel viewed from across a canal bridge.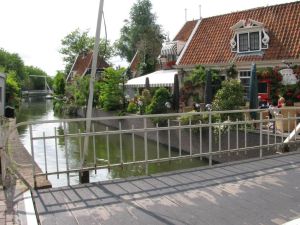 The canal in front of the hotel.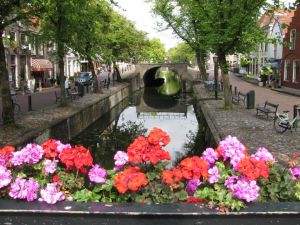 A canal in Edam.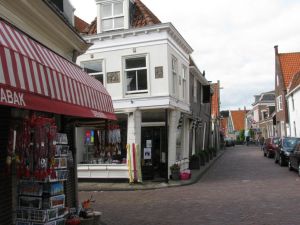 A scary, leaning building in Edam.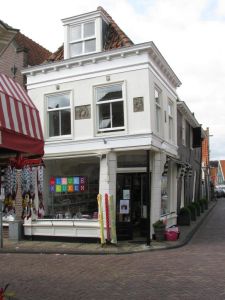 It was very scary.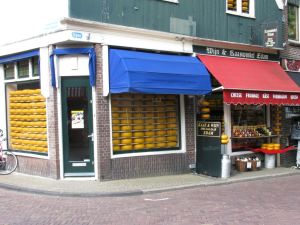 Edam cheese.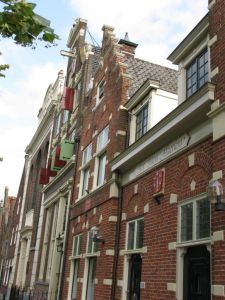 Nice Dutch gables in Edam.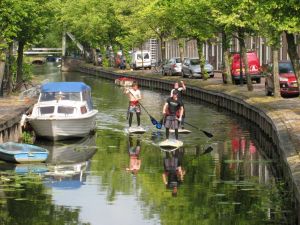 Paddle boarders in Edam.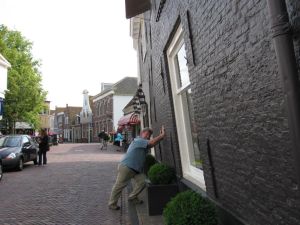 I had a difficult time with these leaning buildings.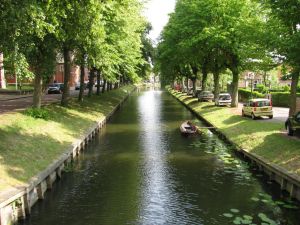 Edam canal.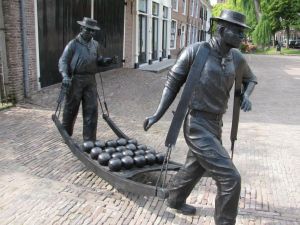 A statue at the cheese market place.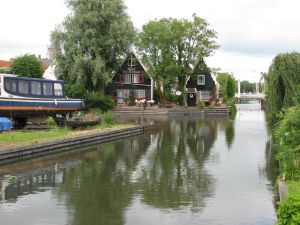 Our hotel from a distance.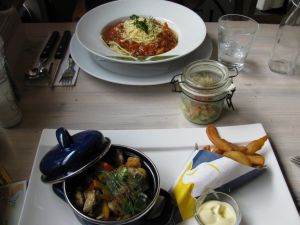 Dinner in Edam. Baked mussels for me and spaghetti for Evan.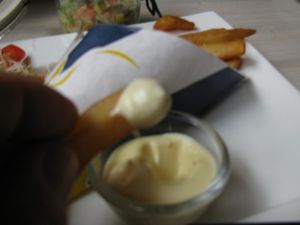 Mayonnaise with fries, of course.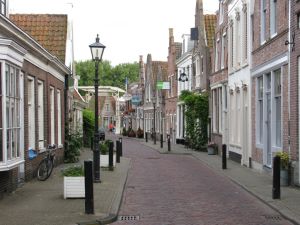 Street scene in Edam.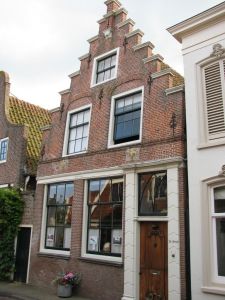 A nice stepped gable.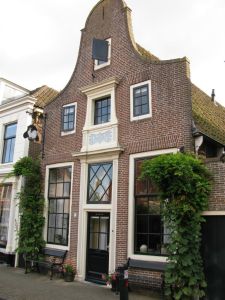 Another nice gable.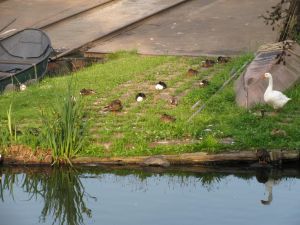 Birds across the canal viewed from our room.
Prev | Next