30 Days in Europe with Evan
July 15, 2013 - Belguim
Prev | Next
Had probably our best breakfast of the trip so far. There was a great spread on the table when we walked downstairs, but then our host made omlettes. Beautiful little omlettes with peppers and ham. We chowed down. Packed up, strapped packs on our trusty bikes and headed down the canal east towards Amsterdam. My printed google maps worked pretty well for this. Our immediate destination was Sloterpark on the outskirts of Amsterdam where a disc golf course was. Our expectations for it were low due to what we found with the last 2 courses. Sloterpark was amazing. It's huge. There are large areas of water, to the point where there are marinas. Deep forests, large manicured grassy expanses, tons of paved and dirt trails, nice beaches, and public exercise equipment on the beach. Bench press, chin up bars, curls benches. Interesting equipment, designed for the outdoors and simple to operate. The disc golf course turned out to be great! Excellent signage with paved tees. Nicely designed with holes of good length, maybe 300 feet. Some water hazards were present, but they weren't so scary that we thought we'd loose a disc. Evan was already down 1 disc since he lost one up in Groet. A few holes weren't playable because of some fenced off areas under maintenance, and we didn't play a couple because of tall, thick stinging nettles, but overall it was very good. Evan loved it there. We played a full round except for the few unplayable holes. After golf we rode the remaining distance back to Amsterdam and Frederic Rent a Bike. It was longer than I expected since the suburbs of Amsterdam go on for quite a ways. Our timing for the day was pretty good as we got to the train station about a half hour before our high speed Thalys train pulled in. Whizzed through the farm fields to Antwerp where we changed trains for the final leg to Brugge.

A trash can for cyclists on the side of the trail near Amsterdam.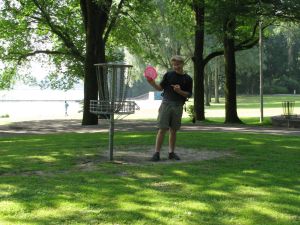 Evan's happy since we finally found a great disc golf course.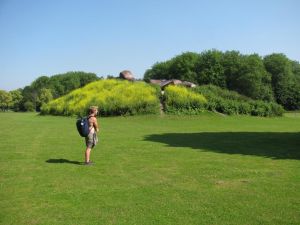 Landscaped mound with sculpture at the top in Sloterpark in Amsterdam.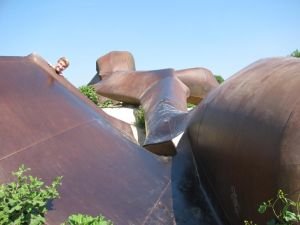 Evan on the sculpture.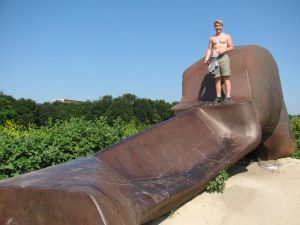 Evan on the sculpture.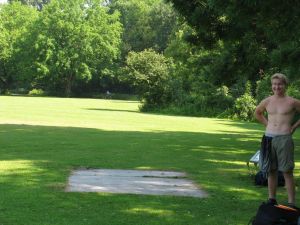 Evan's idea of a perfect hole. Mowed grass fairway, open to the pin in the distance.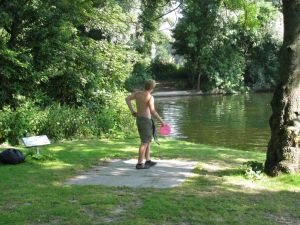 A water hazard. We had to throw across to the clearing on the other side.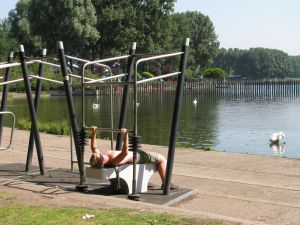 Evan pumping iron at the public weight machines.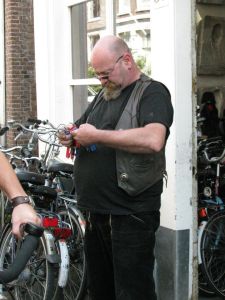 The rental bike guy at Frederic Rent a Bike in Amsterdam.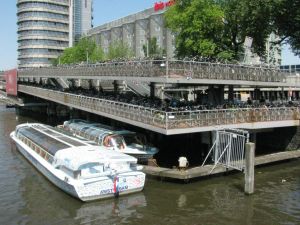 A bike parking structure in Amsterdam.
It was a fairly long walk, maybe a mile or mile and a half to the Waterside B&B in Brugge. We checked in, Mieke seemed like a nice host and showed us to our "zen-like" (according to Rick Steves) rooms upstairs. Did the normal routine of showering since it was hot and my shirt was soaked with sweat from the hike there. After settling in we walked along a canal to the center of town. Brugge is indeed pretty, but after all the other places we've seen it didn't really seem extrodianary. The town center had some great buildings, but the canals were murky brown and most of what we saw was quiet residential streets with nothing remarkable to see. Compared to Colmar, Strasbourg, Equisheim and Annecy, I say "Eh". I had a glass of the local Brugge Zot beer which is indeed good. This was at the second restaurant that we sat down at. We were ignored for maybe 10 minutes at the first. When we left there I saw the waiter eyeing me as he chatted with someone. Fucker. Went to find The Flemish Pot restaurant, but found it closed for no particular reason. On the way there we saw De Hobbit restaurant (recommended by Mr. Steves), and across the street was The Habit restaurant advertising all you can eat ribs with salad, garlic toast and desert for only 18 euros. Would you pay $24 for all you can eat ribs in the US? Probably not, but that's cheap here, so we went it. Here's where things started to go downhill. In a US restaurant, their desire is normally to turn tables to maximize profit. They'd serve you all kinds of salad and good garlic bread right away (with ice water), so you wouldn't have much room for ribs. When they did serve the ribs, you could probably order your second helping right then, saying something cute like "Keep em' coming honey!". Well, this was different and I should have known better. It took an hour for our food to get there despite only 3 tables having been seated when we ordered. The wait staff greeted and chatted up other people after we had ordered. They got there food first. A question of "Will we be getting our food soon? We've been here a long time and were here before them." resulted in a "Yes of course." reply. The food did come. Evan ordered Farmer's sausage with magic potatoes. My ribs were ok. Their idea of garlic toast and mine are miles apart. I tried ordering another order of ribs when my food arrived, saying I didn't want it to be another hour, and they said no, I must finish my ribs first. In the end, I did get 2 plates of ribs, but we skipped the desert since I wanted to get the hell out of there. Walked back to our room, and it was hot. I couldn't sleep it was so hot. There was no air movement in our zen-like room. I lay on wood floor to get cool, hoping there were no fleas. My arm still has big itching welts from Le Petit Trianon in Strasbourg. Eventually dawn came and I got maybe 2 hours of sleep.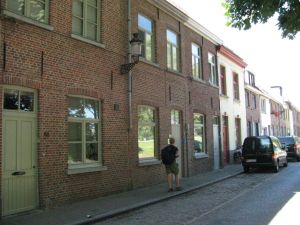 The Waterside B&B in Brugge.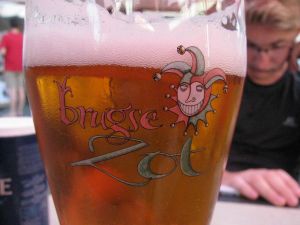 Brugse Zot beer.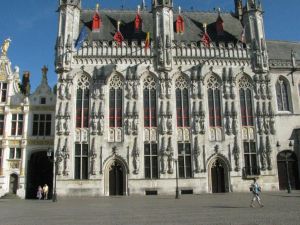 Town center in Brugge.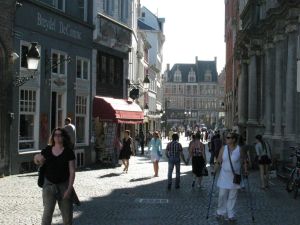 Town center in Brugge.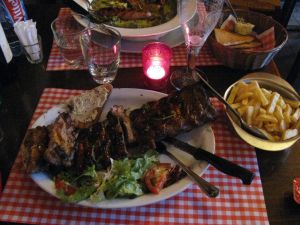 Ribs for dinner.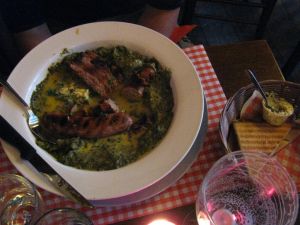 Evan's Farmer sausage dish with green potatoes.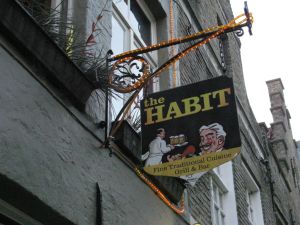 The Habit restaurant where we ate.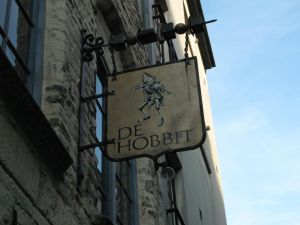 De Hobbit restaurant where we should have eaten.
Prev | Next