30 Days in Europe with Evan
July 18, 2013 - Belguim
Prev
At the airport now. Woke before 6:00 AM and couldn't go back to sleep. Packed for the last time and walked to Le Gare Centrale for our train to the airport. A train arrived 2 minutes after we did, and 20 minutes later we were at the airport. They took my calamine lotion, Evan's hair gel and his water bottle because they had more than 3 ounces of fluids in them. Pulled a few things out of our packs that looked funny to them (bike tools and bike pump) and make our bags go through the x-ray machine 3 times. But now we're at our gate waiting for our 10:45 AM flight to board.
It's been an interesting month, but I have to say that I'm done with "whirlwind" tours of Europe, or anywhere else for that matter. I could see doing future trips abroad for windsurfing, or for camping-style bicycle touring, but I'm done with the train-B&B-hotel-restaurant scene. After so many half timbered houses, bell towers, cathedrals, narrow cobbled streets and canals, you get jaded. Too much "seeing" and not enough "doing". Bike riding and hiking improves things. Walking-shopping-eating gets old. So, I say farewell Europe, thanks for the good times.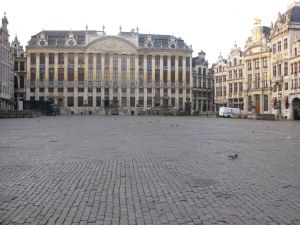 The Grand Place in early morning before the crowds arrive on our walk to the train station.

Line up at the runway in Philadelphia.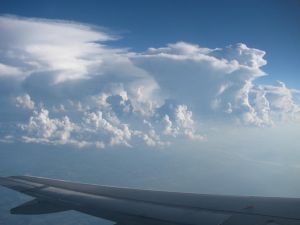 Towering cumulous clouds on the way west to Seattle.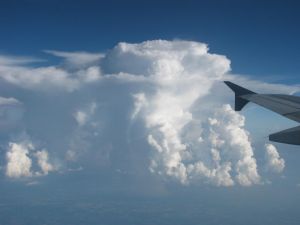 More clouds.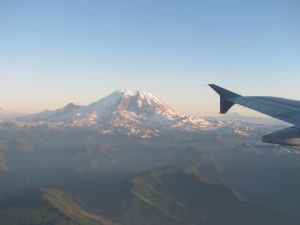 Mt. St. Helens.
Prev