30 Days in Europe with Evan
June 27, 2013 - France
Prev | Next
Another croissant, OJ and coffee breakfast before heading out on bikes this morning. Rode through Homps, across a bridge over the canal and on to the town Olonzac that's only 300 meters from Homps. "Every town looks the same" says Evan. Stone buildings, periwinkle shutters and doors and vines on the walls. What a shame. Thought it would be simple to get out of the small town of Olonzac, but I got us lost and resorted to asking directions at a bakery. No English spoken here. Found our way out and entered the countryside that was heavily covered with vinyards. Rode cross ways against the prevailing 20 mph west winds to the tiny town of Cessaras. Did a small circuit through the narrow streets, realizing it's just a farm town from the 1200s. East from there on to Azillanet where we began the serious climb up and over a pass to Minerve. I expected a climb that would be much worse, but with a low gear and a bit of zig zagging on steep parts, made it up and over. Then coasted on down into interesting Minerve.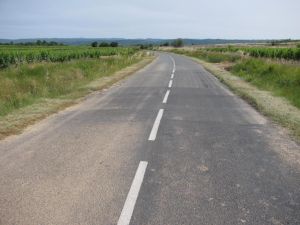 The road from Olonzac to Cessaras.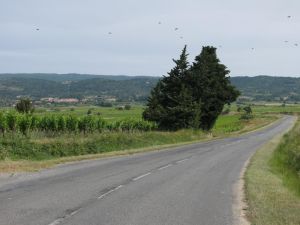 Approching Cessaras.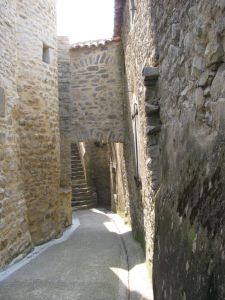 Streets of Cessaras.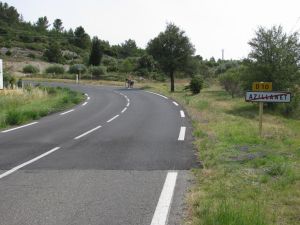 Leaving Azillanet, beginning the climb.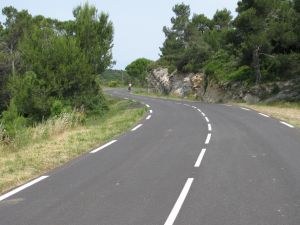 The climb out of Azillanet.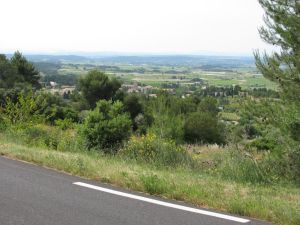 Looking back down the mountain.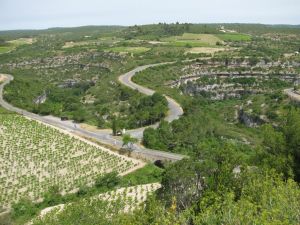 Over the pass, now looking down into the canyons of Minerve.
It's an ancient town surrounded by the Cesse gorge. Minerve is a site of mass execution of the Cathars in the 1200s involving stone-throwing trebuchets and and a 5 week seige. 140 Cathars were burned to the stake on the banks of the Cesse. Today, it's a tourist attraction. We coasted our bikes down to the riverbed and walked through the giant cave that the Cesse river runs through. Good rock skipping territory for Evan. Found a bizarre collection of cairns, presumably built by tourists, inside the cave and built a couple ourselves. Explored some more areas along the river and gorge walls, then up to the town for lunch. Again, no English here. Walked through the town afterwards and then began the second half of the days ride to Argeliers where we'd spend the night.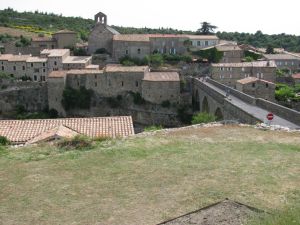 Minerve.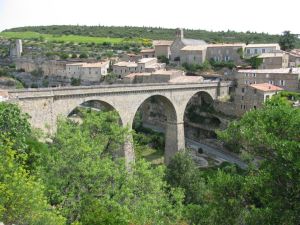 The main bridge leading into Minerve.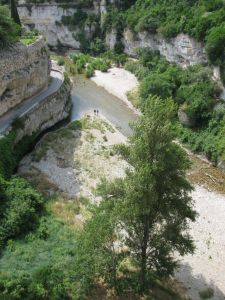 Looking down from the bride to La Cesse river.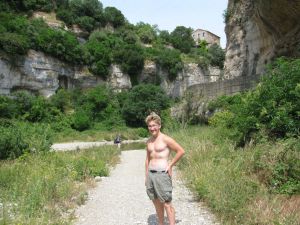 Down in the river canyon, heading to the cave.

Cave entrance to the left.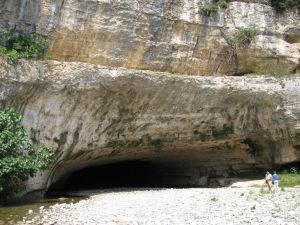 The cave entrance.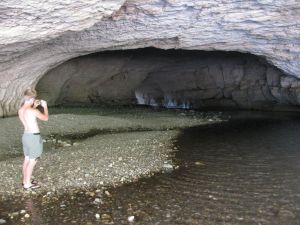 Evan skipped lots of rocks here.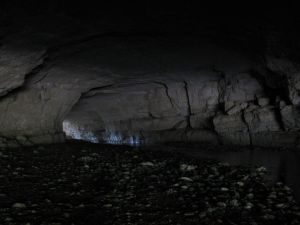 In the cave.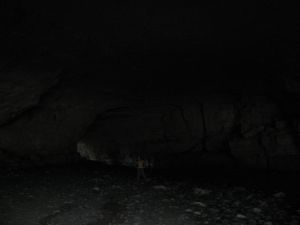 Dark in there.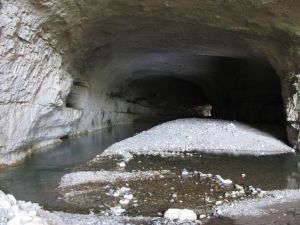 At the other entrance. It was only a hundred yards or so long.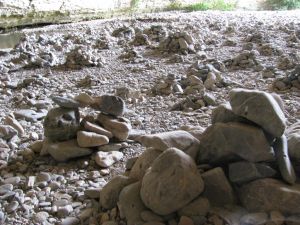 Cairns.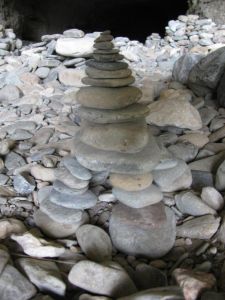 My cairn, shaped roughly like the Eiffel tower.

Evan in a smaller cave.

A canyon.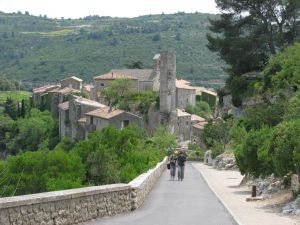 Minerve.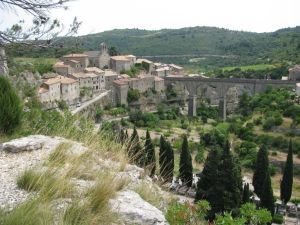 Minerve.
We followed the Cesse on downhill roads with a strong tailwind (sun at our backs) through the vinyard towns of La Caunette, Aigues-Vives, Agel, Bize-Minervois and Cabezac. Each one was a gem. Filled our water bottles at a public fountain in Agel. Lots of wine cooperatives and caves/chateaux around. Stopped at an Olive processing/distributorship in Cabezac and I sampled olives. Evan refused (sigh). Then we donned our yellow safety vests for short stretch on a busy straight road into Argeliers. Found our gites, Les Trois Sources after a bit of confusion. Another vine-clad, periwinkle-shuttered stone building. Super nice lady that runs the place, that speaks very little English, checked us in. No keys to the room, no need to lock the bikes. Showered, laid down and read a bit. Found a bookshelf in the hall with books in English. Evan donated our copy of The Wave that he just finished and we both took a book. Some fantasy book (ie. flaming arrows) for him, and The Word According to Garp for me. Headed out on foot to find a replacement pair of flip flops for Evan as he blew them out in the cave today. Also to scope out restaurants for the night. Found a well-equipped grocery store and decided to have a picnic dinner on the terrace. Bought a nice slab of pate, a slab of white cheese, a tomato, a sausage, 2 baguettes, an apple, a dessert yogurt and a bottle of Corbiers (red) wine all for only 15 euros. Got cash from an ATM, which made me think that touring Europe is just too damn easy these days. Getting money used to require waiting in line somewhere to cash a traveller's check, and worrying about the exchange rate, and dealing with left over currency when you change borders. Now it's ATM machines and "Quelle est le password por votres Wi-Fi?".Anyway, back in our room now as the day ends, stuffed after eating all that pate, cheese and bread. Good wine too, for about 3.80 euros a bottle!!! Tomorrow, breakfast at 8:00 and a ride back to Beziers on le Canal.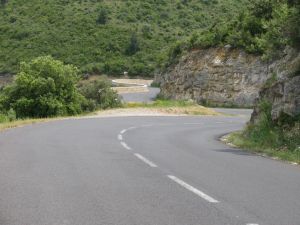 The road leading out of Minerve towards La Caunette.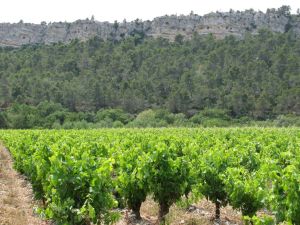 Cliffs, forested hillsides and vinyards.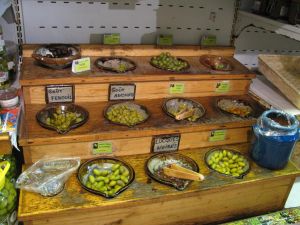 An olive distributor in Cabezac.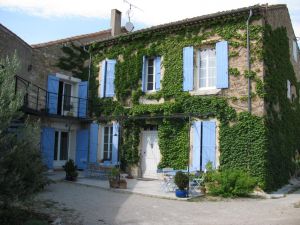 Our hotel, Les Trois Sources in Argeliers.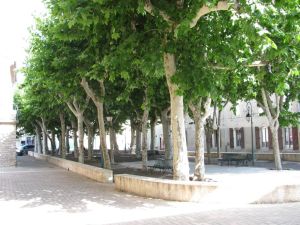 The town square in Argeliers, nice and shady under the trees on this hot day.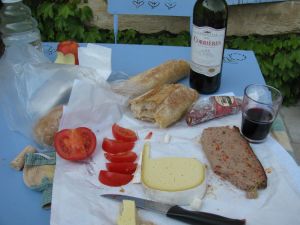 A picnic dinner.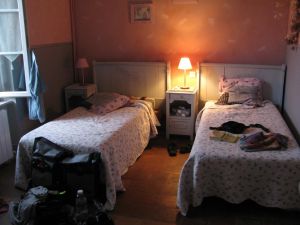 Our room in Les Trois Sources.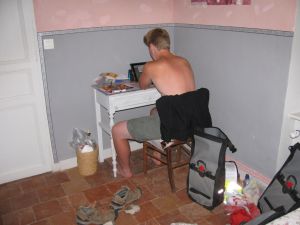 Evan catching up on Facebook.
Prev | Next