30 Days in Europe with Evan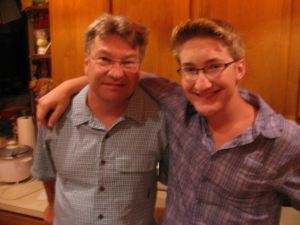 The 'Before' picture. Evan, 15 years old, and me.
My son Evan and I spent 30 days traveling through Europe in June and July of 2013. I did this same thing with my other son Max 2010 when he was also 15 years old. You can read about that trip here. For this trip I wanted to spend more time in smaller towns rather than the big cities. We flew into Barcelona and out of Brussels, and visited Amsterdam. So we did make it to 3 big cities. We went on 2 bicycle tours, one in France and one in the Netherlands. Both times we rented bikes. Many places are set up for this and provide a great service. We also hiked, but only day hikes as opposed to backpacking like like Max and I did. You can see our detailed itinerary here.I did a few things differently for this trip than the last:
Rail travel
Rather than buy Eurail train passes I bought individual train tickets through Rail Europe. It can be cheaper to buy individual tickets. You just have to price it out, which isn't easy. Some train routes don't appear on the schedule until a certain number of days or weeks before that travel date. Computers get updated with routes and route information just isn't always available months in advance. This is particularly true for more obscure routes, like our trip from Figueras Spain to Beziers France. Rail Europe has a reputation for being expensive compared to other sites like DB Bahn. However Rail Europe caters to Americans and has a genuinely user-friendly site in my opinion. I comparison checked some prices and found the difference to be marginal, so I felt OK going with Rail Europe. If you buy enough tickets at one time they send you the actual printed tickets at no extra charge. Otherwise you get the equivalant of an e-ticket, where you print them out at a train station. I was uneasy about doing this after having a hell of a time buying subway tickets in Paris on my last trip, but printing e-tickets in rail stations turned out to be really simple. I did find that Rail Europe was a lot more expensive than just buying your ticket at a train station. When we decided to go from Brugge to Brussels a day early and couldn't use our existing tickets ($25 each) from Rail Europe, I bought tickets at the station for $7 each. Whatever the price, I think it's a good idea to buy high speed train tickets or any ticket requiring a reservation a head of time. But for the local milk runs, buy them there at the station.
Rental cars
We rented a car for 3 days this time, mainly because finding a train/bus route from Chamonix France to Colmar France was unrealistic. There would have been at least 5 separate legs to the trip, with some 6 minute layovers in train stations (stressful to get to the next train), and we would have gotten into Colmar at 10:30 at night. It turned out that renting a car from Europcar was cheaper than what the train tickets would have been for those 3 days of travel, plus we had the car to get to the small towns we wanted to see in the Alsace region of France where we couldn't have gotten to by rail. The insurance was the catch. I didn't buy it when arranging this rental over th phone, thinking that my own car insurance policy would be enough. But the customer service guy in Chamonix convinced me we needed it. Apparently if you're in an accident, regardless of how slight the damage is you have to pay for the price of a new car! I didn't trust my own insurance company for that, so I forked over the extra money. Driving was pretty stressful compared to sitting in a train, but there was an element of fun to it. After 3 days we were glad to be back on trains though. Parking is almost always a problem wherever you go. Either none is available, or it's expensive.
Hotels
Last time I made reservations for about 40% of the nights ahead of time. This time I did it for all but 3 nights. If you're OK committing to an itinerary this will save you plenty of time wandering around looking for a room. I really hate wasting time that way. We spent more nights in youth hostels this time. They can be great deal, or not. We opted out of one in Bacharach because we would have been on matresses on a basement floor, and for 10 euros more we got a private room in a B&B in town.
---
Like last time I brought a couple of hundred dollars in US funds and one personal check for emergency purposes. We arrived with about 500 euros in cash that I arranged to get from my bank ahead of time. I alerted my bank card and credit card companies that we would be travelling abroad to the countries we visited. We withdrew cash from cash machines every few days and paid for bigger expenses like multi-day hotel stays with a credit card. Europe is expensive for Americans. The exchange rate sucks. Brace yourself if you go.
I brought an iPad with me this time rather than my IBM x41 Window tablet that I brought last time. DropBox is great for storing electronic versions of documents you may need. Documents I had on DropBox included:
A text version of our itinerary with hotel contact info and rail trip details
A PDF version of the excel spreadsheet version of our itinerary
Lots of maps
The iPad was useful. Emailing and keeping a log with the Notes app worked well. We even watched movies a few nights on it in hotels. We had internet access all nights except for maybe 4 nights. Small B&Bs can be iffy for that (Bacharach & St. Goar Germany).

In retrospect, I'm done with whirlwind tours of Europe and the hotel/restaurant scene. Not sure what's next. Maybe traditional bicycle touring and camping. Maybe a moped tour of rural Thailand. Maybe just tour the US a bit more.

Begin here or jump in here: