30 Days in Europe with Max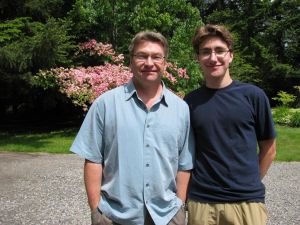 The 'before' picture.
My son Max and I spent 30 days traveling through Europe in June and July of 2010. Max was 15 years old at the time and was interested in travel. I lived in Germany for 8 months in 1987 and had travelled back to Europe on a trip to the Dordogne Valley in France and The Dolomite mountains in Italy in the early 1990s. Generally I've avoided cities during these times, and instead spent time hiking, biking and exploring small towns in more rural settings. I felt due for a more traditional tour of Europe, so we bought Eurail passes for 10 days of travel within a two month period and planned to visit major cities in Germany, Italy, Switzerland and France, but to also hike and bike in the countryside.
Max and I attended the "Europe Through the Backdoor" talk by Rick Steves in Edmonds, WA and bought various supplies (backpacks, moneybelts, maps, etc.) at the Rick Steves store afterwards. I like listening to Rick Steves' radio show, and his style of tourism seemed to make sense for a trip like this. Max and I are both avid cyclists, but we realized a month is too short a time to see as much as we wanted to by bicycle alone. So we rented bikes in three locations, the Rhine river valley in Germany, in Sienna Italy (Tuscany), and in the Loire valley in France. We also planned several hikes in places like the Swiss Alps and Cinque Terra, Italy. As per Rick's advice, we made reservations for lodging on the first and last nights, and also for other places/times where reducing stress was important. Overall we had hotel reservations before leaving for about 40% of our stops. We organized most of this through websites on the internet, and with a few phone calls.
I did a lot of research before this trip. This included buying current or one year old versions of Rick Steve's guides from online bookstores or auction sites. I also read "Europe 101", Rick Steves' history of art for the traveler. I majored in studio art in college, but came close to majoring in art history. Yet, this book was an excellent review for me, and the content on history was totally worth reading. I took Rick Steves' advice on planning every day to heart and had a full itinerary planned. We didn't have to stick to it, but we did have a plan ahead of time so we wouldn't wonder what to do or where to go when we got somewhere. Indeed, we didn't stick to it at times, but it worked well for us.
For money, I brough a bit of cash, both in US dollars and in Euros, plus a couple of personal checks. We made multi-hundred dollar withdrawels of cash using ATMs every few days without problem, except for the very first time I tried doing this. That was a bit nerve wracking, but the next ATM worked, and I verified that the first failed withdrawel didn't go through. The Euro makes using cash easy, unlike the old days (ever buy something with Liras?). We used credit cards for expensive things only, like hotels.
I brought an IBM X41 tablet PC on this trip. It was light enough to easily haul across two 9,000 foot passes while backpacking in Switzerland. Wouldn't hesitate to bring it or one like it with me in the future. Also brought headphones for using Skype. I somewhat regularly called my wife and my business partner, and communicated by email at least every few days. Internet access is common, and is useful for research during your trip. I copied pictures daily from my digital camera's card to the PC as a backup. Also kept a log on the PC.
We had fun with languages. I took 5 years of French between 8th grade and my senior year in high school, and had learned some German while living there. Max had two years of German when we left, so Germany and France were relatively easy. We crammed with our phrase books on the train from Munich to Venice, and that paid off some. Trying to speak Italian is pretty fun. Un altro bicchiere di vino rosso della casa per favore! Switzerland, well, that's an interesting place language-wise. Our hotel host told us he can't understand farmers who live 20 km away, but his English was great.
In retrospect, I'll probably go back to touring countrysides more than cities in future. However I am glad we visited the cities we did (Munich, Venice, Florence, Paris). I'd also like to try house exchanges or maybe do long term cycle tours. We'll see.
Highlights:
Hostels. They were great!
Loire valley bike tour trail system
Food vendors in the Munich train station, wow!
Night watchman tour in Rothenburg ob der Tau
Getting lost and found in Venice
Market day in any small French town
Speaking different languages
German bakeries and coffee
Italian hill towns in Tuscany
Dissapointments:
Expensive reservation fees in Italy for Eurail pass train travel
Hot, crowded Paris subways
Restaurant prices in Swizerland (ouch)
Italian bakeries
Begin here or jump in here: