30 Days in Europe with Max
June 16, 2010 - Germany - Rothenburg, Munich
Prev | Next
Travel day today, where we go to Munich. Awoke to an excellent fruhstuck (breakfast) at Pension Elke. After eating we finished walking the wall. Bought provisions from the grocery store and walked to the train station. Our train went surprisingly fast, probably around 100 mph we thought. Then the rain began. We didn't know it at the time, but it was the beginning of four straight days of hard rain that would stay with us through Venice, Italy.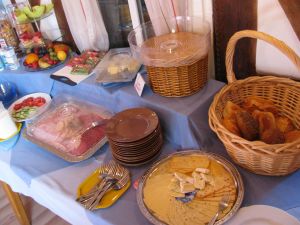 Breakfast buffet at Pension Elke in Rothenburg.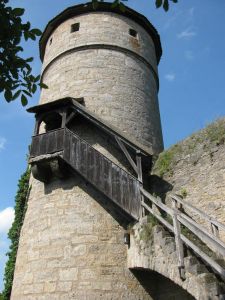 A tower in Rothenburg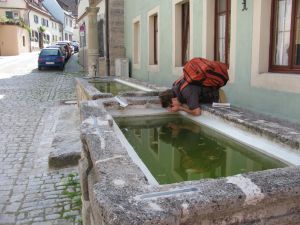 Max 'drinking' (not really) from the town well in Rothenburg.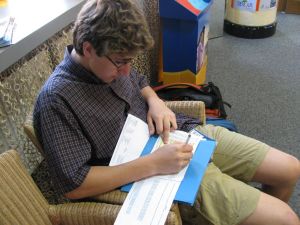 Max revising our itinerary.
When we arrived in Munich, the city seemed big at first and hard to find our way around. Went to the Euro Youth Hostel just around the corner from the banhoff. Rick Steves said this was one of 3 hostels in a row that was probably best for older people. It was great. WiFi, big breakfast, clean private double rooms, shower/toilet a few doors away. A bit scary walking to there, with "Call centers" crowded with east Africans near by. Many hawkers of tourist stuff too. A few questionable women. That aside, a great place. After checking in we walked the city in the rain. We weren't happy in the rain due to our having left our umbrellas at home and instead bringing hats. As a result we got a bit wet. Ate dinner at a Rick Steves-recommended place. Crowded, food ok and reasonably priced though. Then back to the room to dry off, internet-connect and sleep.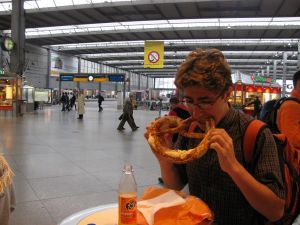 Eating a pretzel in the Munich train station.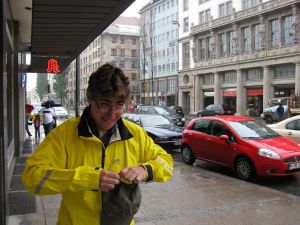 Suiting up for walking in the rain.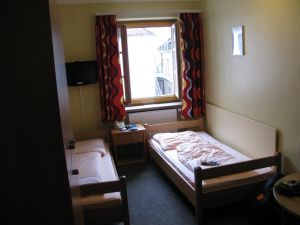 Our room at the Euro Youth Hostel in Munich.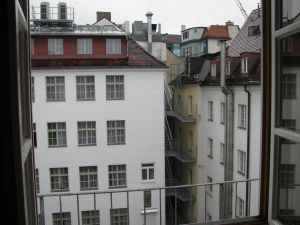 View out the window.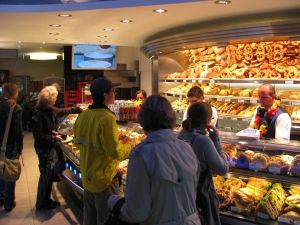 Max at a bakery.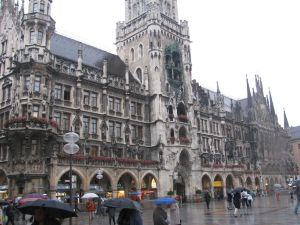 Munich town hall.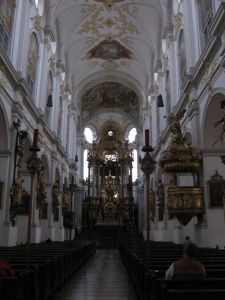 A cathedral interior.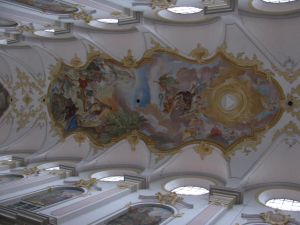 The ceiling.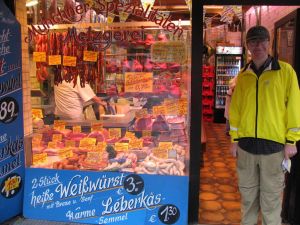 A butcher shop.
Prev | Next