30 Days in Europe with Max
June 22, 2010 - Italy - Florence
Prev | Next
Awoke to sunny skies finally. Perhaps the rain was over. Had breakfast, packed and walked all the way to the train station rather than going by vaporetto. It was nice to walk in the sun. Got a free peek inside St. Mark's Basilica. Amazing mosaic ceilings.

Our room at the Albergo Doni in Venice.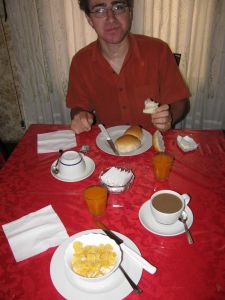 Breakfast at Albergo Doni.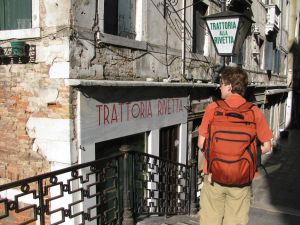 Sunny weather as we leave Venice. This was the restaurant where we ate dinner on our first night in Venice.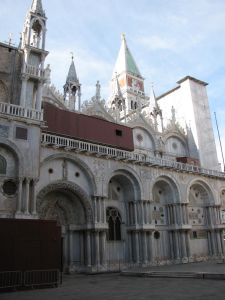 St. Marks Basilica in decent weather.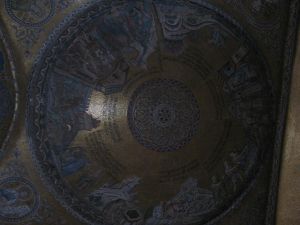 The door was open so we peeked in. Here's a mosaic ceiling.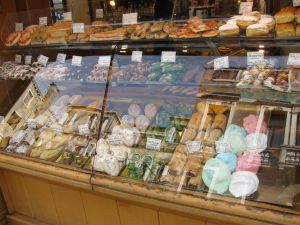 A Venetian bakery. Lots of meringues and nuts.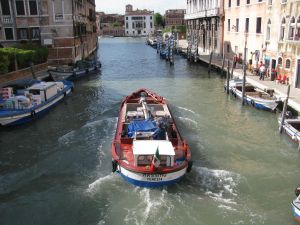 Cargo boat on a canal.
Boarded an empty train to Florence with our reservations and got scolded by the conductor for not having today's date written in on our Eurail passes. He wrote it in and said it's normally a 150 euro fine for that. So that's how they enforce using up your eurail pass. Found a decent room for 79 euros at the Nuovo Italia after arriving in Florence. Our one year old Rick Steves guide book was less than helpful in finding a room. Street address numbers in Florence are anything but consecutive, and it seems hotels/pensions move or go out of business frequently. We liked our hotel though. Nice, clean, lots of good contemporary/local art on walls, comfy beds, bathroom in room, WiFi, breakfast, located downtown. Florence was crowded with a million mopeds and a million tourists. We expected this but it'd be nice to be here in September instead of June. Tough to get used to being around motor vehicles again. Venice was nice and quiet for not having them (except boats). Stunning examples of Renaissance and midievel architecture at every turn on narrow streets. Very fasionably dressed women.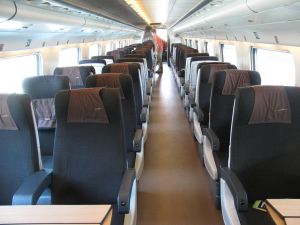 Our train to Florence.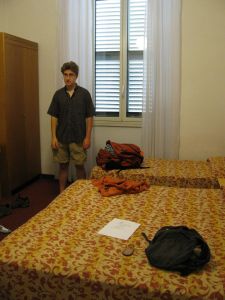 Our room at the Nuovo Italia in Florence.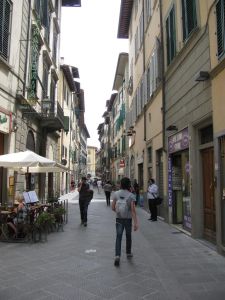 Streets of Florence.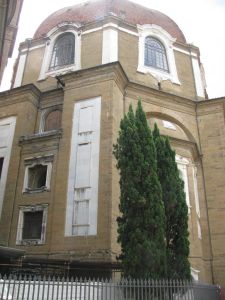 The Medici Chapels.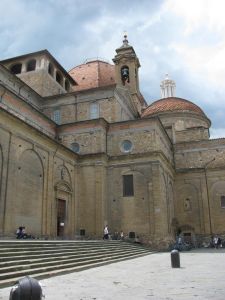 Church of San Lorenzo.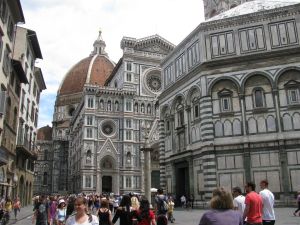 Santa Maria del Fiore, aka. 'Il Duomo', with the Baptistry in the foreground.

The facade of Santa Maria del Fiore. It's an astounding building.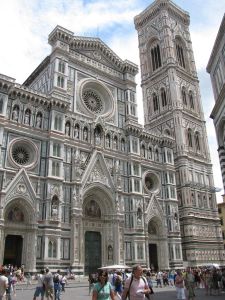 Facade again.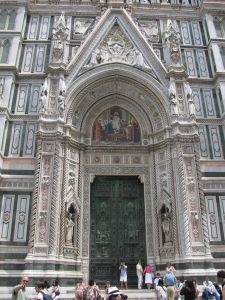 Main entrance.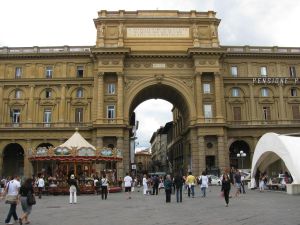 A nice Renaissance arch.
Had a nice lunch of spaghetti with spicy sauce for me, seafood pasta for Max, plus a plate of tomato, mozerella and basil. Nice house wine by the glass(es). Walked across Ponte Vechio through the vendor stalls. Gold, silver and leather vendors abound. Back via the Accadamia where people painted with white or silver posed as statues. Lines looked long to get into the Uffizi and the Accadamia. I hadn't made reservations and Max wasn't thrilled about spending hours indoors looking at paintings. I'll see museums on my next visit.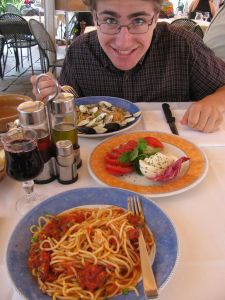 Lunch in Florence. Max likes seafood pasta.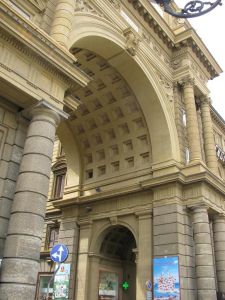 A closeup of that spiffy Renaissance arch. It's a bit easy to get overwhelmed with architecture in Florence.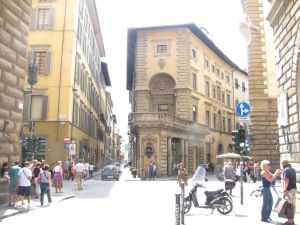 Street scene in Florence.

Renaissance courtyard.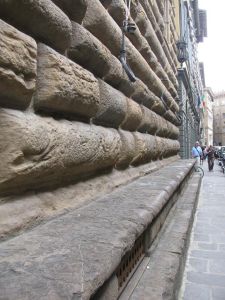 Old stone facade.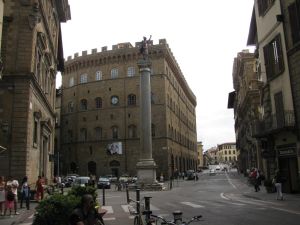 Street scene in Florence.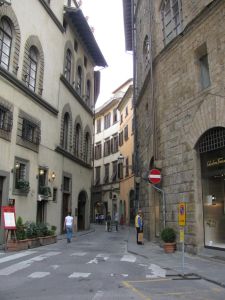 Street scene in Florence.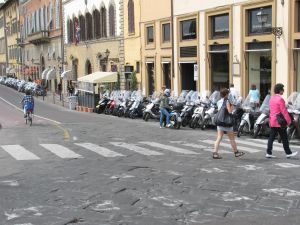 Many, many mopeds.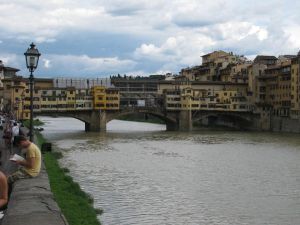 The Ponte Vecchio.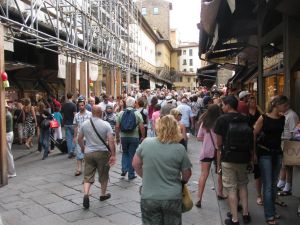 Tourist crowds on the Ponte Vecchio.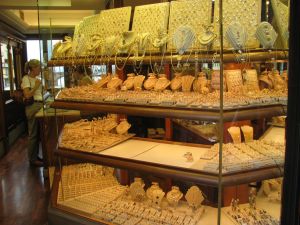 Gold and silver for sale.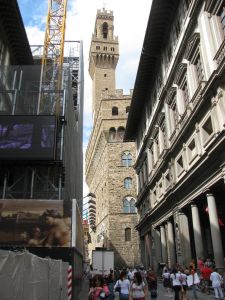 Tower at the Palazzo Vecchio.

A street musician chats with a sculpture guy who poses with tourists for money.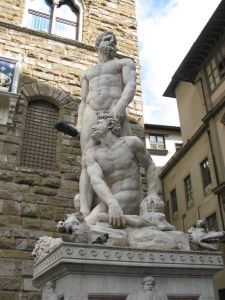 Chisled abs.
We paid the fee to climb Il Duomo. It was an interesting climb, steep, narrow, and crowded. The dome has two layers so you climb up between them. This after traversing a balcony that lets you look down to the cathedral floor from above. Views from the top were great.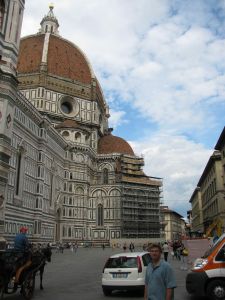 A view of Il Duomo.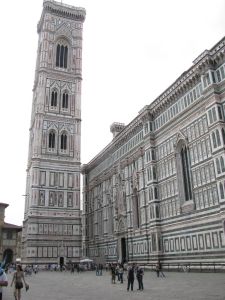 Giotto's Tower.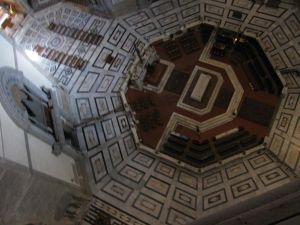 Looking down inside while climbing Il Duomo.

The ceiling above viewed while climbing Il Duomo.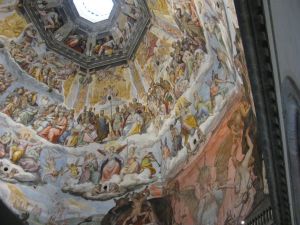 Another view of the ceiling.

A rose window in Il Duomo.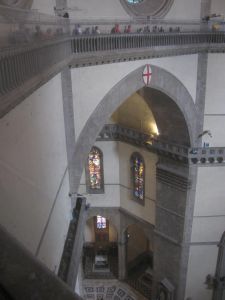 Tourists traverse a balcony while climbing Il Duomo.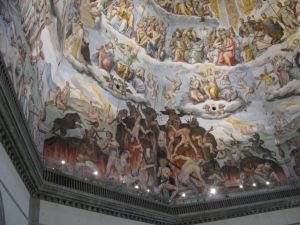 Closer to the ceiling now.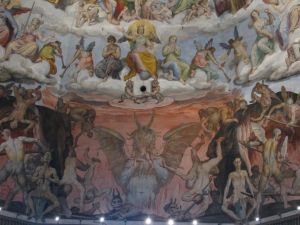 A closeup of the ceiling.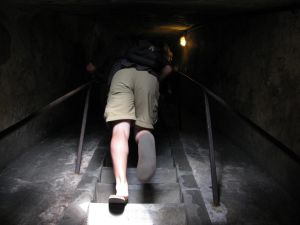 Climbing Il Duomo.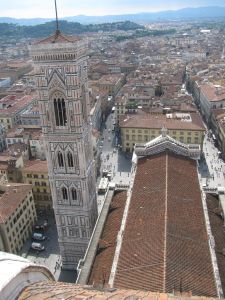 A view from the top.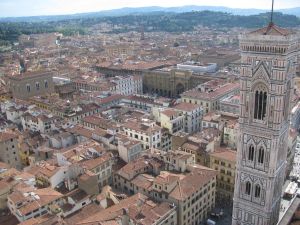 View from the top.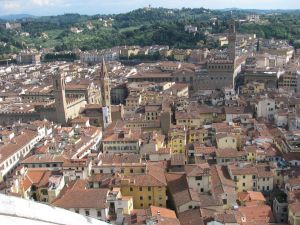 View from the top.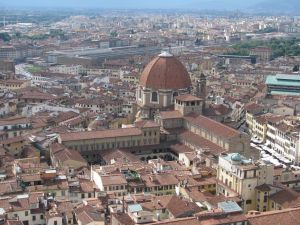 View from the top.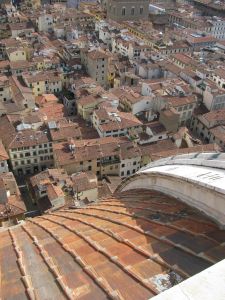 Looking down at the dome's roof.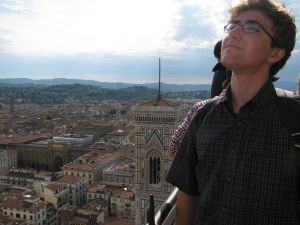 A tourist.
Dinner at a trattoria. More seafood pasta for Max. Menu del giorno for me with lasagna, roast pork and salad. More good wine. Had a gelato while walking around after dinner to the church of San Lorenzo. Gotta stop doing that or I'll be huge.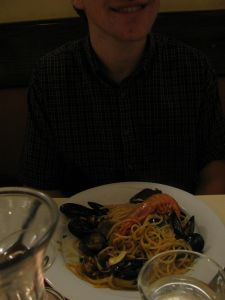 More seafood pasta for Max.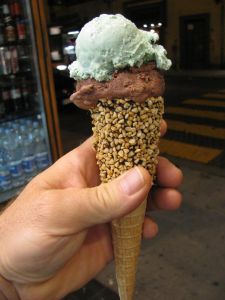 Gelato.
Prev | Next