30 Days in Europe with Max
June 12, 2010 - Germany - Lahnstein, St. Goar
Prev | Next
We hadn't told our hosts when we wanted breakfast, and we woke early. Wandered the streets and found a decent bakery. Got croissants and a coffee for me. Back at the hotel, finally woke our hosts via the front door bell and rousted them to get us breakfast. It was good. Meats, cheese, tomato, cukes, rolls, coffee and juice.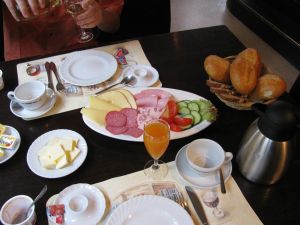 Breakfast at Neuberts Gasthaus am Rhine. An excellent spread. Love having my own little pot of coffee, good for about 3 cups.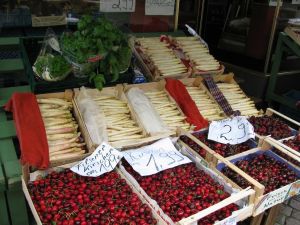 Fruits and veggies at a Lahnstein grocery store. Spargle (white asparagus) was in season.
After breakfast we went over and got our rental bikes. Transferred our stuff to panniers and headed out. Rode under the tracks to the river and got on a pedestrian/bike ferry to the other side with a bunch of German bike tourist guys. Funny little boat, not much room. The Rhine flows swiftly and the boat lurched quite a bit.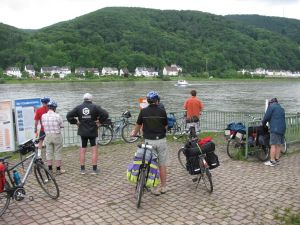 Queued up for the ferry with German cycle tourists.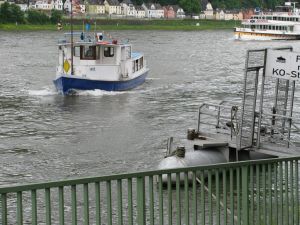 Here comes the boat. Quite a current, but the captain handled it with aplomb.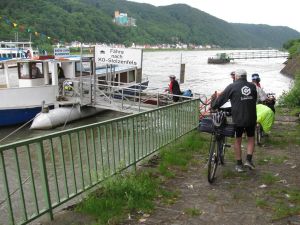 Loading up.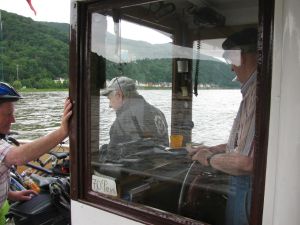 A view of the pilot house.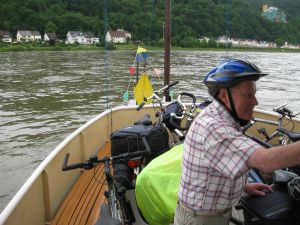 Fairly crowded on this run.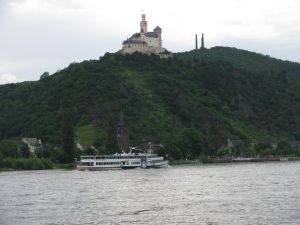 A tourist boat across the river below one of the innumerable castles.
Once on the other side we headed upstream towards our destination of St. Goar. Nice ride. Dedicated trail through villages with gardens and parks. Plenty of other bike tourists. Castles abound on hills around the river.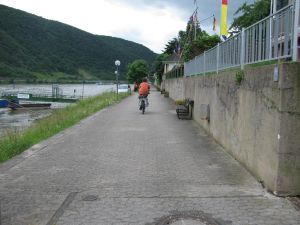 Bike trail on the west side of the Rhine.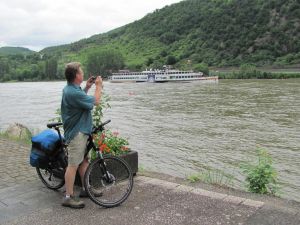 Photo break while a tour boat approaches.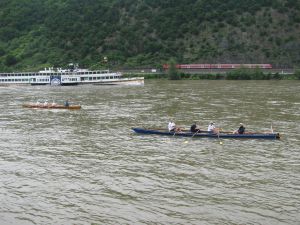 Sculling boats. These were the only ones we saw.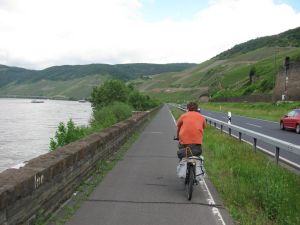 Nearing St. Goar. Vineyards on the hillsides.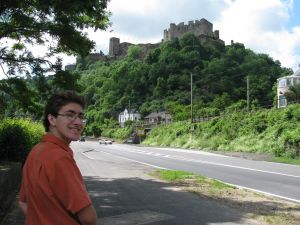 Reinfell castle comes into view.
After about an hour or so of riding we arrived at St. Goar. Tried a bank machine and got an error message. Unnerving as this was my first attempt at using a European bankomat. Next one worked though. I took a picture of the error screen and noted the bank name and location just in case though. Cruised St. Goar looking for lodging and tried Frau Kurz's house up on the hill. She had a room for 25 euros per person per night as a 2 night rate, mit fruhstuck (with breakfast). Our room faced away from the train tracks and had a bathroom in the hall. A fine place. Good breakfast, but not as complete as Lahnstein. We had lunch at Zur Krone on recommendation from Frau Kurz. Another schnitzel for Max, and some pork dish for me. Lotta pork eaten in Germany.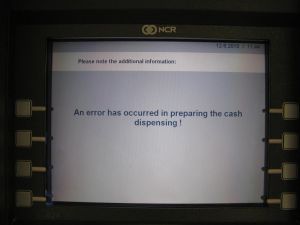 No better way to spook a tourist than to say they can't get cash.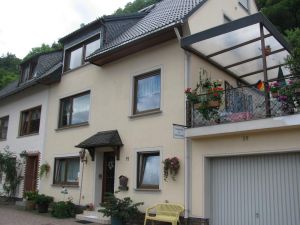 Frau Kurz's guest house overlooking the Rhine. A very nice place to stay.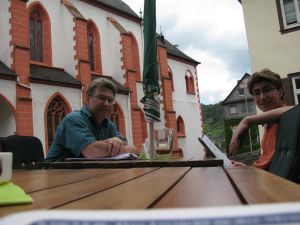 Lunch at Zur Krone, just around the corner from Frau Kurz's.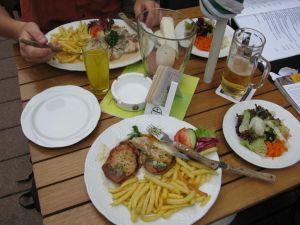 Schintzel and fries for lunch.
From there, hiked up to and explored Reinfell castle. An interesting ruin of one of the biggest castles on the Rhine. Explored the minengang passageways. They're tunnels that were once filled with gunpowder and blown up to kill advancing enemies. Had to buy candles and matches for that. Fun passages, spiral stairs and odd rooms around the whole castle. Lots of fun.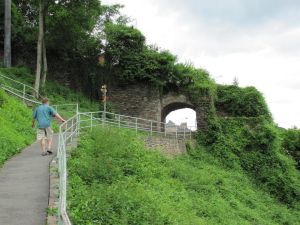 The path from St. Goar up to Reinfell castle.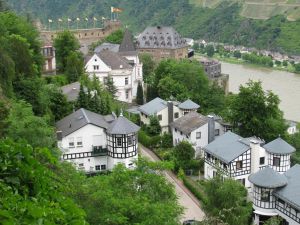 Looking down on St. Goar and the castle (flags in the distance).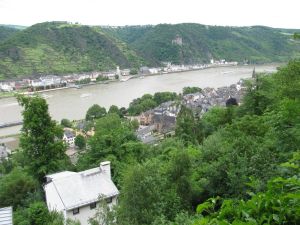 St. Goar on this side of the Rhine, St. Goarshausen on the other.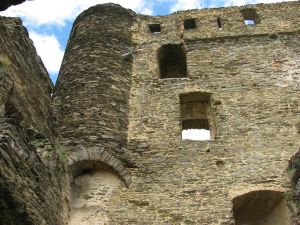 The castle.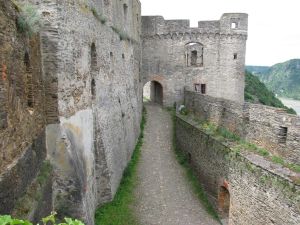 The castle.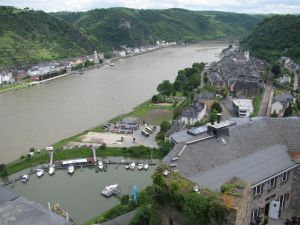 St. Goar from high up on the castle.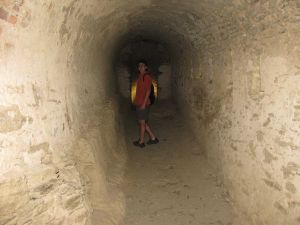 Minengang passageway in Reinfell castle.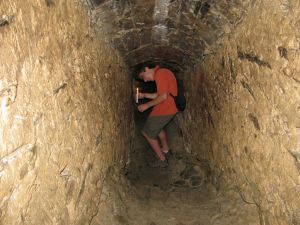 Passage getting smaller.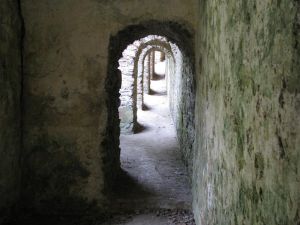 The castle.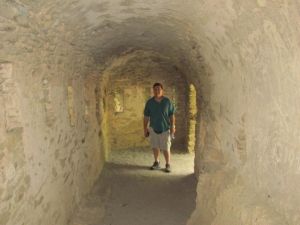 Castle passageways.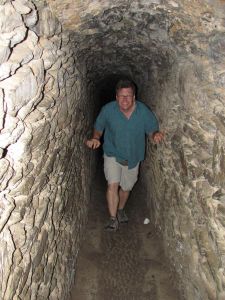 More minengang passageways.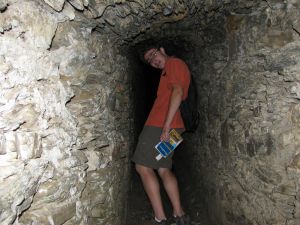 More minengang passageways.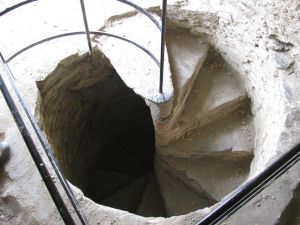 Intriguing spiral stairs.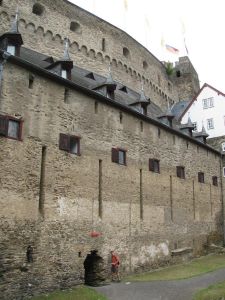 Entering the prison.
Zur Krone again for dinner. Mmmmm. Then walked the town at dusk a bit. Had an extra glass of wine at Zur Krone while trying to sketch a cityscape with colored pencils I brought. Hah. The wine was good at least. Tired, to bed.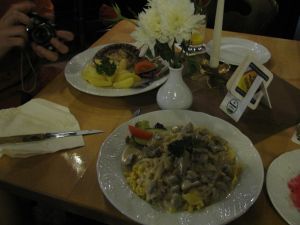 Brats and sauerkraut for Max. Spaetzle for me.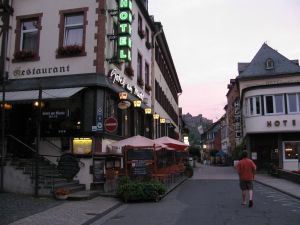 St. Goar in the evening.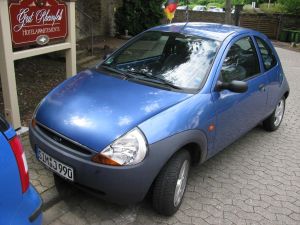 One of my favorite efficient cars, made by Ford.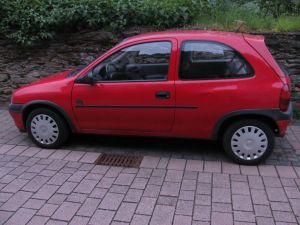 Another highly fuel-efficient car unavailable in the US. Sigh.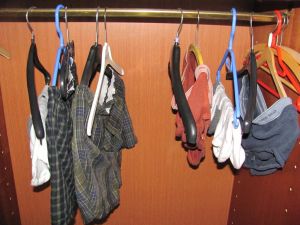 Laundry drying in the closet. We got pretty good at this.
Prev | Next