30 Days in Europe with Max
June 28, 2010 - Switzerland - Kandersteg
Prev | Next
Awoke early, got to the train station 3 minutes away by foot at about 6:45 AM. Stood in the ticket line for some info. Normal Italian situation, long line, only one out of three windows open. Lots of noise in the station from kids, people rolling luggage up stairs and hard acoustics with everything made of stone or concrete. Almost impossible to talk to the ticket guy. Sealed glass window with small hole for money at the bottom. What dipshit designs these scenarios. The ticket guy assures us that we don't need a reservation to Interlaken, so we board the train. Turns out we do need a reservation from Milan north and we pay 36 Euros to a conductor for that. Ah Italy. Mountainous territory is all around now as we speed north out of Italy. Hooray! Switzerland's groomed hillsides with chalets and farms appear.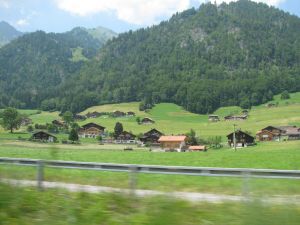 Arriving in Switzerland to a lush idyllic landscape.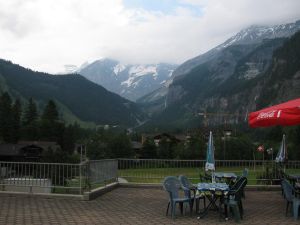 Early evening clouds viewed from the train station in Kandersteg.
We go to Interlaken West, the new part of town, as opposed to Interlaken East. Get off the train and see of all things, a water fountain. Imagine, free, potable water! Free, clean toilets too. First to the cash machine where we decide to get 500 Swiss Francs, and discover that they're worth a bit less than a dollar. Then the Coop grocery store for picnic lunch supplies. The usual suspects, baguettes, cheese, salami, fruit. Nice picnic by a river in town in a little courtyard park in front of the grocery store. Then to the Tourist Info center. Weather forecast looks great, especially for the next 3 days. Find that a train goes right to Kandersteg, and that there are fun things to do in Interlaken. So we decide to reverse the overnight hike and go to Kandersteg by train for the hike's start. Back the way we came, then up from Frutigen through a series of u-turns and tunnels to Kandersteg. A very cute town. Checked out a restaurant menu while looking for hotels and saw 46 Franc entrees, so back to the Coop grocery in town for dinner supplies. Rain started to fall, and we got a room at Zur Poste hotel in the center of town for 55 Francs per person with breakfast. Super nice guy Phillip runs the place, speaks great English. A large bell tower is about 50 feet from our room window, but it doesn't ring at night (whew). Nice German style beds with comforters. Max wants a German bed and comforter when we get home. To bed.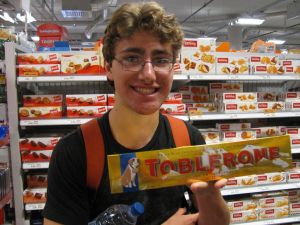 The largest Toblerone bar yet.

Our room at the Zur Poste hotel in Kandersteg. Typical tourist accoutrements, map and baguette.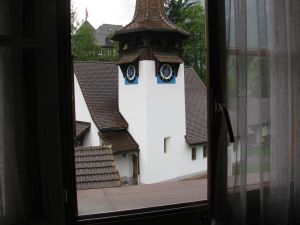 The bell tower right outside our hotel room window.
Prev | Next