30 Days in Europe with Max
July 4, 2010 - France - Dijon, Blois
Prev | Next
Ate lightly at Hotel Mercure's breakfast buffet. Gotta watch yourself at big buffet spreads. Packed up, paid for the room and marched to the train station with our packs.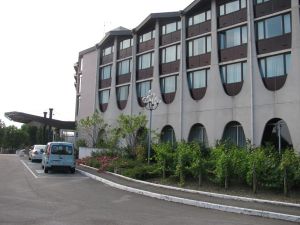 The rather impersonal exterior of Hotel Mercure in Beane.
The route from Dijon to Paris on the TGV required a reservation. Unfortunately, all the TGV trains were booked up for our type of Eurail discount. One wonders how long Eurail passes will be purchased at this rate. So much for going anywhere on a whim with a Eurail pass. A milk run train that didn't require a reservation was scheduled to leave Dijon for Paris at 1:45 PM. So on we went to Dijon for a 4 hour layover. Got there, checked our bags at the train station luggage storage place and hit the tourist information office. Dijon has a self-guided walk through the historic section of town marked by little brass triangles with owls on them. Owls are the symbol of the city. We actually had lots of fun on this walk and found that Dijon was a pretty darn nice place. Saw the outside of the Museum of Archeology, which was housed inside a church, numerous beautiful churches with flying buttresses, and a great plaza with a fountain where kids played. Had eclairs at a patisserie. Delicious. Near the end of the tour Max stubbed his toe and got a pretty bad cut (lots of blood). Napkins from a Subway shop stemmed the bleeding. Back to the train station for the remainder of the layover.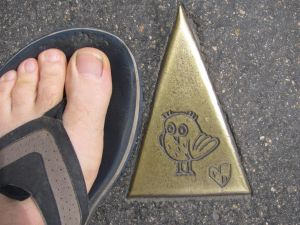 Brass markers in the street show the way through the self-guided walking tour of historic downtown Dijon. The owl is the town symbol.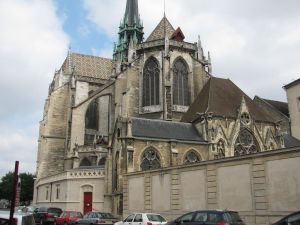 A cathedral in Dijon.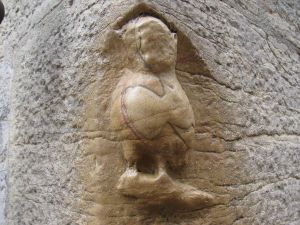 A very worn carved stone owl on a building's corner.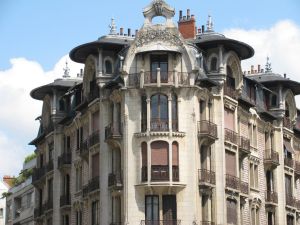 Apartments in Dijon with interesting roofs.
The ride to Paris was comfortable if not "high speed", in yet another first class train compartment. We got off at the Bercey station in Paris and walked to the Austerlitz station for our connecting ride to Blois. For this last leg, the landscape was flat farm fields with many wind turbines and one nuclear power plant. Arrived in Blois and walked first to the Hotel Anne De Bretagne, where our rental bikes would be delivered. They said the bikes would be there by 9:00 AM the next day. Then walked on to Hotel du Bellay. It's an ancient building on a quiet street. A super nice guy runs the place. We stashed our bags, walked down to see the Loire river and then went to dinner in the pedestrian only section of town. On our way to dinner we walked through a street market that was winding up at the end of the day. It looked like it was a big one, sorry to miss it. Found a good restaurant with decent prices, the Three Keys I think it was called. Our room that night was hot and took a while to cool down enough for decent sleep. No air conditioning, but good for drying laundry.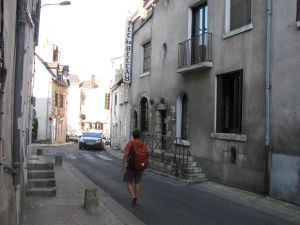 Max approaches Hotel du Belay in Blois. We stayed there three nights.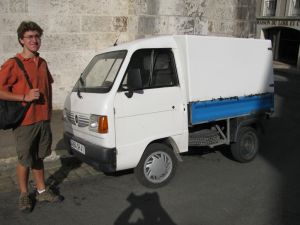 Yet another cool vehicle you can't buy in the US.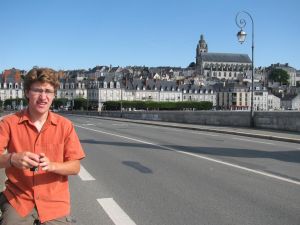 Max on a bridge across the Loire. Blois in the background.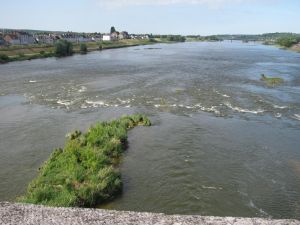 The Loire river. It was surprisingly shallow.
Prev | Next