30 Days in Europe with Max
June 23, 2010 - Italy - Siena
Prev | Next
Started the morning with an internet/planning session in our room. Had a nice breakfast at the hotel. Pretty good spread. Fruit, cereal rolls, croissants, jams, Nutella. I miss eggs. Had a cappucino, then ordered a black coffee, that tiny cup of concentrated coffee. I got Max to try it. He's pretty good about trying stuff now. Back to the room. Now after 9:00. Called the DF Bikes in Siena to arrange early delivery of our rental bikes for an extra day's ride. Requested helmets too. Got an email from my friend Ivan in Paris who we'll stay with and emailed him back telling him when and where we'd arrive (Gare du Nord in late morning). Hopefully he'll pick us up at the train station. Finished packing and then wandered to the train station. With time to kill we people watched in front of the station. The normal parade of mopeds, cargo bikes and smoking high heeled women with cell phones, etc. Boarded the train with our eurail passes only partially filled out with today's date in hopes that the conductor wouldn't show up. Lo and behold he/she didn't.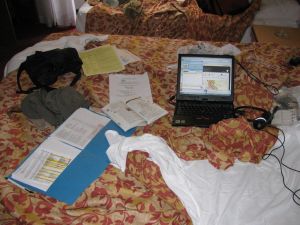 WiFi internet session and planning at our hotel in Florence.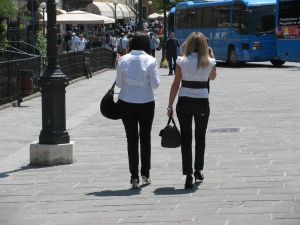 Fashionably attired women in Florence. Cell phones, heels, large purses and cigarettes a must.
Arrived in Siena in early afternoon after crossing low mountains from Florence. A city on a hill it is. First a steep walk up from the station to down town where we located our hotel down a series of steps. Alma Domus is a very, very nice place. It's from the 1300s and was a drying room of a medieval wool works. We had a balcony that overlooks a small valley, and the Duomo above. Swallows swoop outside by the hundreds all day long. It was quiet enough to hear them fly. Bells from many towers toll on the hour.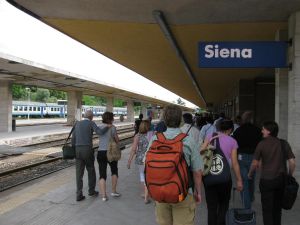 Arriving in Siena.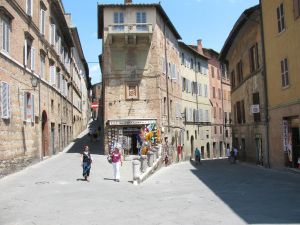 Street scene in Siena.

Entrance to our hotel in Siena. Pedestrian access only.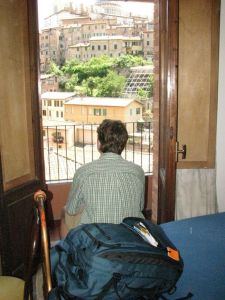 Max looking out of our hotel window.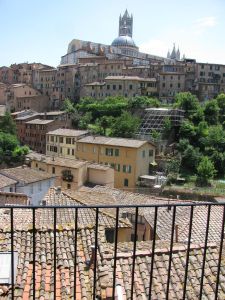 Our hotel room view. Siena rooftops and the Duomo.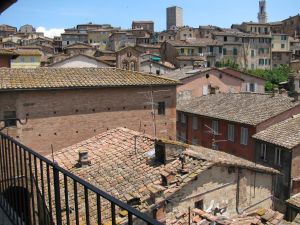 More rooftops from our hotel room. This was nice.
Dropped our bags off, finally found lunch after avoiding the too-common 50 euro lunch restaurants. Good pasta and fried peppers, egg salad/tuna sandwich for Max. Walked through much of the town. Beautiful and interesting town square (Il Campo) with clock tower, also the Duomo church in green and white stone, much like the Il Duomo in Florence. Another amazing facade. The streets were narrow and less crowded than Florence. Much more peaceful. I like it here. Lots of students from the university, especially lounging around the town square. Got tired from walking and came back to room for a nap. Awoke to swallows flying and bells tolling.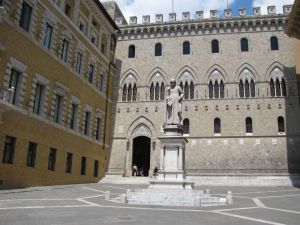 Siena street scene.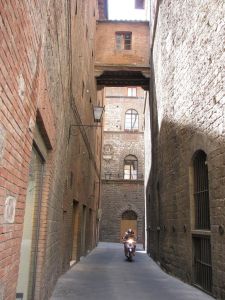 A moped goes under an overhead passage.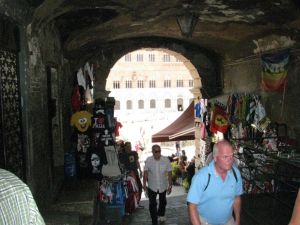 Entering the campo (town square) through an arched passage.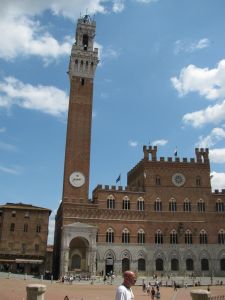 The clock tower at the Campo.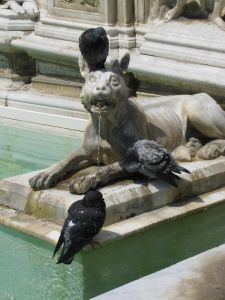 Birds at a fountain.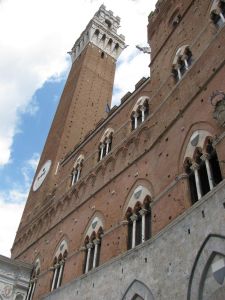 The clock tower again.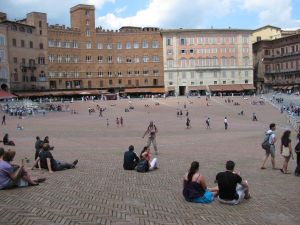 The campo.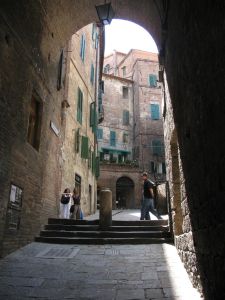 Siena street scene.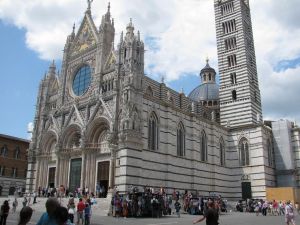 The cathedral, like smaller version of the one in Florence.

Cathedral facade.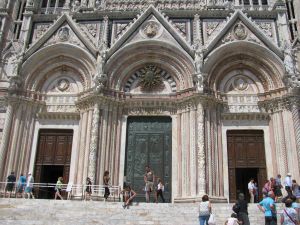 Cathedral entrance.

Arch over the main door.
Our bikes were due for delivery so we sat outside and waited for the guy from DF Bikes. He came around 8:00 PM. We were a bit amazed that he found the place given the complexity of the Siena streets and lack of wheeled vehicle access. The bikes looked great. Correct sizes, Campagnolo Chorus components with toe clips, repair kits, helmets and computers. We're all set!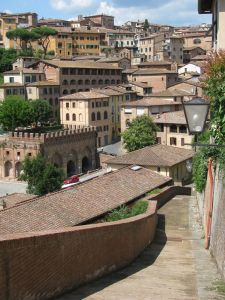 A view of our hotel. It's roughly in the center. The long building with the arches.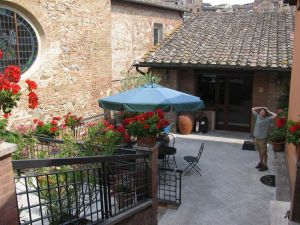 The courtyard of Hotel Alma Domus.
We asked for restaurant recommendations from the hotelier and went to an osterei around the corner. Good tuscan food reasonably priced. Cured ham slices plus fresh cheese with greens and bread for appetizers. Taglioli pasta with boar sauce for a primo piatta. 1/2 liter of house red for me, a glass of house white for Max. He wants to learn to like wine. All very delicioso. Walked into the campo afterwards for night pics and gelato. Now to bed.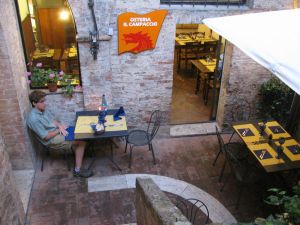 Dinner at a nearby osteria.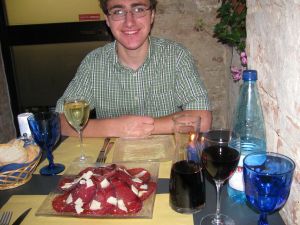 Tuscan appetizer of cured ham, and cheese.

A real Tuscan dinner.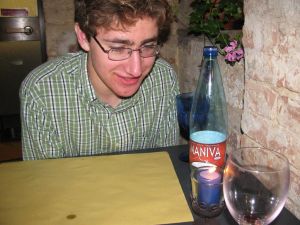 Max examining convective flows of liquid wax in a candle. Maybe the wine did have an effect on him.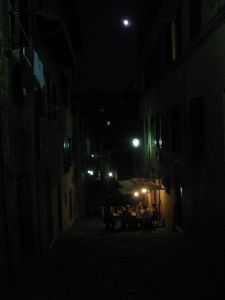 Night scene in Siena.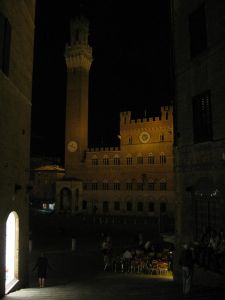 The campo and clock tower at night.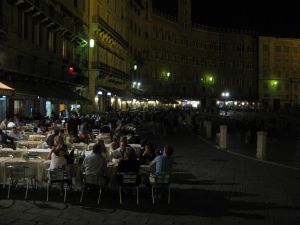 Restaurants on the campo.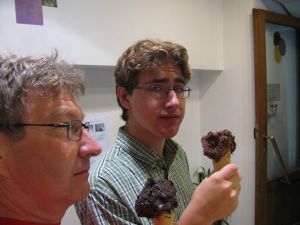 Gelato again.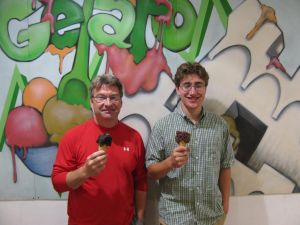 Caught in the act.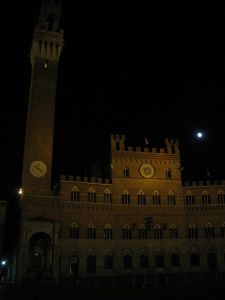 The town hall and clock tower at night.
Prev | Next