30 Days in Europe with Max
June 20, 2010 - Italy - Venice
Prev | Next
Arrived Venice at 6:40 AM in thunderstorms, lightning and pouring rain after not much sleep. Nothing open except a few coffee shops and news stands. Boy did I need coffee. Bought my first Italian coffee at the train station by asking for a black coffee. A black coffee in Italy is about 1 fluid ounce of highly concentrated nuclear coffee. I don't know how Italians manage to linger over 1 fluid ounce, but it took me one sip and we were ready to go.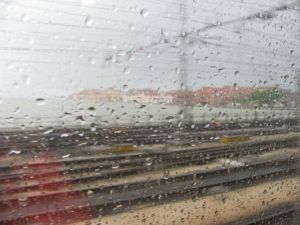 Arriving in Venice to pouring rain, thunder and lightning.
After donning our rain gear we took a vaparetto (a boat that serves as a bus) down the Grand canal to an empty St. Mark's square. The tourist info stand was closed untill 10:00 AM, so I bought a 6 Euro "cappacino grande' and reviewed Rick Steves' book for nearby hotels. Found the Albergo Doni near the square who offered us a "special price" for 2 nights of 70 Euros per night. They were open, had a room with a double bed overlooking the canal at the top floor. We took it, and settled in for a nap due to lack of sleep on the train. I heared rattling noises across the canal through our window and was amused to see that they were from "venetian" blinds in the neighbor's window. Rainwater gushed out of a dowspout into the canal.

Vaporetto ride down the Grand Canal from the train station to St. Marks square at 6:30 AM.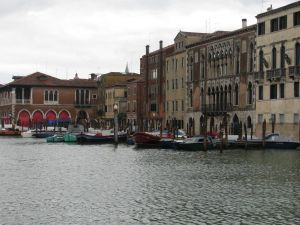 Palaces on the canal.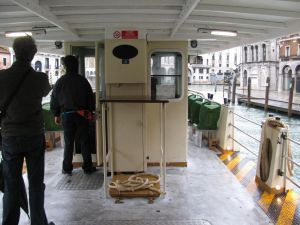 A nearly empty vaparetto.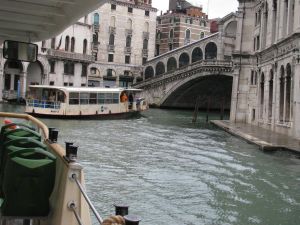 Approaching Rialto bridge. Note the lack of people.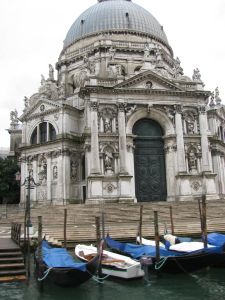 Santa Maria della Salute.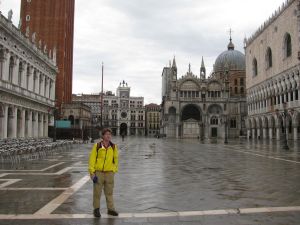 An empty St. Marks square. We had no idea how crowded this place would get later.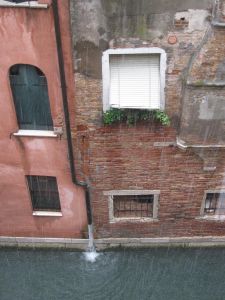 A view out our hotel room window with the rattling Venetian blinds and gushing downspout.
We awoke from our naps and headed out into the driving rain with our umbrellas and other tourists. Venice is a huge labyrinth of narrow passages, bridges, arches, stair cases, etc. The closest thing to a wheeled vehicle you see in venice is a hand truck. No cars, motorcycles, mopeds or even bicycles. There are just too many obstacles. Most tourists were in ponchos and/or umbrellas in the driving rain. Bought foccacia sandwiches grilled to perfection. Sat and ate in the sandwich shop while everyone watched the World Cup on TV. Then walked through the city for 4 hours in the rain. As per Rick Steves' advice we got lost, very lost, and then found, lost, repeat. Wet, wet shoes which was not good. Came back to our room and rested again, Max showered, then with dry clothes and flip flops we went out to dinner. Ordering food in Italy was an adjustment. Everything in Venice is pretty expensive, and you order dinner in Italy by appetizer, prima piatti (first plate/course), segundo piatti (second plate/course). So it's easy to rack up a big bill, and to order too much food. Portions were less generous than the German meals we were used to, but delicious. We had boiled shrimp appetizers, then spaghetti and clams pasta, and mixed fried seafood. Also ordered an egg plant/cheese dish on a whim. The Cab Frank wine I ordered was nice. So, dinner was 73 Euros, what the hey, it was our first real Italian meal. Did a bit of shopping among the bazillion stores in Venice. Bought two beautiful multicolored shot/apertif glasses, a letter opener for Deb, and a dolphin for Max to give to Nicole all made from Murano Island glass. Fun shopping, the glass is amazing.

Seafood in a restaurant window.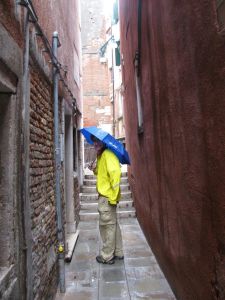 Wandering the 'streets' of Venice.
Then back to the room. Washed socks, hung shoes and socks on ceiling fan to dry. Then to bed. Tomorrow, glass factories and glass museum on Murano island.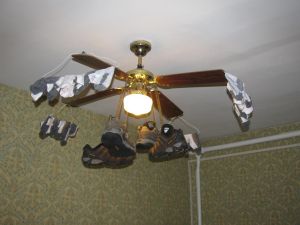 Footwear drying on our hotel room fan. With the fan turned to a low speed it was pretty effective.
Prev | Next