30 Days in Europe with Max
June 27, 2010 - Italy - Cinque Terra, Levanto
Prev | Next
Groggily awoke a bit after seven. Max had tried to go to an internet access "bar", but was told they didn't open till 7:30. Then at 7:30 was told the internet part wasn't open till 10:00. Ah, Italy. Sat by the water at outdoor tables for chocolate croissants and cappucinos, then we bought provisions for a picnic lunch on the hike. 100 grams of olives, 100 grams of cheese, 1/4 loaf of heavy italian bread, 2 peaches and 100 grams of slices interesting salami. Then purchased Cinque Terra cards for the day's hike and train ride shuttle. The trail was beautiful indeed. Largeley stone paved, many stairs and guardrails. One swinging bridge. Lots of little waterfalls, olive groves, vineyards, stone walls, all running through the 5 towns. In parts, waaaay too many people. It was hot and some people were clearly struggling with the trail. Saw one guy actually carrying a woman piggy pack down steps. They had emergency stations at the tops of stairs with heart symbols on them, presumably so you could summon help when a heart attack occurs.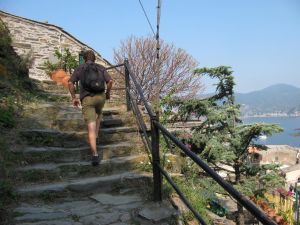 Leaving Vernazza in the morning for our hike through the 5 towns.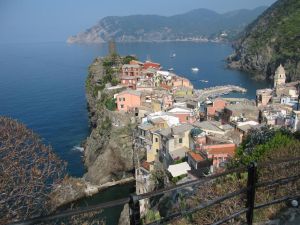 Looking back down at Vernazza. Monterosso in the distance.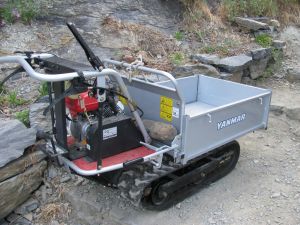 A tracked cargo thingy that helps people get cargo up and down the steep Cinque Terra hills.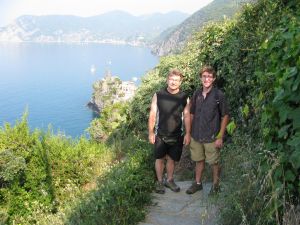 The dynamic duo en route.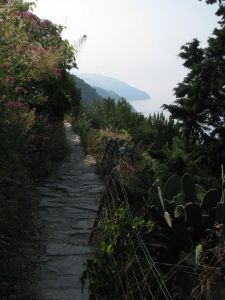 Heading east to Corniglia into the morning sun.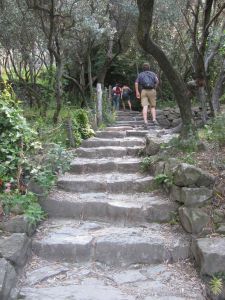 Stone steps on the trail as we overtake other hikers.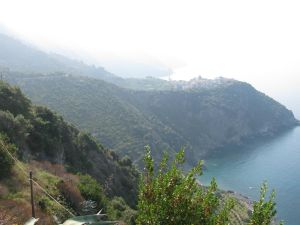 View towards Corniglia.

Approaching Corniglia to the east.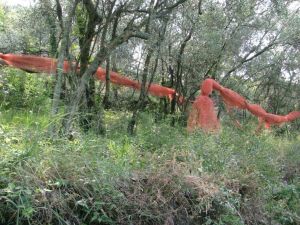 Nets for harvesting olives.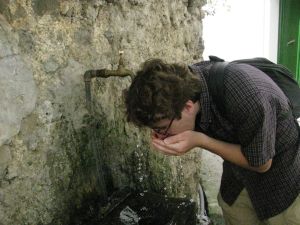 Max drinks trailside.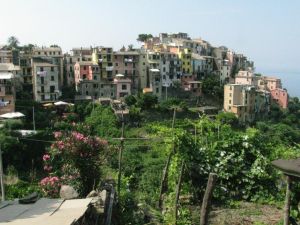 Arriving in Corniglia.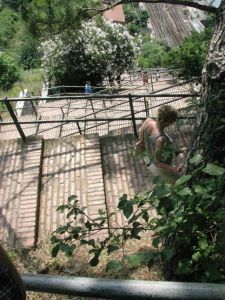 The famed 33 flights of 377 steps from the town to the train station.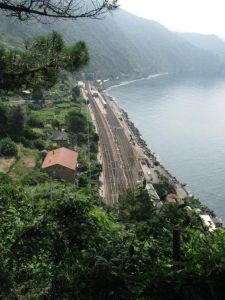 The train tracks below.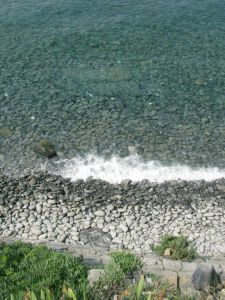 The water here is very clear.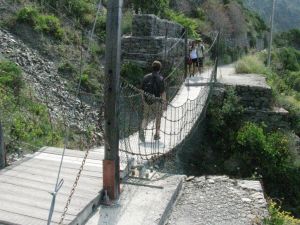 A suspension bridge. Wheeee.

Stairs leading down to the water.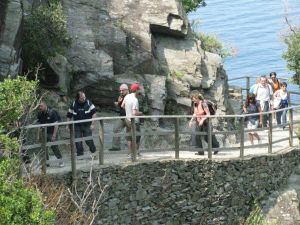 Crowds on the trail increased as the day progressed.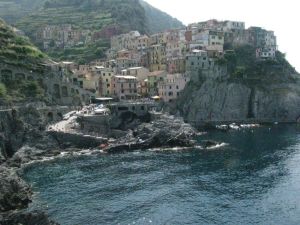 Approaching Manarola.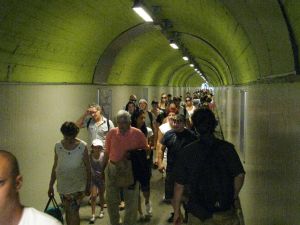 A tunnel near the train station in Manarola. Increasing crowds...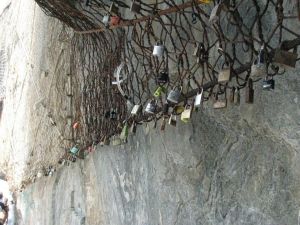 Padlocks locked to a steel net along the trail. The net is to prevent rocks from falling on the trail. Lovers lock the padlocks there to express their love for each other.
We descended stairs down to the rocks between Manarola and Riomaggiore for a swim and picnic lunch. Watched a guy swim up and harvest mussels right in front of us. Then back to the trail to Riomaggiore.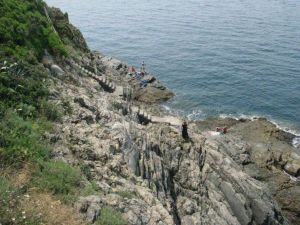 An overview of where we swam and lunched.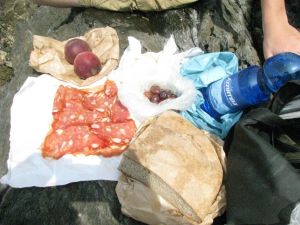 Our picnic lunch on the rocks.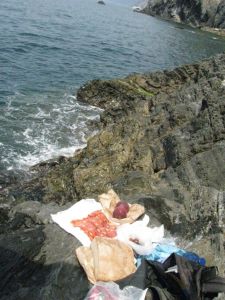 It was a nice place to eat and swim.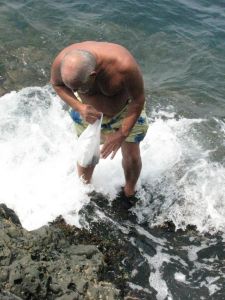 This guy lingered for quite a while just below us harvesting mussels.
From Riomaggiore we took the train to Monterosso at the other end of Cinque Terra to complete our hike through all five towns. What a zoo that was. Classic Riviera beach covered with umbrellas. We decided not to spend the night there and took the rest of the trail back to Vernazza. Super crowded in some areas. Not pleasant.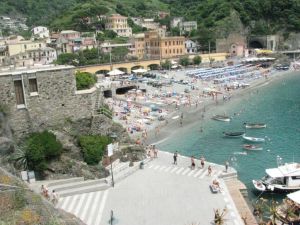 Another view of Monterosso.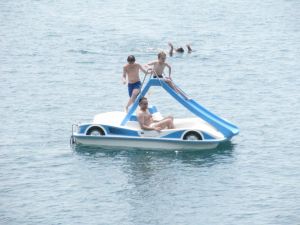 Fun in the sun at Monterosso.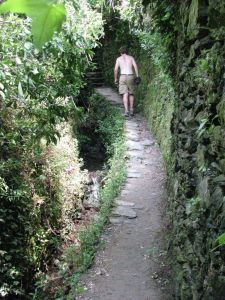 Hiking back to Vernazza from Monterosso.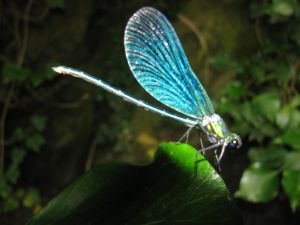 A nice Italian dragonfly.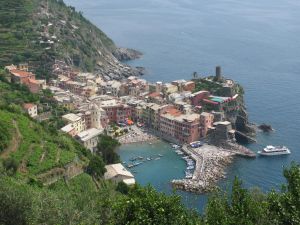 Vernazza from above, viewed from the west.
Back in Vernazza, we got our bags from Ingred's guest house and got on the train to Levanto after a 40 minute wait. A bit scary when the trains "in transit" fly out of the tunnel through the station and back into the next tunnel. Lots of wind as the trains approach and pass. Arrived in Levanto and waited in a long line at the ticket booth to find out about the route to Interlaken. No reservations needed according to the guy, so we decided to spend the night there and leave in the morning on the 7:00 train to Genoa and Milan. Walked through Levanto, which has virtually no American tourists and ended up at a nice bed and breakfast 3 minutes from the train station on the side away from the beach. Showers to wash the salt water and sweat off, then to dinner. Our hostess spoke no English whatsoever, so our attempt to ask for a restaurant recommendation was a bit of an adventure. Our room was nice and had its own terrace. Still, we'll be glad to leave Italy and arrive in the ordered world of the Swiss, I think. Dinner in downtown Levanto. The recommended restaurant turned us away due to their 3 or 4 empty tables having been reserved. Found a place around the corner that served us a good cheese sample plate for appetizers, Max a spaghetti pasta with bacon and eggs that tasted strangely like an American breakfast, my spaghetti with shrimp and zucchini in tomato sauce (tasty), and a tomato salad with half-green tomatoes. I miss ripe, red German tomatoes. I don't think the Italians actually like fruits and vegetables. No dessert, back to the room for hopefully good sleep before a big train day to Switzerland.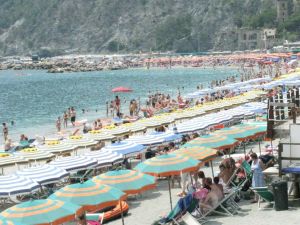 Umbrellas at Monterosso. This is the resort town in Cinque Terra, and was our motivation for leaving later that day.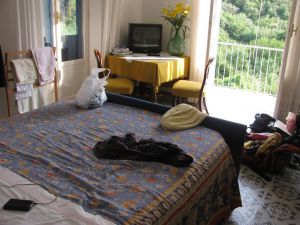 Our room in Levanto.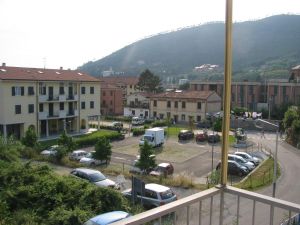 View from our terrace in Levanto.
Prev | Next