30 Days in Europe with Max
June 24, 2010 - Italy - Siena, Asciano
Prev | Next
Breakfast at Alma Domus included a buffet of rolls, croissants, cereal, jam juice and fruit. Very powerful and sweet fruit juices here in Italy. Nuns serve coffee and milk from big metal pots after you're seated, then ask your room number to tally who's eaten. After breakfast we putzed with our riding gear. Water bottles, camera, sun block, money, maps and more maps. Maps to get us out of Siena, to get back into Siena, for various legs of our rural sections of the ride. I *really* didn't want to get lost out in the countryside.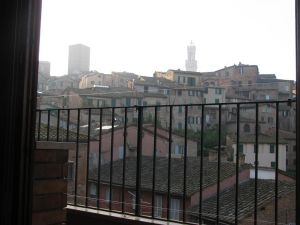 Morning view from my bed at Hotel Alma Domus.
We walked our bikes down the long flight of stairs by the hotel, then coasted down the hill into busy traffic. Found our way across the freeway at the south end of town and up into the hills beyond. Traffic then dwindled and we were left to curvy, lightly forested surrounds with wheat fields. Oak and cypress trees lined the roads. Seemed mostly downhill for miles as we headed to the oldest town in the region, Murlo. Too much downhill on a loop ride makes a cyclist uneasy. Reached the farthest point from Siena, a town called Buono Convento in a fairly short amount of time. This was to be about a 50 mile ride if no additional mileage was added. At Buono Convento we decided to add a little extra section for more mileage. Went up a road with numerous steep grades of 16 to 20%, then saw a sign that appeared to indicate gravel for 1.2 km. No problem, after that another sign for gravel for 3 km. Our patch kits had 2 tubes and 2 bottles of compressed CO gas, good for fixing only 2 flats. I got concerned so we turned around after about 7 km on mostly gravel roads. Back to Buono Convento, and then up the paved road to Asciano for lunch only 18 km away. More beautiful countryside. Still, the Virginia countryside with hayfields, oak forests and stone walls equals for beauty this in my opinion.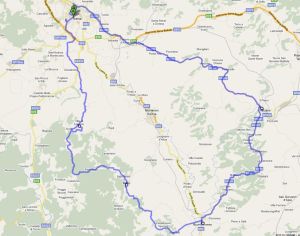 Our route for the day, heading counterclockwise.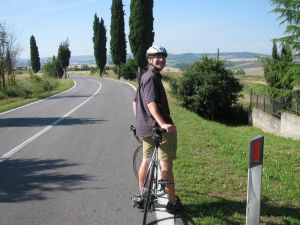 Heading south from Siena for our day's ride through the Tuscan hills.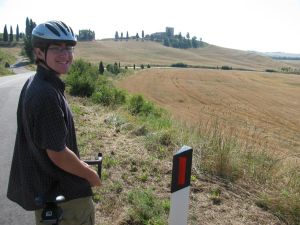 No traffic. Wheat fields abound.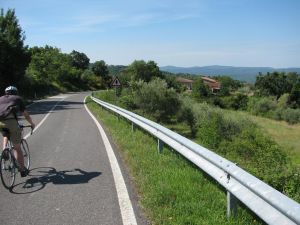 A curvy descent.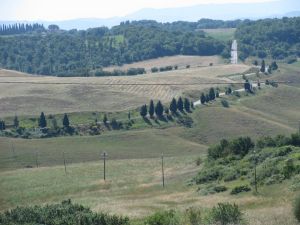 Typcial views for the first half of this ride heading south.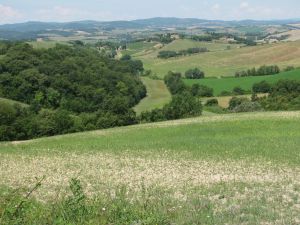 Another nice view.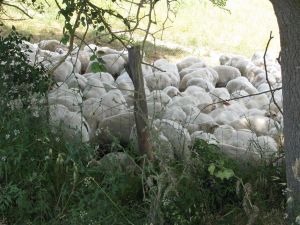 Shorn Italian sheep seeking cool shade under a tree.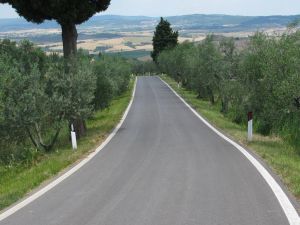 Heading north to Asciano for lunch.
Made it to Asciano where we ate outdoors at a little place and got calzones. They looked huge. Then when you cut into them they flattened out like a quesadia. Basically a big bubble of dough. Good though. I tried a 1/2 liter of red wine as is customary in Italy on a hot day during lunch. Still not sure if that was a good idea or not. We saw other American cyclists in town on nice high end rental bikes. They might have been on a supported tour, unlike us. We walked through the old town center on our way out.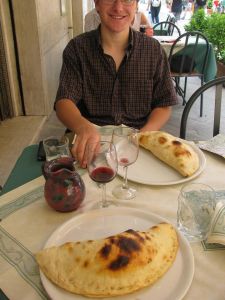 Calzones for lunch in Asciano.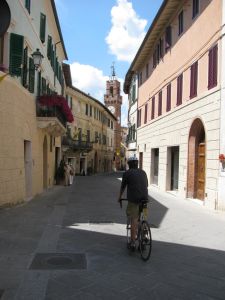 The streets of Asciano.
A bit hard to get going again. Butt hurts as always when resuming a ride, especially on an unfamiliar saddle. Then we hit hills. Many steep (20%) hills going north back to Siena. Really hard on my bum knee, making me concerned about hurting it and stopping us from hiking in the Alps. Got a bit lost around Arbia, had to ask "directions". You basically say, "Siena?", and go where they point. Traffic got heavy on the way in. These Italian drivers can be pretty scary. Most give you some room, but many others don't. Dragged my sorry ass back to the hotel for a long shower, 3 Ibuprofen and lots of tap water. Max and I talked and pretty much decided to try to return the bikes and leave Siena the next day due to the harsh hills for cycling. This would be complicated as we'd need to get the bikes back to the shop rather than having them picked up, and we'd have to pay for night at the hotel for checking out early. Plus we'd arrive in Cinque Terra on Friday when it'd be hard to find a room.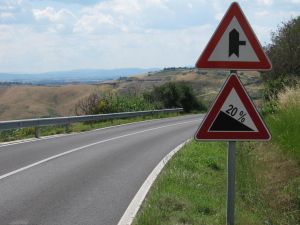 A 20% descent. Most actually seemed to be ascents.
We pondered this over a Tuscan dinner at the osteria around the corner. Tuscan bean dishes for me with more wine. Pesto pasta and chicken and white wine for Max. Afterwards, we walked to Il Campo for evening views and yet another gelati, then back to the room. Very deep sleep that night.

Another Tuscan dinner. Beans for me, pesto pasta for Max.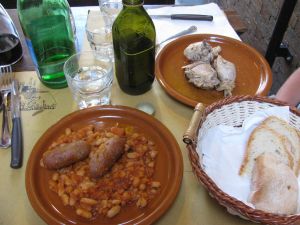 More beans, plus sausage for me, chicken for Max.
Prev | Next