30 Days in Europe with Max
July 3, 2010 - France - Beaune
Prev | Next
Slept in a bit and then hit the hotel breakfast. It was a nice big buffet with plenty of everything including scrambled eggs and sausage! The eggs were pretty loose though. Still, a nice change. After breakfast we headed to the Centre Ville to see the Saturday morning market. Like many towns in Europe, it was an extravanganza of beautiful fresh food. Produce, meats, cheeses, olives, sausages, flowers, etc. We shopped for picnic stuff. Wish we had a kitchen so we could cook. The rabbits and poultry with their heads still on looked great.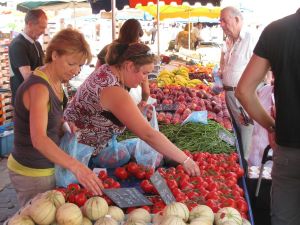 Market day in Beaune. No processed food here.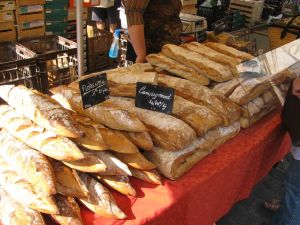 We bought a loaf of the bread shown in the middle. Max can eat a lot of bread if it's good, and this was.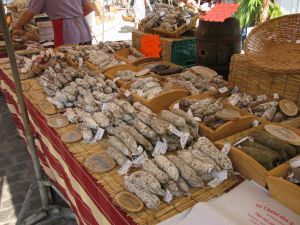 So many sausages, so little time.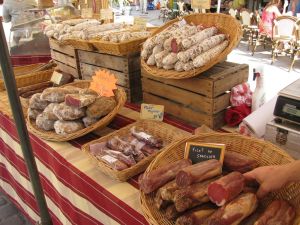 The sausage vendor we bought from was pretty pushy, but we got to try quite a few.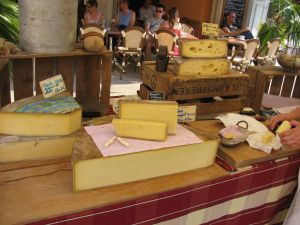 Nothing like 30 pound cheeses.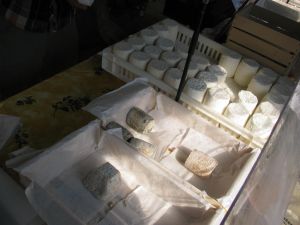 Quiet, cool little rounds of goat cheese. We bought three.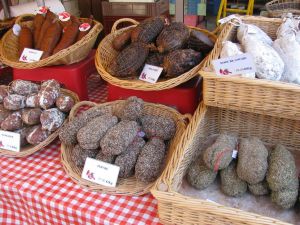 More sausages.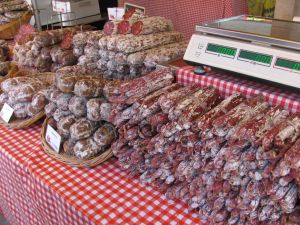 Ever more sausages.

A riot of produce. The tomatoes looked fabulous.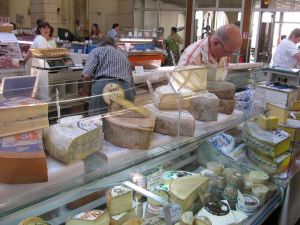 Too many intriguing looking cheeses.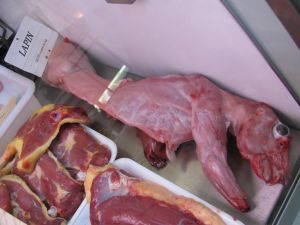 Lapin (rabbit).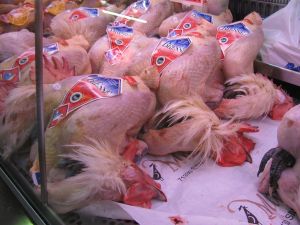 Chickens with their heads still on. Pretty festive.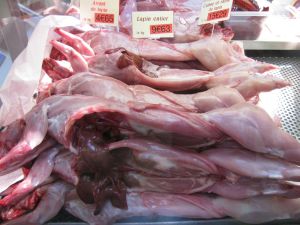 More rabbits.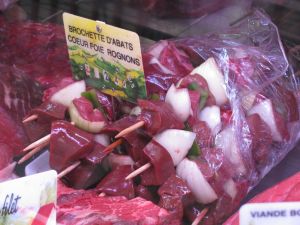 Liver shishkabob.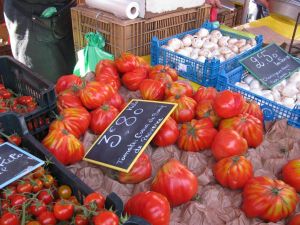 Beautiful tomatoes.
Found a quiet park setting and had a picnic, too soon after breakfast though. Wish I could have eaten more. Then strolled through the market again. Found a hat vendor, but they didn't have a real Basque beret in my size. It seems I'm a size "60". I now really want a good beret. Decided to relax and escape from the heat after that and swim in and lounge around the pool. Stayed there at least 4 hours. Apparently we needed a vacation from our vacation. It was nice, but my belly and upper thighs are beet red from falling asleep in the sun. Came in our room afterwards, relaxed a bit, and then back to the same restaurant for dinner.

Treats at a patisserie.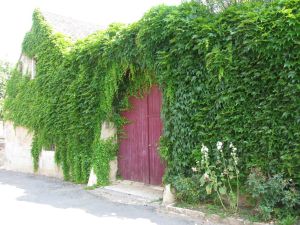 A nice old door/wall/vine combo.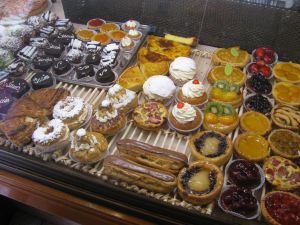 More sugary treats.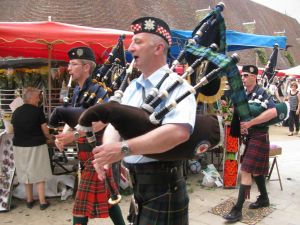 A Scottish bagpipe group came through town that day.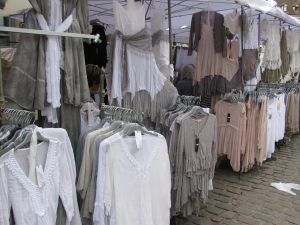 We thought of our friend Val when we saw these.
At dinner, service was stupidly slow, unlike last night. Ate new things from the same menu as the night before. The pate was nice. Max got a beautifully cooked, rare steak. Checked out other illumination exhibits and agreed that they're actually kind of lame, yet somehow impressive. Back to the room for a shower and bed. Tomorrow, Blois.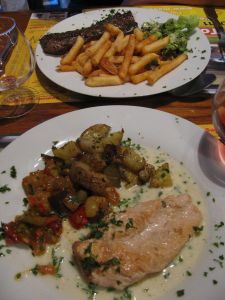 Dinner again. Steak for Max, chicken for me.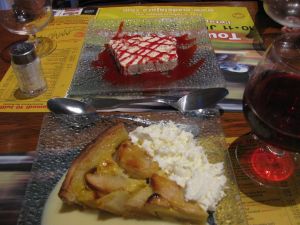 Dessert in Beaune.
Prev | Next