30 Days in Europe with Max
June 18, 2010 - Germany - Munich, Fussen
Prev | Next
Started the day with another generous, wonderful European Youth Hostel breakfast with those colorful eggs. Stashed our packs in the youth hostel's storage room and Walked to Alta Pinothek museum (old paintings museum). Mostly Renaissance paintings (Reubens, Dutch masters, etc.). A decent audio guide in English was provided for free. Realized how important the stories behind the paintings are when viewing artworks. Each painting tells one or many. Numerous huge Reubens canvases with chubby people. I love the Dutch paintings of everyday scenes. So many paintings to take in. We wandered by accident into the Neu Pinothek (new art) museum and transitioned to minimalist art. Max seemed confused and irritated at this. Funny. We were then kicked out because we didn't have the right ticket/badge, which was fine by us.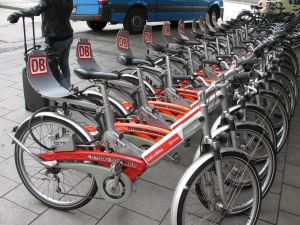 Train station rental bikes. I liked the integrated kid seat in the back. 'DB' stands for Die Bahn (the train).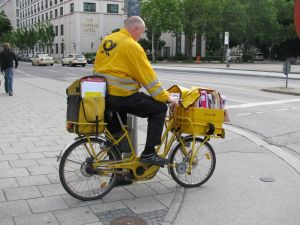 The postman on his bicycle on the streets of Munich. Seems practical given how flat the city is.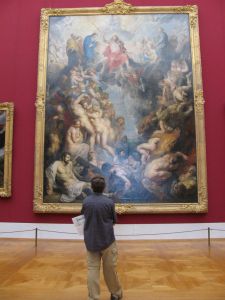 Max examining a large canvas loaded with cherubs.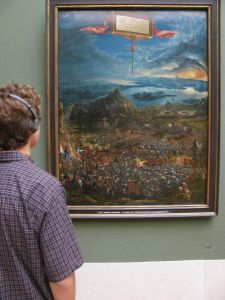 Our audio guides describe an epic battle scene.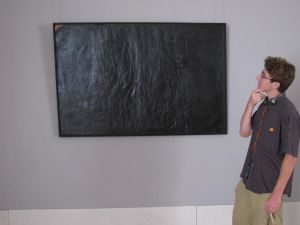 Ah, modern art.
Returned to the hostel, got our packs, then to the station and a train to Fussen for a visit to Neuschwanstein. The rain continued in earnest in Fussen. No views of the Bavarian Alps. We wandered through Fussen with packs in the rain trying to find a room. Raucous cheers from an apartment turned out to be Serbians cheering when their country's team won against Germany in the World Cup that day. Then a smooth talking guy who ran a "youth hostel" drove us to see an apartment on the outskirts of town. We said we'd think about it and he left us there. I'd read about this ploy. Good thing we were up for a walk back to Fussen. After minimal searching in town we found a cheap room in the alt stadt (old town), keine fruhstuck (without breakfast). Settled in, then went for a hike in the rain. We foolishly didn't wear rain gear since it was just drizzling at first, but then it poured and we ended up soaked on a 6 mile hike to the Alatsee, a picturesque lake outside of Fussen. There's an amazingly well marked network of trails around Fussen. Saw cows with bells and odd black lizards on the trail. Had dinner at the hotel's restaurant. Pork hock and potato dumplings for me. Walked in cold winds afterwards for gelato, then to bed.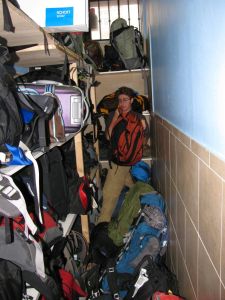 Retrieving our packs from the Munich youth hostel storage area. Apparently we weren't the only ones with this idea.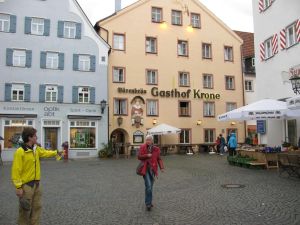 Gasthof Krone, our hotel in Fussen. It was a very old, creaky place.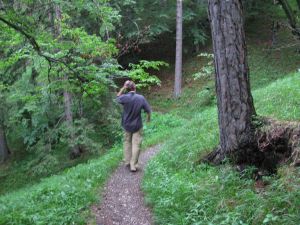 Hiking trail to the Alatsee outside of Fussen.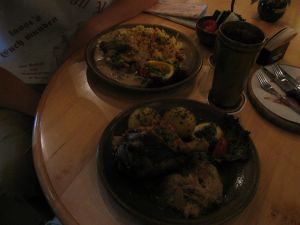 Dinner at Gasthaus Krone.

Max poses in the stocks in front of our hotel. A somber reminder to children who don't eat their schnitzels.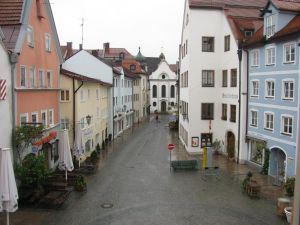 View out our hotel room window at Gasthaus Krone.
Prev | Next