30 Days in Europe with Max
July 5, 2010 - France - Cycling in Blois
Prev | Next
Got up at around 8:00 and dragged ourselves down to breakfast. Typical French breakfast. Great coffee and croissants, OJ and some baguette slices. Perfect, not too much. Packed up stuff for the bike ride including water bottles, tool kit, bike lock, sun block, etc. and then walked to the tourist information office near the Blois chateau where we got the official "Les chateaux a velo" bike route map. Then walked to the Hotel Anne De Bretagne to pick up our rental bikes. Met the lady from our bike rental people, Rando Velo. The bikes were aluminum framed hybrid type with fairly skinny tires. Low enough gears for decent sized hills. Rear rack, locks, tool kit and fenders were included. We needed to have them back the next day by 7:00 PM. This area of the Loire valley has over 400 km of well marked bike routes on farm service roads or rural roads with very little traffic. Roadside signs marking the routes were exceptionally good. Some of the paths were gravel though, so the hybrid bikes were appropriate. Nothing you couldn't do with a road bike though. We set out for Chateau de Chambord through a series of small towns, Les Noels, Sait-Claude-de-Diray, Montlivault and Maslives. Very peaceful riding, and nice level terrain, for the most part using only 3 gears.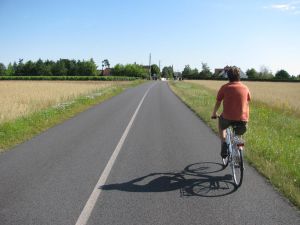 Our cycling journeys in France begin. Heading east towards Les Noels on the way to Chateau de Chambord on a sunny morning.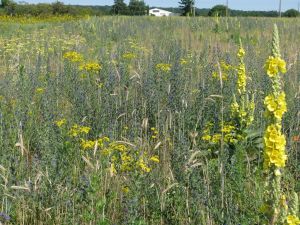 Midsummer flowers.

More flowers.

One of our rental bikes from Rando Velo.
Approaching Chateau de Chambord, we made our way through the various parking areas to a place under trees where many others had locked their bikes. We did the same and then bought tickets. Max got in free, being only 15 years old (thank you France). Chambord's great. It's huge. 440 rooms, with 80 or more open to the public. You can walk around upper levels near the roof too. Fun exploring. The hunting relics, including countless antlers, some stuffed specimens in exciting poses, and various impressive hunting implements. The canopied beds, paintings, tapestries and carved busts were all great. Probably spent the better part of two hours there.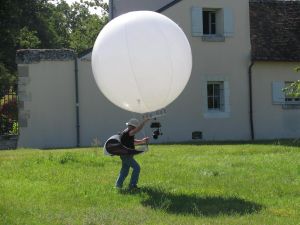 A photographer with an aerial camera lofted by a balloon.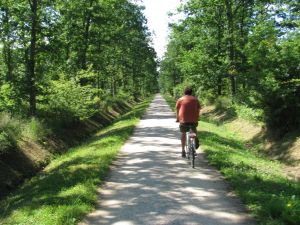 Bike trail approaching the Chateau de Chambord parking area.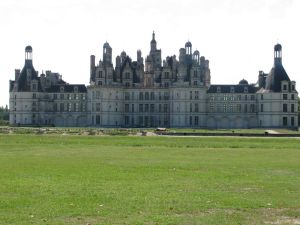 Chateau de Chambord.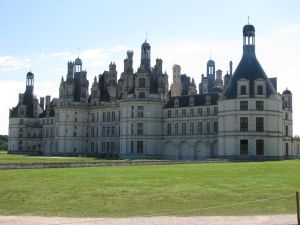 Chateau de Chambord again.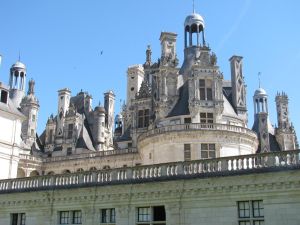 Chambord's roofs were complex. I wonder if they leak.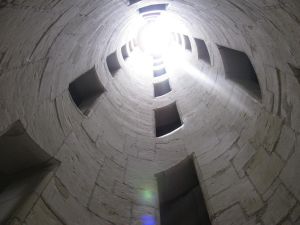 Looking up through the double spiral staircase.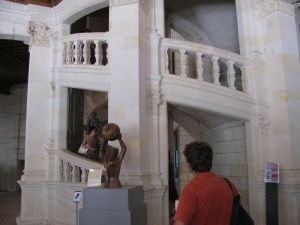 The double spiral staircase.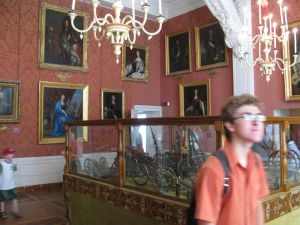 Model cannons and French aristocrats. Louis IV of course looks down from above (left).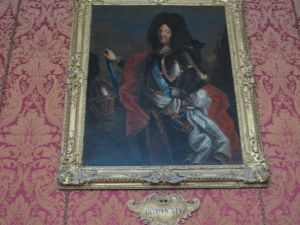 Louis IV.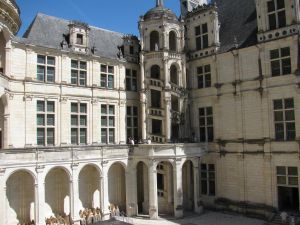 A courtyard with another spiral staircase.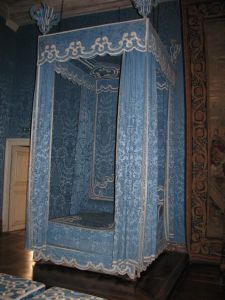 One of many canopied beds.

Louis IV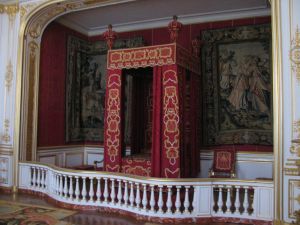 Another canopied bed.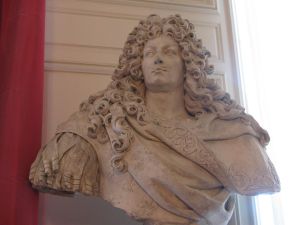 Louis IV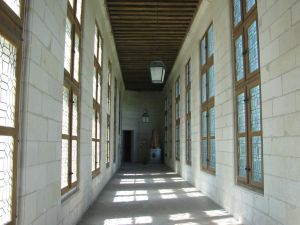 Leaded glass windows, timbered ceilings, stone walls and floors.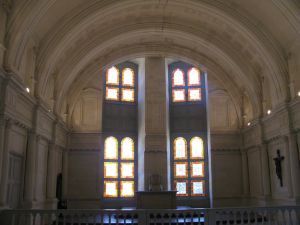 A chapel.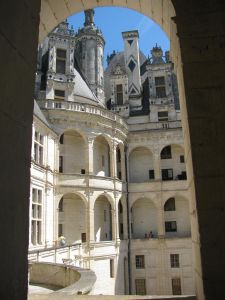 Courtyard.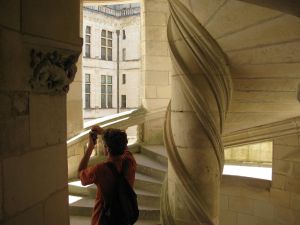 Carved stone in a spiral staircase.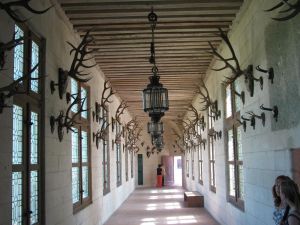 Antlers and more antlers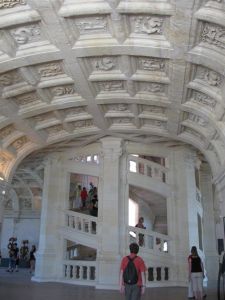 Carved relief in stone ceilings.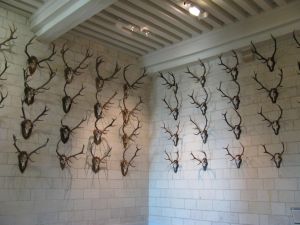 More antlers!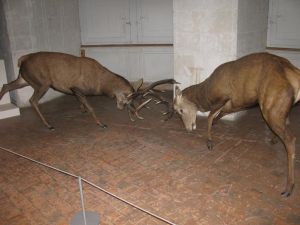 Stags in combat.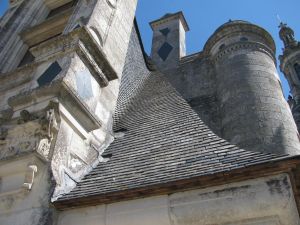 Detail of slate roof and flashing. How does this place not leak???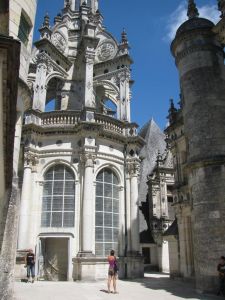 Rooftop level.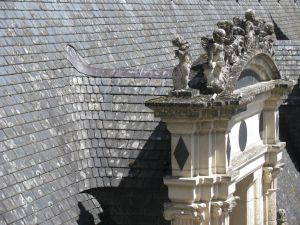 Another roof detail with nice little stone figures.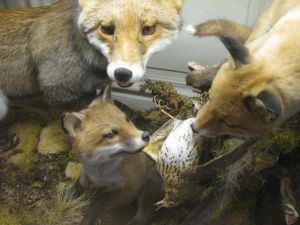 Foxes with prey.
After fetching our bikes we hit the trail to Chateau de Cheverny, which was about 10 miles away. Lunched at a boulangerie in the tiny town of Bracieux.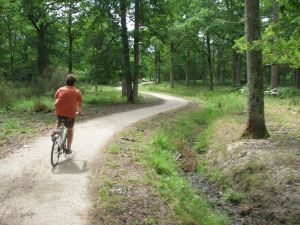 Max on the way to Chateau de Cheverny.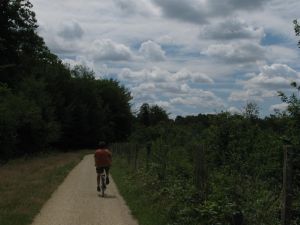 The trail between Chambord and Cheverny

French wheat.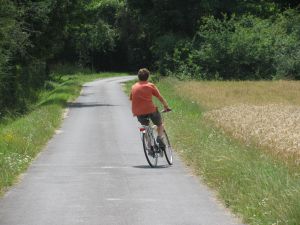 No traffic.
Cherverny is famous for it's well preserved and extravagant interiors, and being used as inspiration for Marlinspike, the home of Captain Haddock from Herge's Tintin series. Indeed, the resemblance is remarkable. Their gift shop had a phenomenal spread of Tintin collectibles. Some pieces going for over 3,000 Euros! We bought tickets instead of collectables and went into the chateau. Lots of beautiful furnishings, tapestries, sculpted surfaces, etc. Not the over-the-top sized feeling from Chambord, but well worth seeing.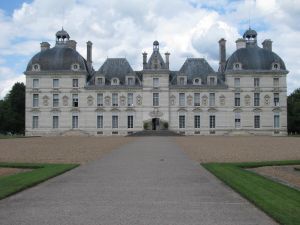 Chateau de Cheverny.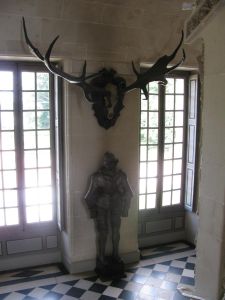 Inside Cheverny. A rather impressive rack of antlers above a suit of armor.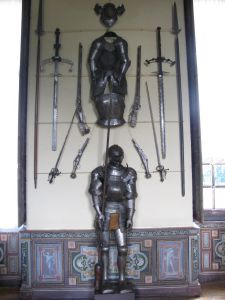 Arms and armor.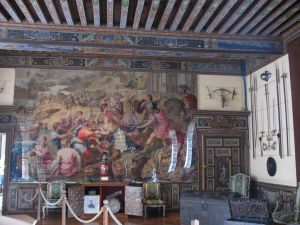 Your typical chateau interior. Huge ancient tapestries, timbered ceilings, wall-mounted weapons, etc.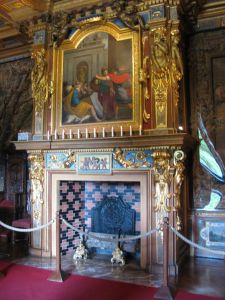 A nice fireplace.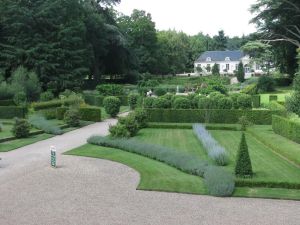 The grounds at Cheverny.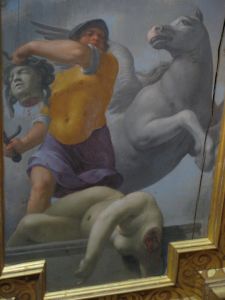 A rather gruesome painting.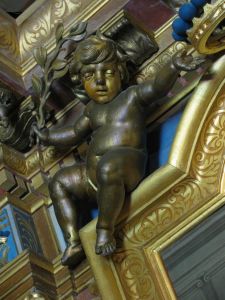 A sleepy cherub.
We checked out the nice gardens (no walking on the grass) and then went over to see the famed hunting hounds. There are approximately 70 dogs, half English foxhound and half French Poitou (looked like giant beagles to me). Maybe 60 to 80 pounds a piece. Predictably, they were a bit aloof and unresponsive to tourists' cooing though the cage bars. While we were there, the dogs suddenly started barking and surging en masse towards one end of their kennel. It turned out to be feeding time! We'd heard about this but hadn't planned on being there at that time. Quite a site to see as the caretaker waded in yelling with a big club-like instrument. Can't blame him for carrying that. He corraled the dogs in one area, then released them so they ran up to the top of a terrace where the food had been distributed earlier. Looked like a fire in a movie theater the way the dogs piled up on top of each other trying to get up the stairs to the food. Impressive. Glad we were there for that.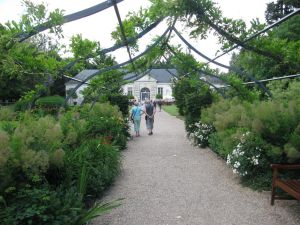 Walkways through the grounds.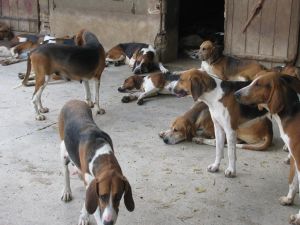 The hounds of Cheverny.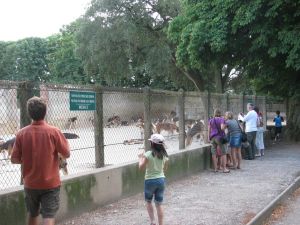 The kennel.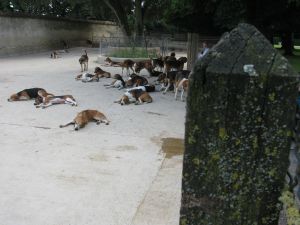 More hounds.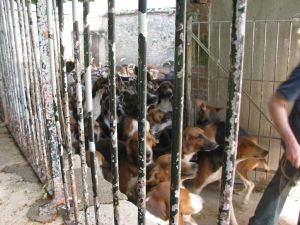 Feeding time!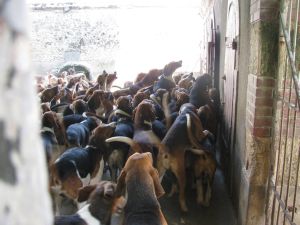 Hungry hounds.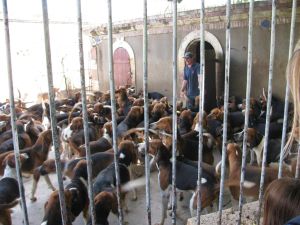 More hungry hounds.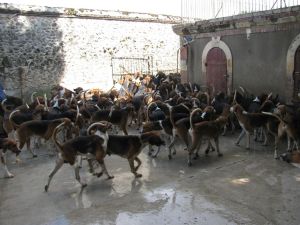 Hounds rushing the stairs to get to their food.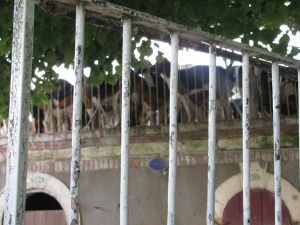 Where the hounds ate. Food (meat?) was laid out on this terrace, and then the hounds were allowed up the stairs to eat.
We left Cheverney and returned to Blois via the bike trails and a rather busy road entering Blois from the south. It'd been a hot day, so we showered before heading out to dinner. Had snails with dinner, twice! We liked them so much I ordered them a second time. The waiter asked, "You laaak zee snails?" We said "Oui". Walked the streets a bit after dinner, then back to the room. Blois' very nice.

The way back to Blois.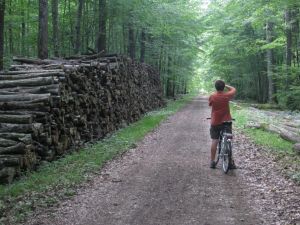 Trail through the forest.
Prev | Next