30 Days in Europe with Max
July 9, 2010 - France - Versailles, Chantilly
Prev | Next
Got up early for a trip into Paris by train to see the Louvre without Ivan. Didn't want to make him drive again, and actually I wanted a more leisurely day with just Max. We took the train into Gare du Nord in Paris, walked to Gare L'Est. Funny, you need a subway ticket to get OUT of Gare du Nord and we didn't have one since we rode in on the train with our Eurail passes. Had to follow closely behind someone on their way out of the ticket gates to escape. It took quite a bit of effort and asking for help at Gare L'Est to get our metro tickets, the ones that are good for a whole day. Sometimes things that you'd think should be simple aren't. An accordion player entertained us on the subway before holding out his cup for a tip.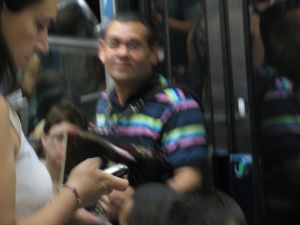 Accordian player on subway.
We got to the Louvre OK and entered with no lines to speak of due to it being near the opening time. My theory now is that you can really only see popular tourist attractions in Paris in the morning, when lines are short. By mid-day or early afternoon, forget it. Go see something off the beaten track then. We got audio guides, and Max and I separated for the first hour before rendezvousing again. I started with Dutch, German and Russain painters. Love those Dutch scenes of normal folk and the countryside, and still-lifes with flowers, seafood, meat and fruit. They're like a window in time rather than the glamourized portraits of the wealthy, or blatant religious iconry loaded with cherubs. After meeting up with Max we stuck together and overdosed on Italian and French painters. Made the requisite viewing of the Mona Lisa and escaped after 3 hours and had lunch at a streetside cafe.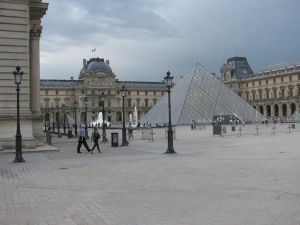 Le Louvre.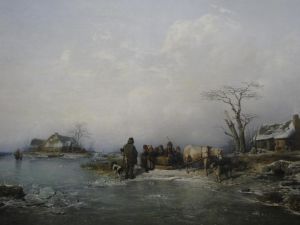 Icy scene from Dutch painting.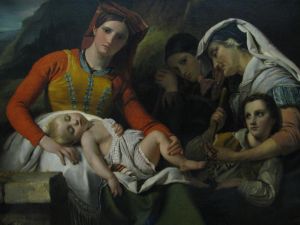 The Italians.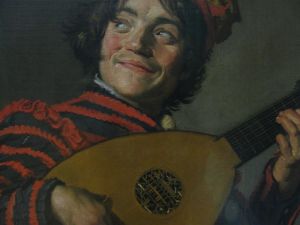 A Dutch painting.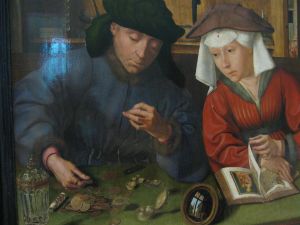 The Coin Counters.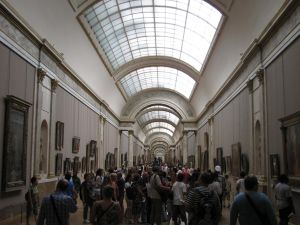 Your basic Louvre hall.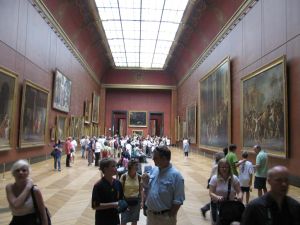 Another hall.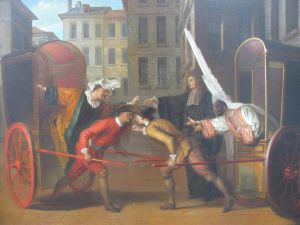 Early road rage.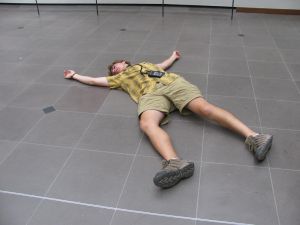 Max, ready to leave.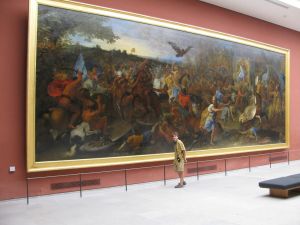 Max, dwarfed by a large canvas.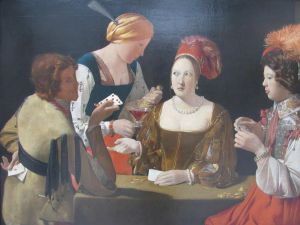 What's happening here?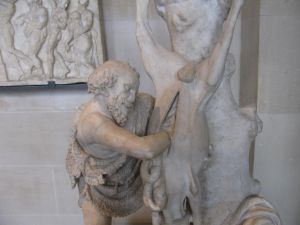 Mmmmmmm!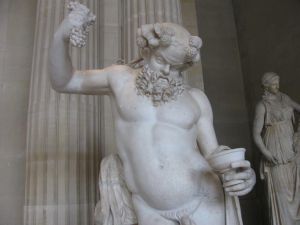 Party dude.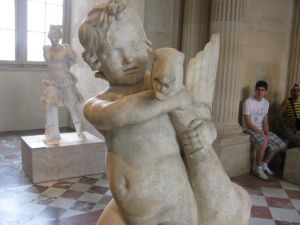 Boy with goose.

Lunch. My last pizza with egg.
Then on to the Pompidour center to introduce Max to modern art. Ha! That was wild. Max I think "understands" modern art now, if anyone can. The fourth floor had lesser known and unknown artists while the fifth had Kandinsky, Picasso, Matisse, Braque, etc. The unknown artist pieces were a hoot. Some objet trouve, some multimedia stuff and other completely wacko stuff where one wonders what constitutes "art". Good for a young person to see I say. I particularly enjoyed watching Max's expression when he encountered the triple life size drawing of a couple having sex, viewed from below their genitialia, named "Fuck Drawing Number One". We discussed the notion of series of works given the "Number One" part of this piece's name. After viewing and interacting with the art we exited up to the upper floor for a view of the surrounds. The escalators fastened to the Pompideau Center's exterior are enclosed in clear plastic tubes so you feel like a hamster in a Habitrail. It was really hot by then and we were glad to exit the tubes and get back down to ground level for the walk back to Gare L'Est. Made our way back to Gare du Nord where we had a hell of a time finding the platform to the train back to Ivan's town. Super crowded, hot station. At one point we descended an elevator to a lower level and the area around the bottom was jammed with people, so those exiting the escalator had nowhere to go! I saw this coming before I mushed into Max who was on the escalator in front of me. All I could think about were the Renaissance paintings showing those going up to Heaven at the top of the painting and those descending to Hell at the bottom. We were at the bottom of the painting. We eventually found someone who told us our platform was three levels up. We happily escalated up to daylight and fewer people. Rode an uncrowded but insufferably hot train 40 minutes back to Ivan's. Managed to get the phone card to work, and Ivan came to pick us up a few minutes later. Did a bit of shopping at the InterMarche grocery store then hit the pool when we got home. Showers, another two hour dinner then to bed.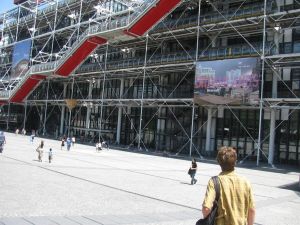 The Pompideau Center.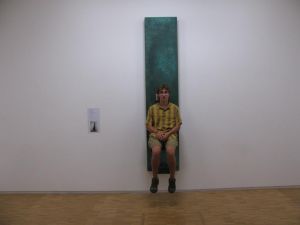 Max interacting with art.
Prev | Next