30 Days in Europe with Max
June 21, 2010 - Italy - Venice
Prev | Next
Awoke to more rain. I'd read that Italians don't really eat breakfast, so were were pleasantly suprised to come downstairs to a breakfast of plentiful coffee, rolls, jam, cereal and juice. We then headed out and bought two 12 hour vaporetto passes. You activate them by waving them in front of a radio frequency recording device on each dock. LOTS of boats on the water. We were out about 2 minutes marveling at how the boats narrowly and expertly miss each other, when we passed inches from another vaporetto and a garbage boat came out from behind it. It was obvious that impact was unavoidable, so we braced, then BAM. Our left front bow hit the frame of the garbage boat cockpit and shattered his windshield. The second mate rushed into the passenger area to ask if everyone was OK in Italian. We were. Our captain delayed at the next dock while the garbage boat met us and a discussion ensued. No fisticuffs though, and less hand waving than I expected. Off again, this time less confident in the captain.

A tour boat looming at the causeway.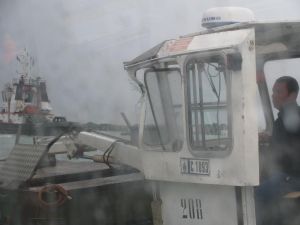 The damaged garbage boat after our vaparetto crash.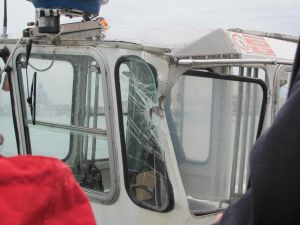 A close up of the damaged garbage boat.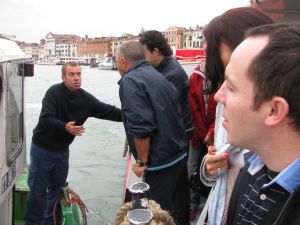 The captains discuss the collision.
Our boat rounded the east end of Venice and we disembarked at Murano Island. Here it was much quieter than Venice and a soothing change. Everthing that wasn't a house was a glass shop or restaurant. Finally found a "furnaco" where we got a demo of glass making. Mr. Italian glass artisan pulled a blob of glass out of a furnace and made a 6 inch high horse in about a minute. Pretty cool. We were impressed. Hungry for lunch, we had a couple of panninis and then hit the famous Murano glass museum. Lots of amazing stuff from 1 A.D. to current day. Filligree glass was especially cool in my opinion. Have no idea how they do it.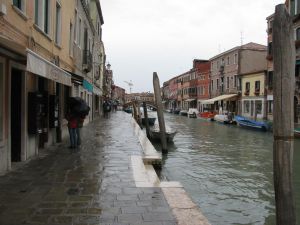 Murano Island. A peaceful break from the crowds of Venice.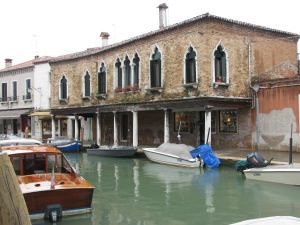 Canal at Murano Island.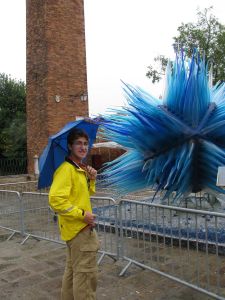 Glass sculpture at Murano Island.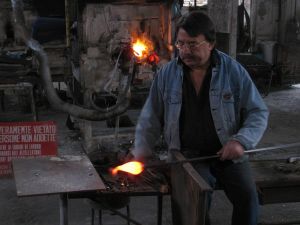 Making horse sculpture at a furnaco.

The horse. It took about a minute to make.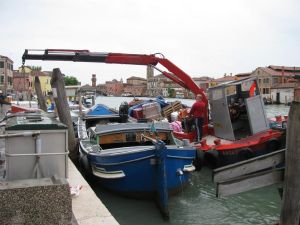 A cargo boat offloading glassmaking supplies.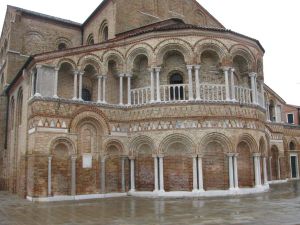 A church on Murano Island.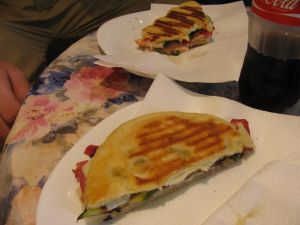 Focaccia sandwiches for lunch on Murano Island.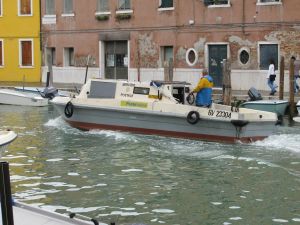 The postman.
Got back on the boat and went to Isola S. Michele where there's a huge cemetery. Lots of tombs, crypts and interesting graves. Most graves have a picture of the person on it. Beautiful, quiet place. Max liked it. Walking on the large stone slab walkways, you'd feel the stones below rock a bit and realize there were families buried below. A bit creepy. Then back on the boat. Came back to Venice via the north dock and walked to the Frari church. This chuch is effectively an art museum, but also an amazing church. The choirs in these churches are phenomenal. No pics allowed inside though. Walking back to our side of the canal we tried calamari and shrimp tapas and bread at a bar with a glass of wine. Delicious, $15 euros. The rain was lessening and the tourists were out in force now. Rialto bridge was a zoo.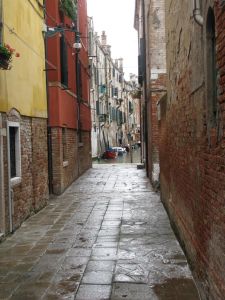 Back wandering the 'streets' of Venice.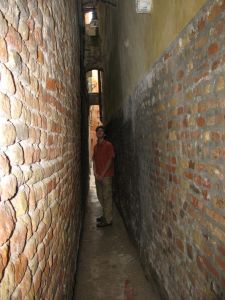 Some of the passageways were pretty narrow.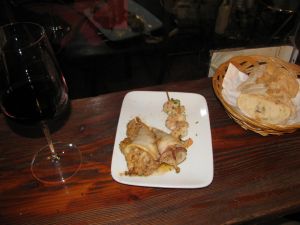 Tapas. Calamari stuffed with shrimp.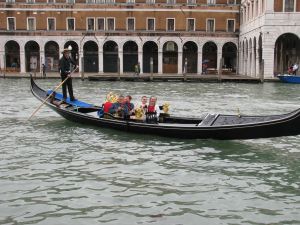 One of a million gondoliers.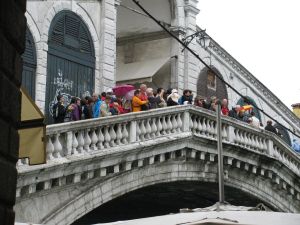 Crowds on Rialto bridge.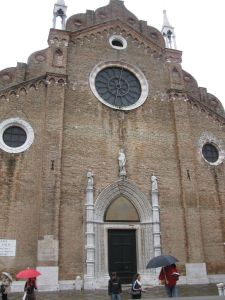 Frari church.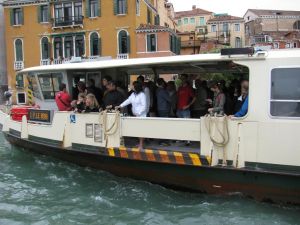 A vaparetto.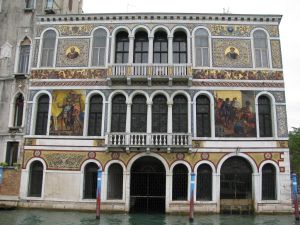 View on the Grand Canal.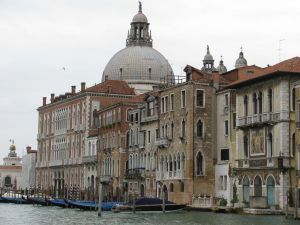 View on the Grand Canal.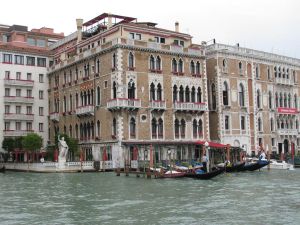 View on the Grand Canal.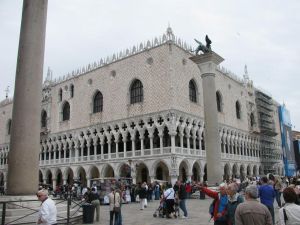 Doges Palace at St. Marks square.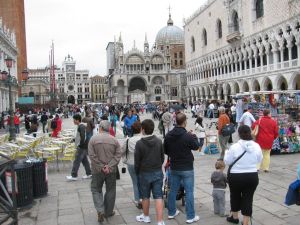 St. Marks square.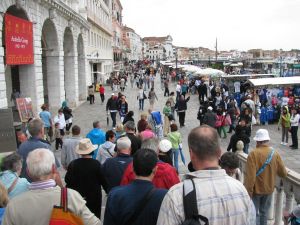 Waterfront near St. Marks square.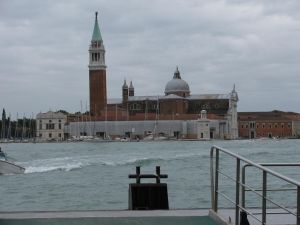 The Campanille at St. Giorgio island.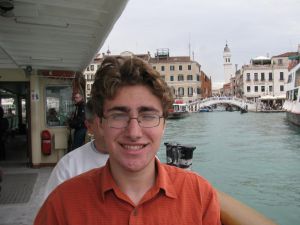 Max on a vaparetto with the Accademia bridge in the background.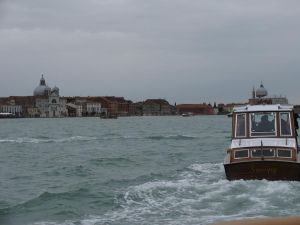 Cruising Venice.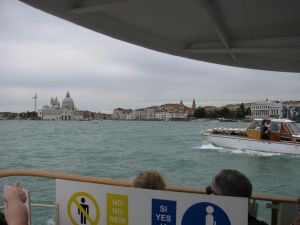 Cruising Venice.
Walked back to St. Marks square and got a Vaporetto to St. Giorgio island. Good views of St. Marks there. Toured the church, paid 3 euros to ride the elevator up the belfrey. Took pics of St. Marks from there, also tour boats and Venice. The bell rang while we were up there and I almost peed in my pants.

The Campanille at St. Giorgio island.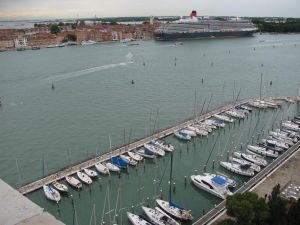 Looking down from the Campanille.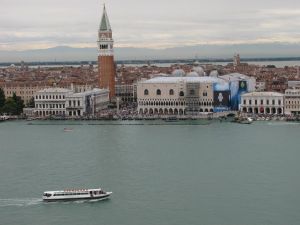 A view of St. Marks square from the Campanille at St. Giorgio island.

Venice from the Campanille at St. Giorgio island.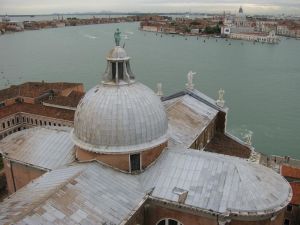 The Campanille viewed from the tower.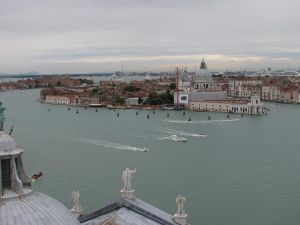 Venice from the Campanille at St. Giorgio island.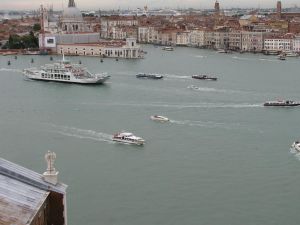 Venice from the Campanille at St. Giorgio island.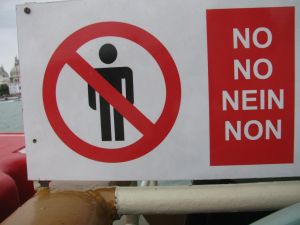 How many ways can you say 'No'?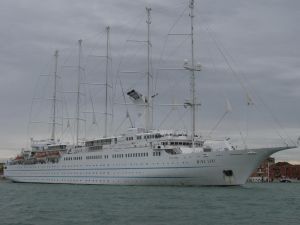 A cruise ship.
Came down, back on the boat for a ride up to the causeway and down the grand canal again to St. Marks. This time read Rick Steves' self guided tour of the Grand Canal and tried to take note of which elegant, decaying palace was which. They are pretty. Vaparettos are a fun way to see Venice, but not entirely safe.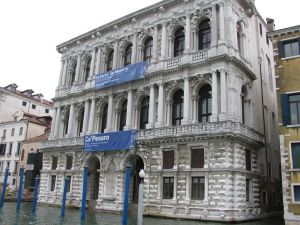 Ca' Pesaro, a baroque palace on the Grand Canal.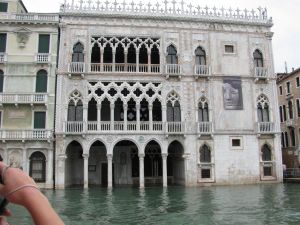 Another palace.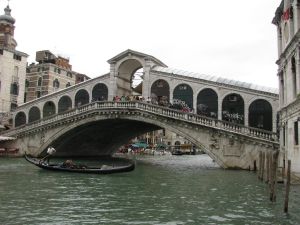 Rialto bridge again.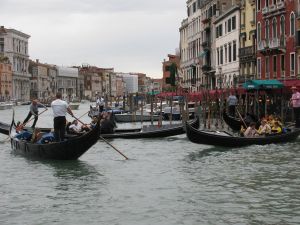 Gondoliers on the Grand Canal.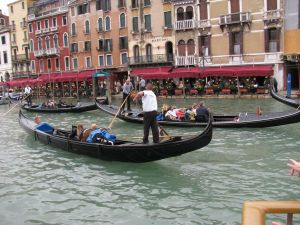 More gondoliers.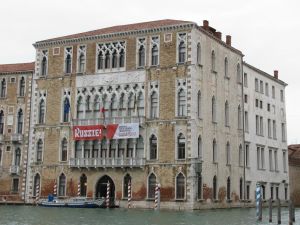 Universita Ca' Foscari on the Grand Canal.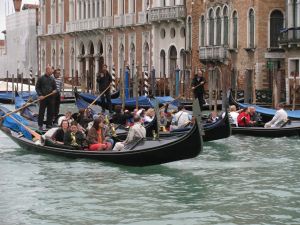 Tourists in gondolas. This is about 80 Euros per hour.
Cruised the crowds at St. Marks and met the very friendly pigeons who fearlessly land on you. Then we noticed the water in St. Marks square. It was flooding due to high tides. Mildly alarming, but apparently normal. Water comes up out of the sewer/drainage caps and various holes in the stone pavement. Lots of tourists in bare feet wading. Had dinner at a pizza place. Max tried anchovies and found them too powerful. I ate his pizza, he ate mine.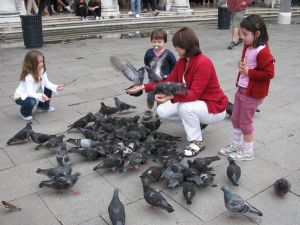 Friendly pigeons at St. Marks square.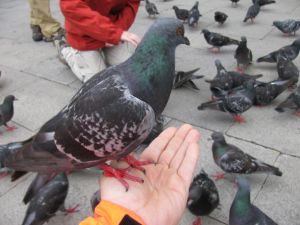 Pigeon on my hand.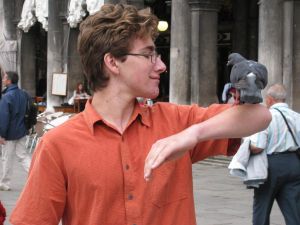 Max with pigeon.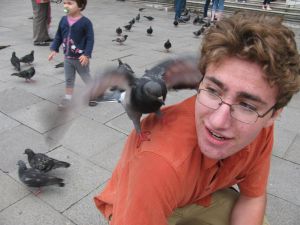 Birdman.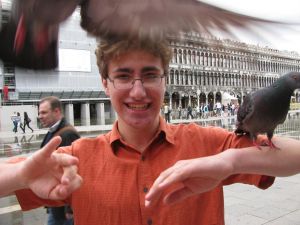 Birdman.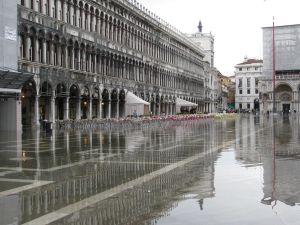 High tide at St. Marks square.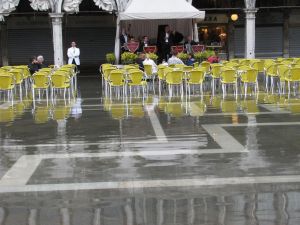 The band plays on despite the rising water.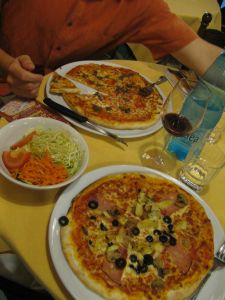 Real Italian pizza.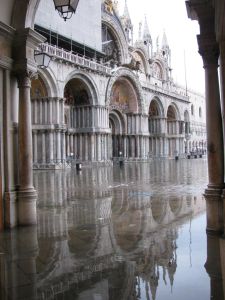 St. Mark's Basilica at high tide.
Then on Max's suggestion we bought tickets to a Vivaldi concert featuring a string quartet and soprano and tenor singers. The hall was designed to match one that Vivaldi composed in. A stupendous performance. People cried. Rigoletto sung by the tenor was fun to hear. The sopranist sent me.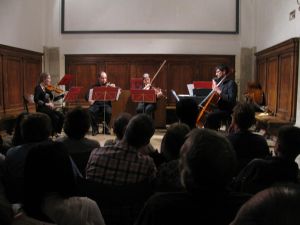 String quartet at the Vivaldi concert.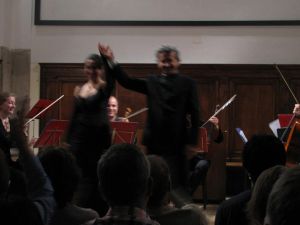 The soprano and tenor. They were great.
Gelati afterwards, some nite pics of Venice, then off to bed.

St. Marks square at night.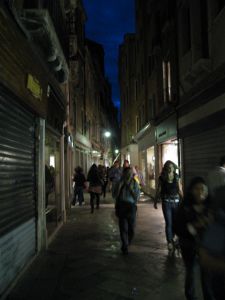 Venice streets at night.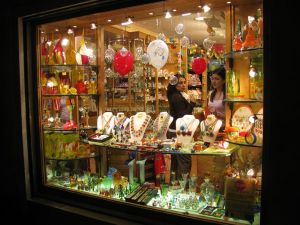 Window shopping in Venice.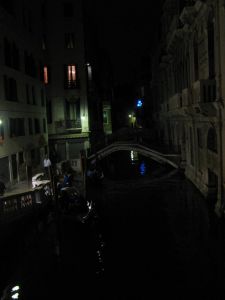 Night canal view.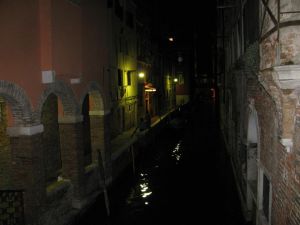 Canal.
Prev | Next