30 Days in Europe with Max
July 2, 2010 - Switzerland - Gimmelwald, France - Beaune
Prev | Next
Woke up to another beautiful day early. Had breakfast from supplies we had in the kitchen and then packed up. Max tried going up to the Schilthorn by himself with his spiffy youth pass on the cable car, but they said I needed to be with him and turned him away. I didn't want to spend 50 Francs to go there, so no Schilthorn for Max. Did a bit of research on the internet for destinations in France between Interlaken and Paris and decided to head to Beaune. Beaune is known as a destination region for wine, and also a reasonably well preserved medieval town. We asked the gal at the hostel desk if we could make a phone call about paragliding for Max and she ended up booking Max on a flight from Murren with a guy they know. Seemed easy vs. finding something in Interlaken. We rode the cable car up to Murren at 9:30 and met Julian, a nice guy originally from England, a few minutes after 10:00 in the cable car station. Chatted during the brief hike up the hill to the launch. He came to the Lauterbrunnen valley on a flying vacation 10 years ago and decided to move here. Fly in the summer, ski in the winter.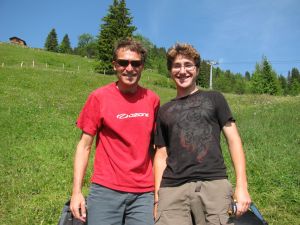 Julian, our nice paraglider pilot from England, with Max.
A few other paraglider pilots where there with their smaller, aerobatic paragliders. They all launched first. Fun to watch them spin and loop. Julian gave a casual preflight briefing to Max, and a few steps later they were off.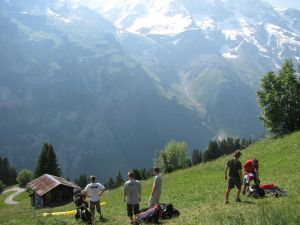 Pilots setting up before launch on the outskirts of Murren.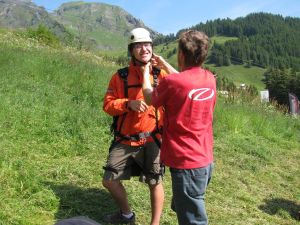 Max gets suited up.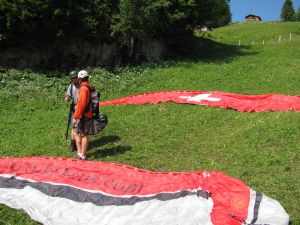 Julian's paraglider is the big red one with the white Swiss cross.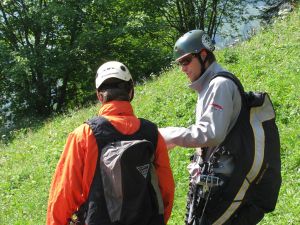 Julian giving the preflight talk to Max.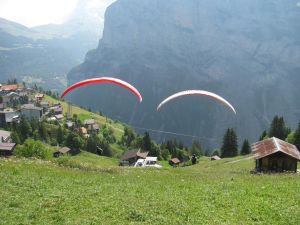 Other pilots launching in tandem for some aerobatic maneuvers.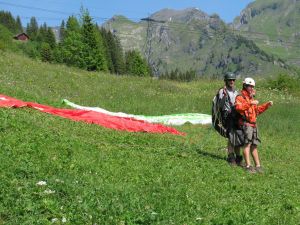 Max and Julian prepare for launch.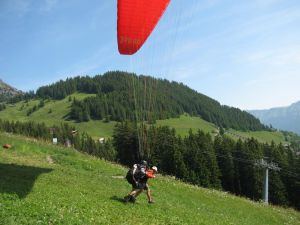 Run, run, run!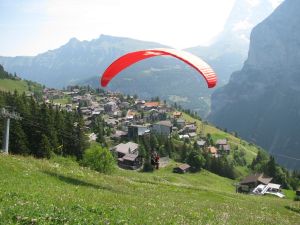 They're off. Murren in the background.
It's about a 5,500 foot drop down to Stechelburg where they landed. They skimmed the valley cliff wall and waterfall on the way down. I shlepped Max's pack along with mine down to the cable car to Gimmelwald and then down to Stechelburg. Max met me at the bottom with a big grin. He liked it. A good grand finale to Switzerland.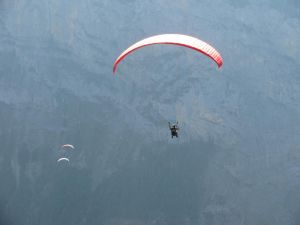 Out to the valley. Aerobatic pilots in the background.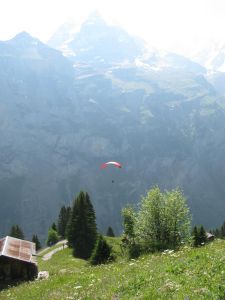 About to head over the edge of the cliff. 5,000 feet down.

There they go.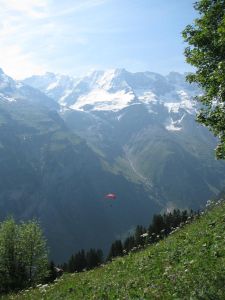 Lauterbrunnen valley below them.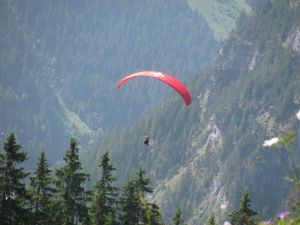 Heading down.
After Max's flying adventure we took a bus to Lauterbrunen and train to Interlaken. Grocery shopped at the Coop store after a Weisswurst (hotdog) from an Imbiss at the train station.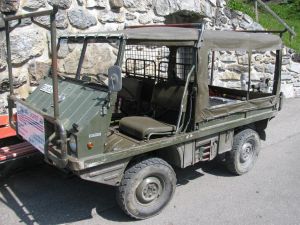 A practical vehicle for living in Swiss mountains with narrow roads.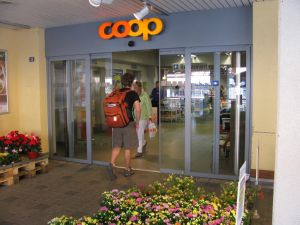 The Coop grocery store in Interlaken. Cheap food here!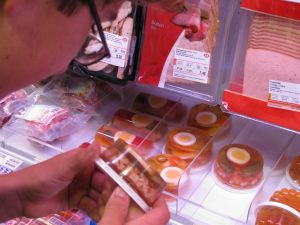 Max examines something in aspic.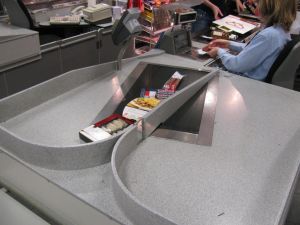 You bag your own groceries in the store. This gate device allows your groceries to be separated from the person's who's being rung up after you. Clever those Swiss.
We had to get a reservation for one leg of our jorney to Beaune on the TGV train. It was only 5 Francs though. What's up with those 36 Euro reservations in Italy??? Our journey was to take around 7 hours and have 5 train changes. Nice riding 1st class when the 2nd class cars are jammed on a hot summer day. Pleasant views of scenery passing by. Little kids in Europe on the sides of the tracks pull their arms up and down to make the engineer blow the whistle just like they do in the States. Passed from French speaking western Switzerland into France. Max commented on how the langauge changed to all French so quickly. Much of western Switzerland could have been many places in the States. Hay farms surrounded by forests. Finally arrived in Beaune at about 7:30 PM. Seemed a bit dreary and seedy around the station, but walked in to the town center and saw cobbled streets and half timbered medieval buildings. Tried two hotels in the old town section and were told all rooms in town were full. It was Friday night after all. We walked out of the old town center on one hotel's recommendation and tried a big chain hotel, the Mercure. They had a room for 135 Euros and included breakfast if we stayed two nights. They had WiFi and a pool too. What the hey, why not? Unpacked and headed out to dinner. Chose a place that wasn't packed, and that had an open table en terasse (outdoors). A decent Plate du Jour for about 13 Euros. I had a warm goat cheese salad, rabbit, a 3 cheese plate sampler and sorbet for dessert. It was great. Decent Pinot Noir too.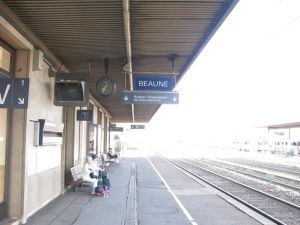 We arrive in Beaune.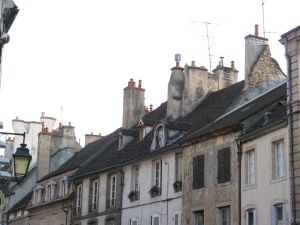 Beaune rooftops.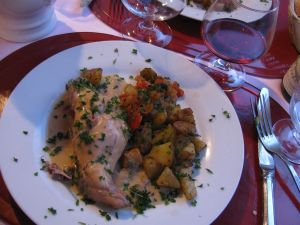 Dinner in Beane. Lapin (rabbit). It did not taste like chicken.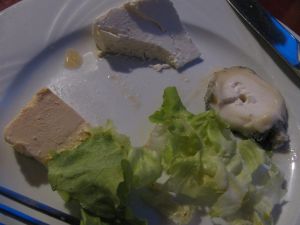 Cheese plate after the main course. Lovely.
Beane had some illumination thing going on where big brown projecter cylinders at various locations around the city project images on churches. This happened on a church next door to the restaurant, so we watch a rather bizarre display during dinner. Chatted with a nice English couple during this who saw it the prior night. They were fun to talk to. Must go to England some time. Back to the room afterwards for the best night of sleep since we got to Europe.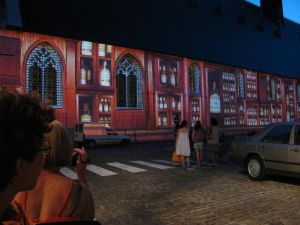 The church next door to our restaurant had an unusual illumination display on it after dark. The scenes changed constantly.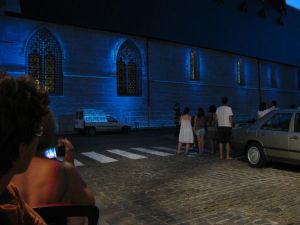 Now blue...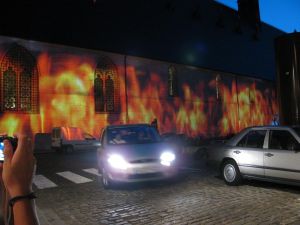 Now flames of Hell?
Prev | Next