30 Days in Europe with Max
June 10/11, 2010 - US, Iceland, Germany - Lahnstein
Next
Deb dropped us off at the Bainbridge ferry late morning. Took ferry to Seattle, then light rail to airport. Good intro to public transit. Found that our 2/3 full Rick Steves carry on bags were overweight for carry on with Iceland Air, so offloaded some stuff in our day pack and then checked Max's bag. Apparently other European airlines don't have as strict carry on weight limits as Iceland Air. Lesson learned. They did have free in flight movies though. Watched Avatar, Wall Street and part of Office Space. No real sleep for me. Always wondered what northern Canada looked like. Many lakes on a bleak land. Passed over Greenland and saw the land transition to an ice sheet. Spooky. Landed uneventfully at Iceland for a short layover. Went through security check again and passport check. Then on to Germany. German landscape is idyllic from the air. Fields, forests and villages through puffy clouds. Long dogleg approach to landing.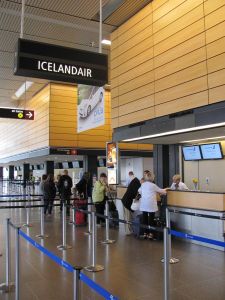 IcelandAir terminal in Seattle.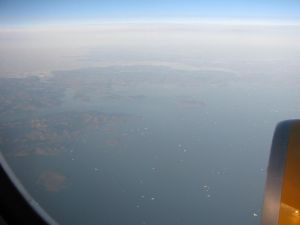 Approaching Greenland.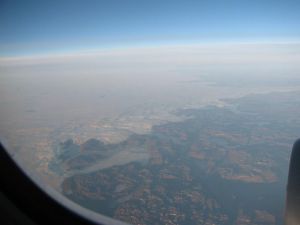 Greenland below. The edge of the ice sheet.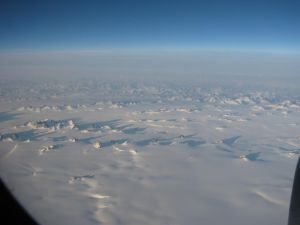 The Greenland ice sheet.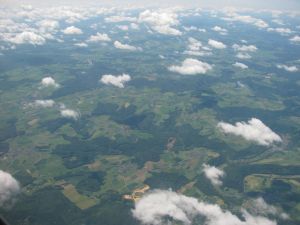 Verdant fields of Germany below.
Then German everything. Got sandwiches at the airport (Max's a schnitzel). Found the train platform for Lahnstein and boarded. Milk run through Weisbaden to Lahnstein took about 2 hours. Got to see the Rhine where we were headed. Our hotel was only a few blocks from the train station. Checked in and walked around town. Found the bike shop and met the owner. Checked out our bikes, panniers and accessories. They looked fine. Mountain bikes with road-ish tires, and racks.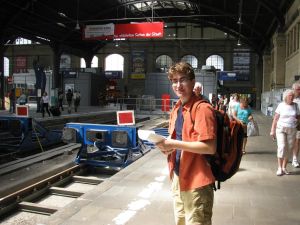 Max in the Frankfurt train station.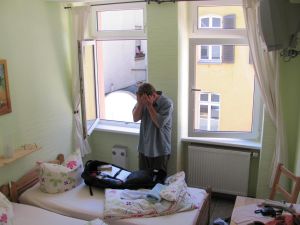 Jet lagged Jim in our hotel room in Lahnstein.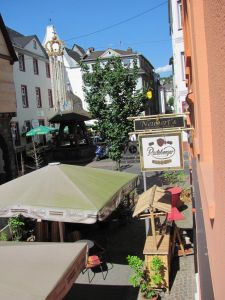 Looking out our hotel room window in Lahnstein.
A schnitzel for dinner for Max. Pfeffer steak for me. Mmmmmm. Tired, back to hotel to sleep. Town was hopping on a weekend night and our window faced the street. Somehow street revelers speaking/shouting German wasn't bad for sleep interruption.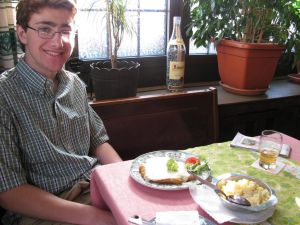 Max's first restaurant meal in Germany. What else? A schnitzel!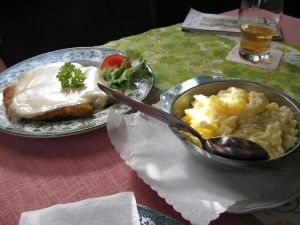 Max's schnitzel and kartofflen (potatoes).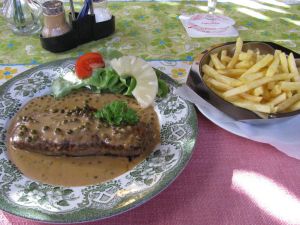 Jim's pfeffersteak (pepper steak) and fries.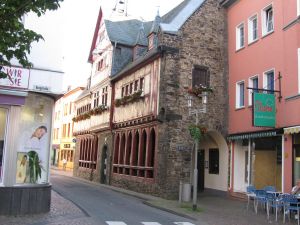 A medieval building in Lahnstein.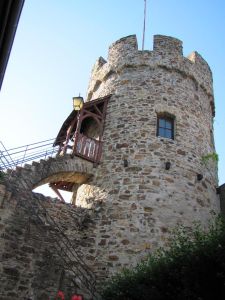 medieval fortifications in Lahnstein.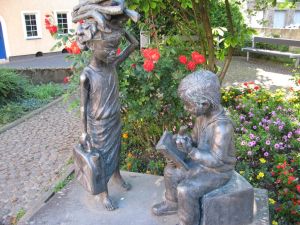 A strange statue in Lahnstein with two children. One carrying a gas can and something wierd and scary on their head, the other reading a book and eating a banana. There's a story there I'm sure.
Next