30 Days in Europe with Max
June 26, 2010 - Italy - Siena, Cinque Terra
Prev | Next
Breakfast with the nuns again at Hotel Alma Domus. Forced seating arrangement this morning (due to many people?), commands to do this and that. Sheesh, the Germans were more casual. Then scooted out the front door with no arguments from the front desk guy about our staying one day less than our reservations were for.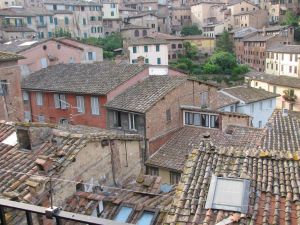 Morning view from our room at Hotel Alma Domus. A final shot of these crazy tile roofs.
Walked to the train station and confirmed that no reservations were needed to Cinque Terra since all route sections were on "regional" trains. After changing trains in Empoli, the train got progressively more crowed with beach-goers headed to Viareggio. The train became packed and the windows were all locked shut due to our car being marked as having air conditioning. However the AC wasn't working. The train became an oven, and finally a train worker arrived to fix the AC. Then the beachgoing masses offloaded at Viareggio and things were better. Our train route went through mountains with stone cutting yards along the tracks with piles of white marble blocks and slabs. Got off in La Spezia to switch to a train that went to the five Cinque Terra towns. Endless stream of late train announcements were broadcast over the train station intercom. This was not Germany. Finally got on a train that'd stop at Vernazza, Rick Steves' favorite Cinque Terra town. Train complications seemed the norm here. Some train car doors were inoperable, trains were late, you'd have to run to uncrowded doors down the track to get on. Vernazza and Cinque Terra in general had the worst crowds so far. Even worse than Florence. The hike better damn well be good. We needed to find a place to stay, but needed lunch more. Walked to the harbor and got a waterfront table, then ordered bruschetta and pizzas. Had an italian beer. First beer since Germany. Chatted with a nice woman who lives half the year in Riomaggiore and half in Sarasota, FL.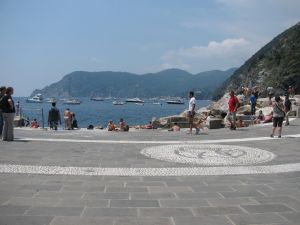 The harbor at Vernazza.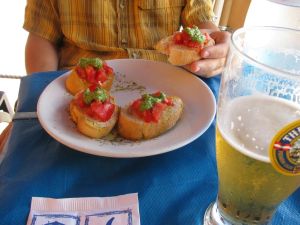 Bruschetta appetizer at lunch.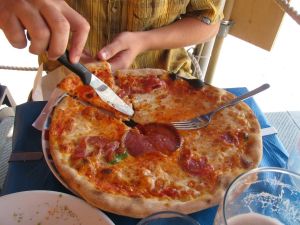 Pizza again. They don't slice it for you in Italy.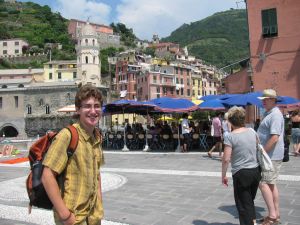 Max in front of the restaurant where we had lunch.
After lunch we started ringing doorbells on places with "Rooms" signs. The third one worked. Ingred rented us a small but nice room with a double bed and private bath maybe 50 yards from the harbor. Changed clothes, applied sunblock and took the train to Riomaggiore for a swim. Found our way down to the water through tunnels, up and down stairs and over rocks. The water was very nice. Super clear. Would be good snorkeling. The rocks were crowded with people though. There was no sandy beach per se, just an large area with smaller sized rocks. We swam from boulders. After a while we decided we'd had enough and took the wrong train and ended up at the other end of Cinque Terra in Monterosso. Packed train. Super packed train coming back to Vernazza from Monterosso. Another train back to Vernazza, and back to the room for showers and Max's laundry.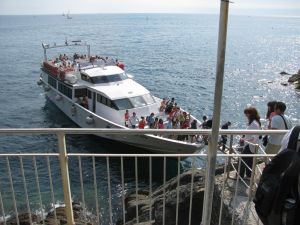 You can travel by boat from town to town. This is how they load and unload, a little gang plank off the bow.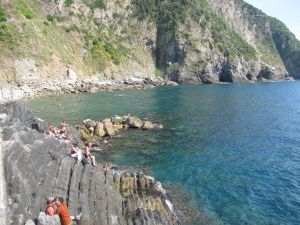 Our swimming hole at Riomaggiore.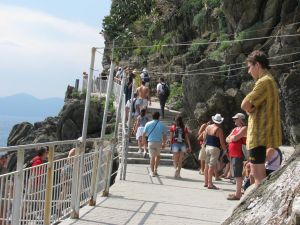 Max and tourists by the water.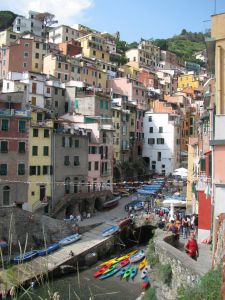 A view of Riomaggiore.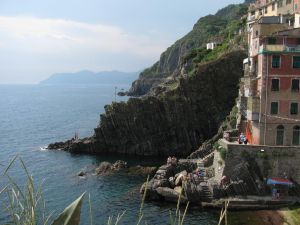 Looking west, down the coast from Riomaggiore.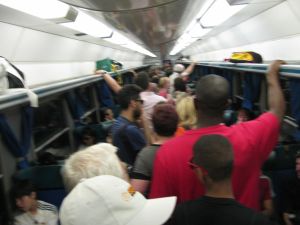 A crowded train from Riomaggiore to other Cinque Terra towns. Most of the route is through tunnels, so it's dark.
Our room came with its own outdoor clothesline. Typical bathroom where the bathroom IS the shower, like in Sienna. I had a simple dinner of pasta with anchovies. Max had mussels with spaghetti for primo piatta and just mussels for his segundo piatta. A liter of house white for us both. Anchovies are a local specialty here. They're very mild, not like the salt cured ones you get in the states. Pretty bland in my opinion. I actually LIKE the ones in the states.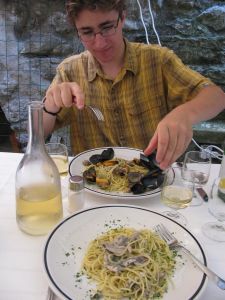 Diner. Pasta. Seafood.

Mussels for both of us.
After dinner a stroll through town for evening pics. The guide book says that's the locals' evening activity, strolling though town. Kids played soccer on the small beach. It was nice. I could see how Vernazza would be nice in September. Then to bed. Woke up after midnight (it was Saturday), and people in a nearby apartment were singing along with recorded Italian songs music and someone was playing the bongo. That lasted for hours. It was nice music though and I didn't mind it.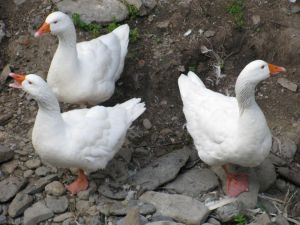 Italian geese. They sounded like American geese.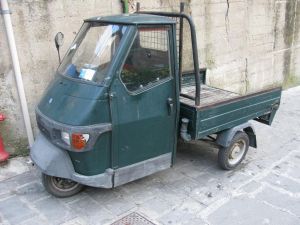 One of my favorite vehicles. I suspect most Ford Fx50 drivers in the US could get by with one of these.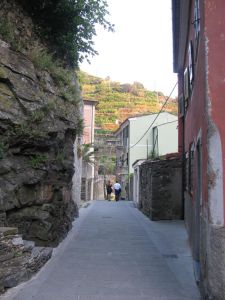 Back streets of Vernazza.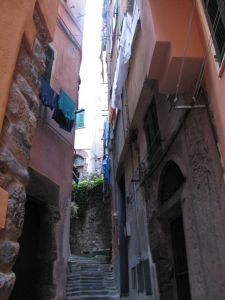 Back streets of Vernazza.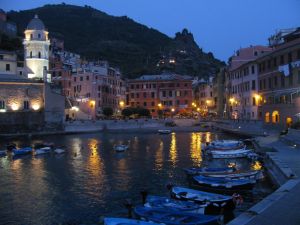 Vernazza harbor at twilight.

Vernazza in the evening.
Prev | Next