30 Days in Europe with Max
June 17, 2010 - Germany, Munich
Prev | Next
Awoke in Munich youth hostel. Killer breakfast. Funny dyed eggs. Plenty of everything. Crowded, noisy, youth hostley, but fine.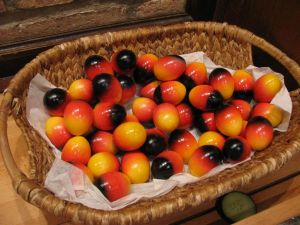 Dyed hard boiled eggs at the youth hostel breakfast buffet.
After breakfast we headed to the museum of transportation. Crossed the Theiorson, which is a big field used during Oktoberfest to accomodate all the beer drinkers. On the way encountered a statue which we climbed the inside of. Interesting to see the inside of a cast bronze statue. Tight quarters, spiral staircase, small peepholes at top. Then viewed bust statues of councilmen of Munich in big, stone memorial. Crossed the road and found the museum.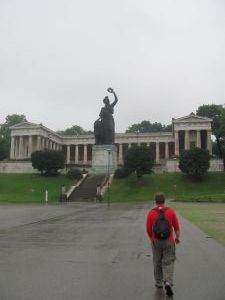 Monument near the Museum of Transportation. We climbed up the inside of the statue.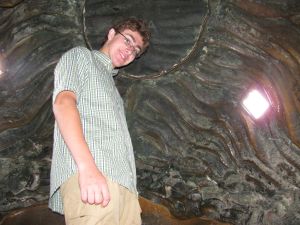 Inside the statue's head.
Bicycles, motorcycles, trains, cars, and most methods of transportation you can think of are covered here. We needed more time, but...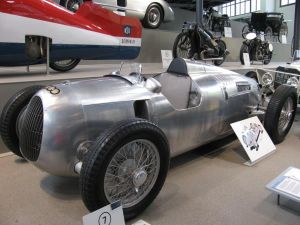 An old Mercedes Benz racer at the Museum of Transportation.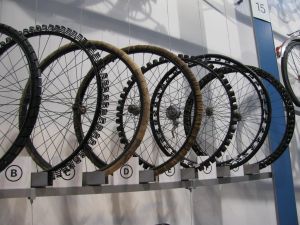 Early bicycle tires.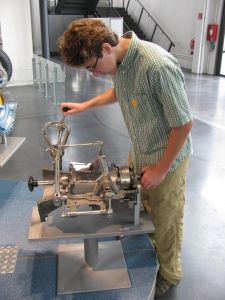 Max learning about transmissions.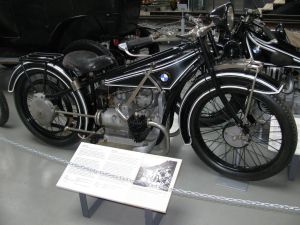 First production BMW motorcycle.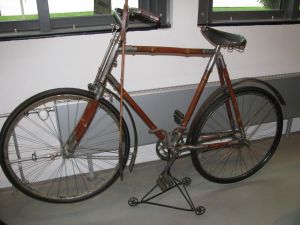 Bamboo bicycle.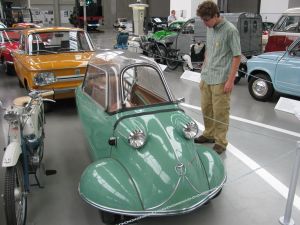 Little Messerschmidt car.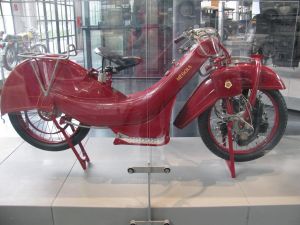 Radial engine in front wheel.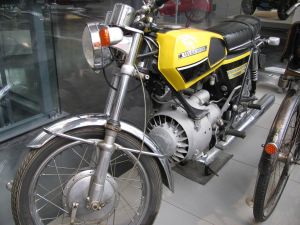 Rotary (Wankel) engine motorcycle.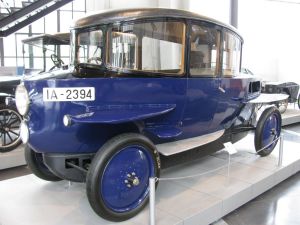 Don't know the name of this one but I like it.

Another Messerschmidt car.
From there, we walked towards the Viktualen market by way of a nice Roccoco church. I'd never seen real Roccoco before, and this church was the real thing.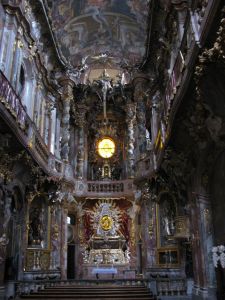 Rococo cathedral interior.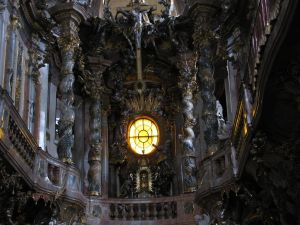 Rococo cathedral interior. Note the sprial columns.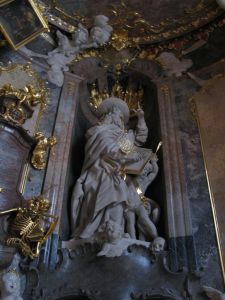 Rococo cathedral interior.
We had lunch at the Viktualenmarket with fish sandwiches from Nordsee, topped with onions, lettuce, etc. Plus beer for me! Then walked to the Deutches Museum, which is the German version of the Smithsonian museum in the US. Rick Steves suggested going through the mine technology section first. We didn't escape the mine tunnels for a good 45 minutes. There are 10 miles of exhibits, so you can't help but feel rushed. Tons of interesting stuff for a guy like me. Metallurgy, flight, rockets, glass, ceramics, textiles, printing, astronomy, space. Yikes. I'd need a month there. It closed, we left.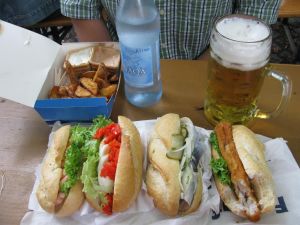 Sandwiches from Nordsee. A fabulous seafood vendor chain. Loved those pickled mackerel sandwiches.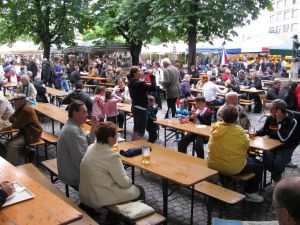 The Viktualenmarket, where good food and drink are plentiful in a pleasant outdoor setting.
Had dinner at the Hofbrau house. Famed beer swilling hall where Hitler had his first public speech. Beer by the liter, efficient wait staff as they're trying to turn tables. Food ok. Beer ok. Live band next to us with oompah music. They were actually pretty good. Wild to see the vomitorium in the bathroom and imagine Oktoberfest. Back to room at hostel for internet session and bed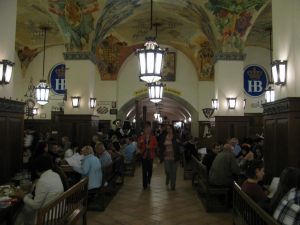 The famed Hoffbrau Haus where beer is sold only by the liter. Apparently this place during Oktoberfest is packed.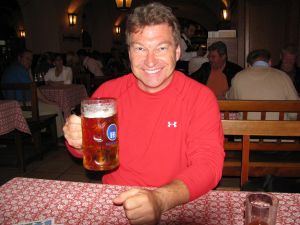 A nice healthy German beer.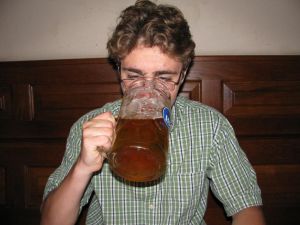 Max tries German beer. As I said, if there's one place to try beer...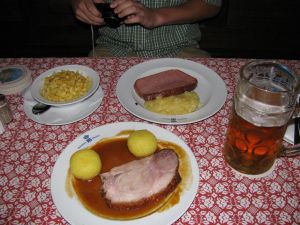 Dinner at the Hoffbrau Haus. Meatloaf for Max, pork for me with potato dumplings.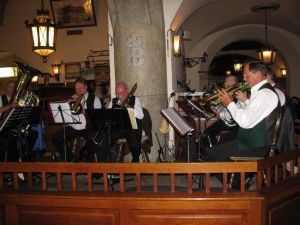 Ooompah band at the Hoffbrau Haus. They were pretty good.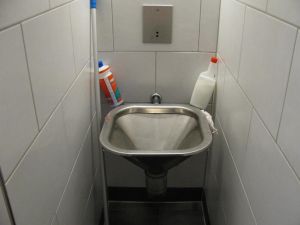 The vomitorium in the Hoffbrau Haus bathroom.
Prev | Next