30 Days in Europe with Max
June 25, 2010 - Italy - Siena, Chianti
Prev | Next
Awoke to another day of blue skies, swallows flying around our hotel room balcony, and bells tolling. Another Alma Domus breakfast and thoughts of leaving early. I realized my knee felt fine, so I proposed that we ride again, but not a 3rd day. Max agreed, so I called the bike shop to arrange to have the bikes picked up at 7:30 that night. Got our gear in order, applied sun block after having gotten royally burned the prior day. Then checked the maps and headed north, this time to the Chianti hills. Another 50 mile route along an established wine (enoteca) tasting route. Many cool looking wineries, restaurants and hotels in the low mountains. Thick oak forests with vineyards line the hills. Also olive orchards. Every town is ancient and picturesque. Saw quite a few Italian cyclists in full cylcing gear speeding down the roads. Also bike tourists with massive amounts of gear, tough for ascents. Our route was suprisingly level at first, but then turned into a very long (miles) climb to the top of some mountains. Up there it was like Skyline drive in Virginia, where the rode followed the ridge. Wound up and down with views down both sides of the mountain. Difficult, but really beautiful and lots of fun. Descents on these serpentine roads was like riding a motorcycle. You have to pick a line and execute each turn carefully due to your high speed. We both got a big kick out of it. Arrived in my favorite town in Italy so far, Radda in Chianti. I suppose it's just another old, small town, but it's at the top of the mountain with an incredible view, and not very touristy at all.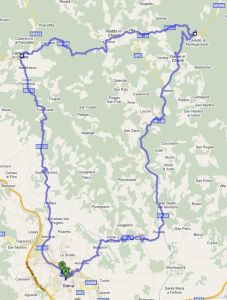 Our route for the day, heading clockwise.

vineyards while heading up into the Chianti hills.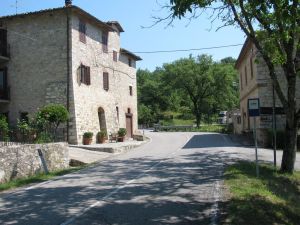 Nice, old buildings alongside the road.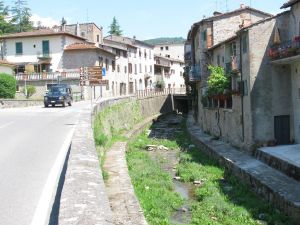 Yet another quaint little village.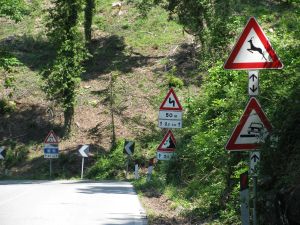 Typical Italian road signage. Somewhat confusing.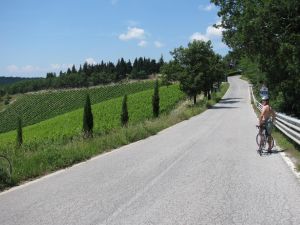 Going along the road at the top of our ride after a long ascent.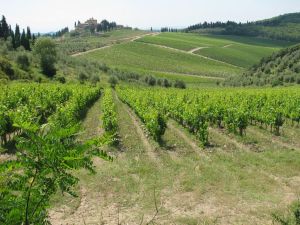 More vineyards.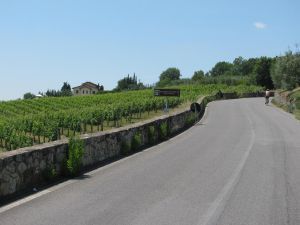 The road along the top.
We found a great food store with an amazing assortment of cured meats, cheeses, salads, breads, drinks, etc. and got a picnic lunch of seafood salad, pasta salad, olives, cheese, bread and peaches. A coke with real sugar for me. The seafood salad was basically all calamari, complete with tentacles. We kind of OD'd on the squid after a bit. Still tasting the olives when I burp as I write this, but they were delicious. Ate on a stone bench overlooking the valleys to the northeast, towards Florence.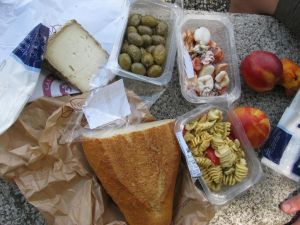 Our delicious picnic lunch.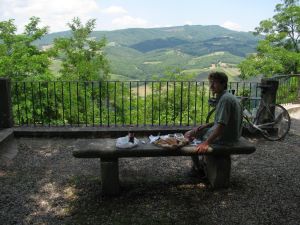 Nice spot for a picnic.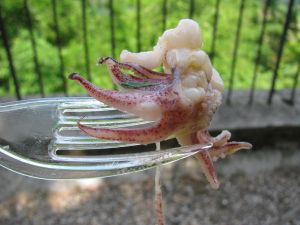 Calamari.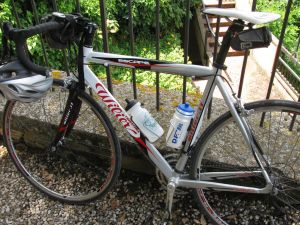 One of our rental bikes from DF Bikes of Siena.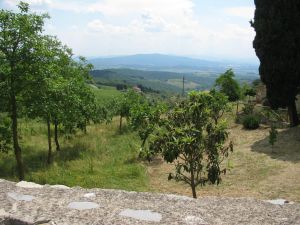 A view towards Florence.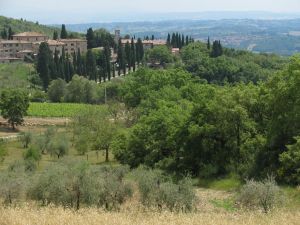 Another.
Afterwards a walk through the old town, then an undulating ride to Castinelli in Chianti, another town at the top of the mountains. Then some thrilling descents for a few miles until we reached small towns outside of Siena.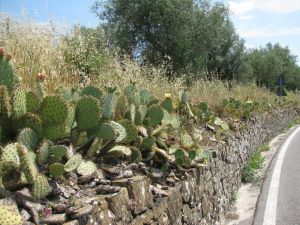 Cactus on the side of the road on the way back down to Siena.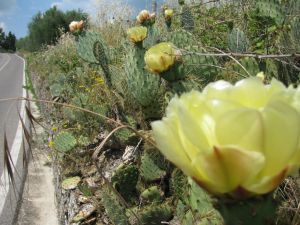 The cactus were in bloom.
Back to mopeds and Fiats and then in and up to Siena and our room. Showers again. No Ibuprofin this time. Told the nun at the hotel desk that we were going to leave a day early and she said she thought that'd be ok. So I paid then since she said we wouldn't have to pay for the fourth night that we had reserved. Might as well avoid a conflict with the guy working the desk the next morning. Waited for the DF Bikes employee to come to pick up the bikes while Max had a FaceBook session. 80 euros for the bikes and totally worth it. Afterwards we headed for Il Campo to have dinner. Found a reasonably pricd place and had antipasto and bruschetta for appetizers while people watching. Tourists from all walks of life, students on the plaza. Max got a 1/4 liter of house white, 1/2 liter of house red for me. Tuna, onion and egg pizzas for us both, with the egg broken onto the middle. Wood barricades and bleachers were part way set up for the paoli horse race to happen on July 2nd. Our intent was not to be there for those crowds. To bed. Max slept in the bed by the balcony door so he could see the swallows in the morning.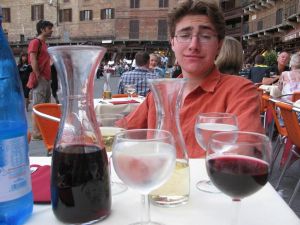 Wine sophisticate Max Gallant at the Campo in Siena for dinner.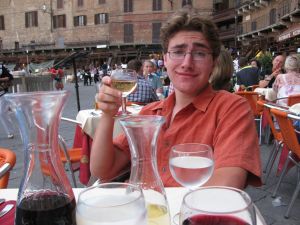 Sampling the local wine. Vina della casa blanco.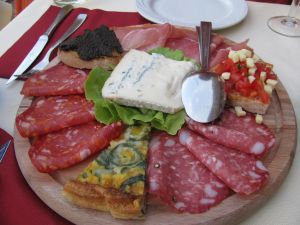 A really great antipasto appetizer.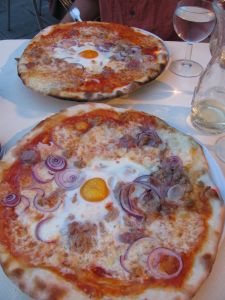 Delicious tuna and egg pizzas.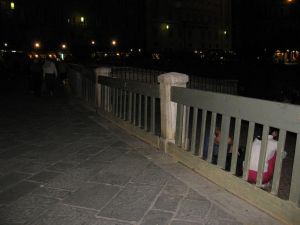 Barricades around the Campo for the upcoming horse races.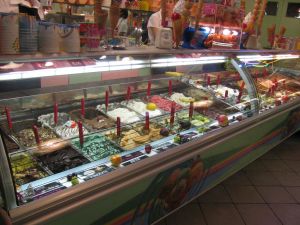 Gelato everywhere!
Prev | Next