30 Days in Europe with Max
July 7, 2010 - France - Paris
Prev | Next
We'd requested breakfast by 7:30 AM, but no show on our host's part. So back to the bakery and bar for breakfast. Ordered crepes, and confirmed my distant memory of not being very wild about them. Kind of wet and textureless. Then to the train station for our ride back to Paris in a comfy, uncrowded train. We were to rendezvous with my friend Ivan Lanoe in Paris. I met Ivan about 10 years ago when he travelled to the United States to research water rockets. I was deeply into them at the time, and he stayed with us for about a week. Ivan's written two books on water rockets since, and is the director of France's national water rocket championship (more on this below).
I bought a phone card after arriving at Gare Paris Austerlitz, and not seeing Ivan immediately, managed to figure out how to dial. No answer from Ivan, so I left a message on what turned out to be his land line number rather than his cell. Fortunately he showed up as I was realizing this. He looked exactly the same as I remember him from when he visited Seattle. We got in his tiny Citroen C1 car and found a place to discuss our plans for the next few days. He warned us that he might get a call at any time to go capture a swarm of bees. He keeps bees, and has friends call him when a swarm is accessible and able to be captured. Max and I thought that was an odd thing to be on call for. We formed a plan for the day, drove and picked up his friend Frederick, parked the car at Ivan's favorite bootleg, free car park under a grocery store, and got a picnic lunch for the park. Frederick works for the Ministry of Finance and would have been a good tour guide as he likes cultural things. Alas, he had to go back to work, so we said good bye and Ivan guided us through the Paris Metro to the Isle del la Cite station near Notre Dame. Mass crowds were downtown with lines too long to consider going inside Notre Dame or Saint Chapelle. Too bad. So, we started walking at "Point zero", the geographical center of Paris. Moved on to the Latin Quarter with Shakespeare & Co. book store and the Museum of Deportation (also viewed from the outside due to lines/cost). A Euro got us into the garden section of the Rodin museum to see The Thinker, The Burgers of Calais and the Gates of Hell. I like Rodin's work, especially the hands of the figures he sculpts.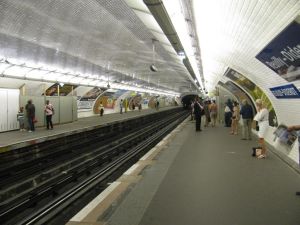 Paris subway station.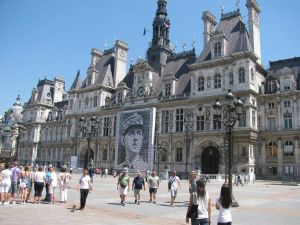 The name of this building escapes me. Anyone?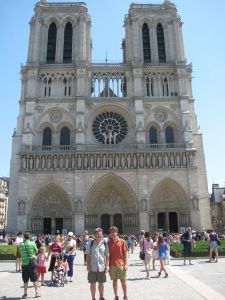 Notre Dame.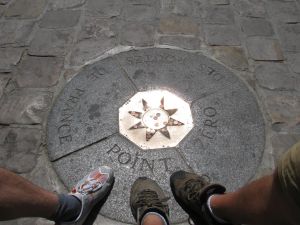 Point zero, the center of Paris.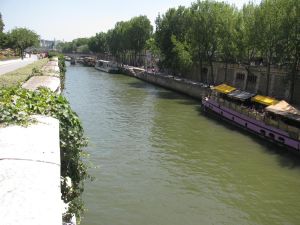 Canal boats on the Seine river.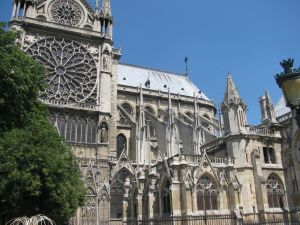 A rose window and flying buttresses at Notre Dame.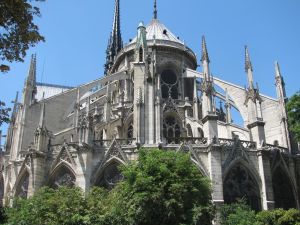 More buttresses at Notre Dames.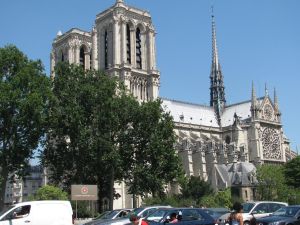 Notre Dames again.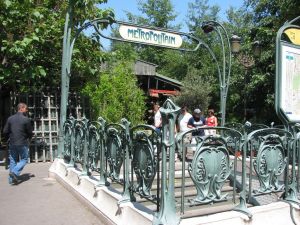 Art nouveau train station entrance.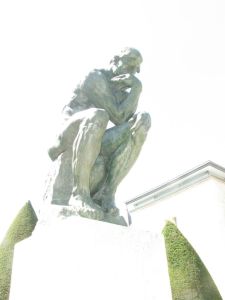 Rodin's The Thinker.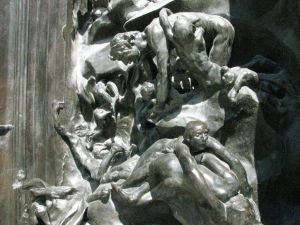 Rodin's The Gates of Hell.
Then, on to the Eiffel Tower. Immigrants surround this place selling miniature models of the tower. At first Max and I wanted ones for souveniers, but then got sickened by the sheer number of people selling them. The line for going up the tower looked long, but we realized it was moving fast, so we paid 4.50 Euros a piece to walk up the stairs to the second floor. The first floor's at 200 feet, second is at 400. It was hot, it was crowded, but the views were good and it was interesting. The elevators operate via pumps that move water in and out of huge steel chambers that rise up and down. Same mechanism that they were originally built with. Must have been a good design. The steel work on the tower is unimaginably complicated, and unfathomable considering they did it all with drawings instead of computer aided design. Made our way down, then on to a loooong, hot crowded ride on the Metro back to Ivan's car. No AC in the Metro. I salute the French for their ability to ride the Paris Metro during summer months.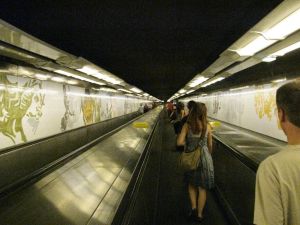 Subway people mover.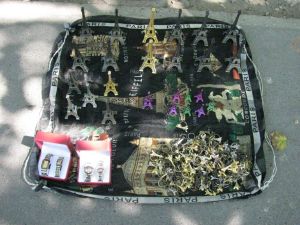 Eiffel tower tourist trinkets.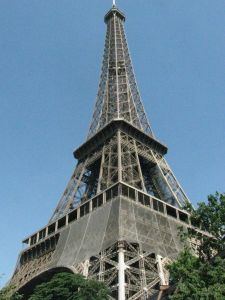 La Tour Eiffel.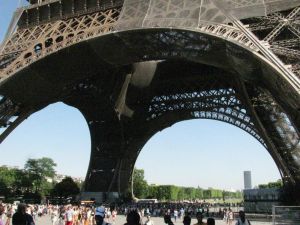 The base of the tower.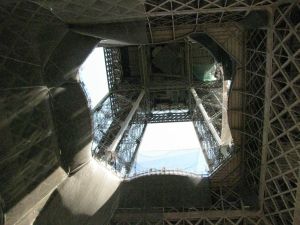 Looking up from below.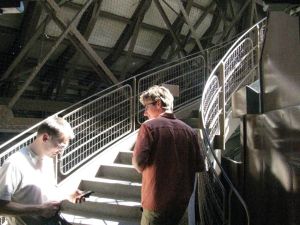 Beginning the stair climb.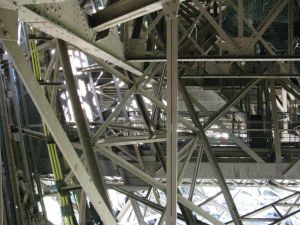 Steel beams and struts.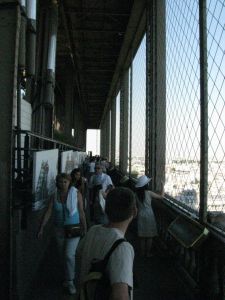 Level one.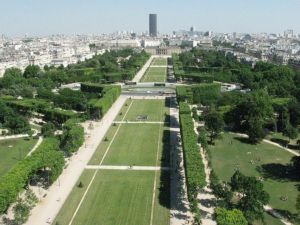 View from level one.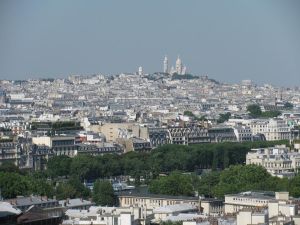 Montmartre, viewed from level one.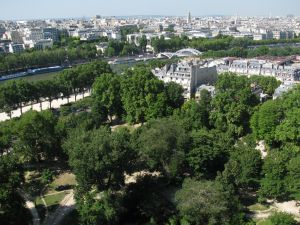 Another view from level one.

Looking down from level one.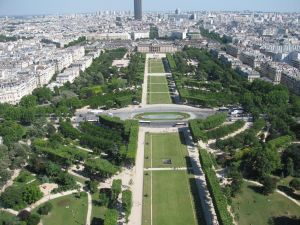 View down from level two.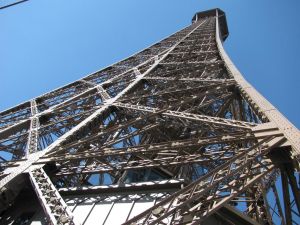 View up from level two.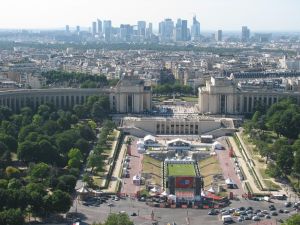 View of La Defense from level two.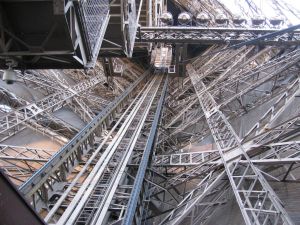 The elevator track.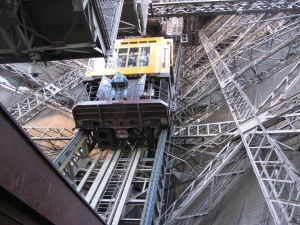 Elevator car.
We got Ivan's car out of the lot by asking someone to run over the gate trip mechanism twice. He's got tricks for not paying for parking. Then a hair raising drive back to his house through many traffic jams. Ivan is a very aggressive driver. His car is tiny and he uses that to his advantage in wedging his car into tiny openings in traffic. Bought groceries for dinner. Barbeque'd, ate, swam in the pool, then Ivan showed us his water rocket stuff and a water rocket movie. He's got seriously sophisticated launch and monitoring equipment for his Techno-Challenge endeavor. He was kind enough to give me some custom machined parts for an altitude measuring device, and a copy of his second water rocket book that covers electronic measuring technology for temperature, pressure, etc. Then to bed.

Motorcycles and scooters lane splitting.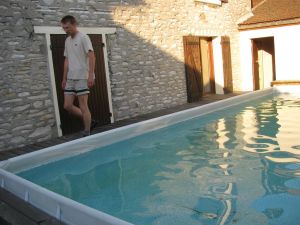 Ivan by his pool.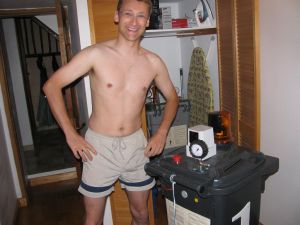 Ivan with his water rocket launcher station.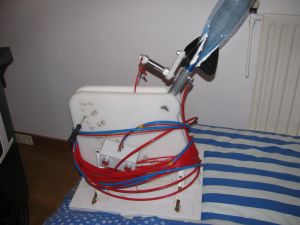 An adjustable launcher.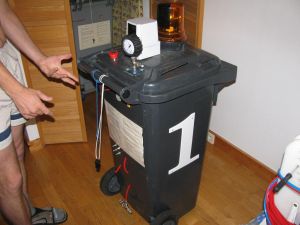 The launch station.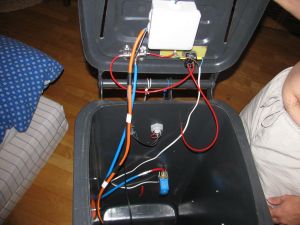 Circuitry and tubing inside the launch station.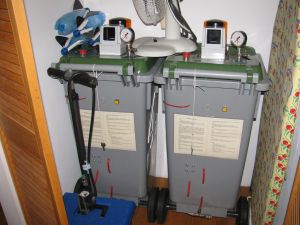 Multiple launch stations for the techno-challenge competition.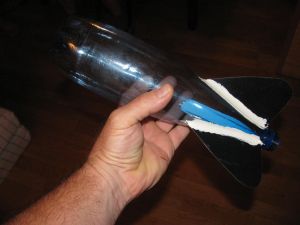 A simple rocket.

Max with an inclinometer.
Prev | Next